From May 17, -July 5, 2020,8 courses in total, 1.20 hours each time 
To all Tai Chi lovers:
@ No faction barriers: No matter you are practicing Chen, Yang, Wu, Wu, Sun style, or which style of boxing, as long as you really love Taijiquan and persevere, feel free to learn!
@ No age limit: Whether it is an 8-year-old child, a young girl, or even an 80-year-old man, the same Yunshui Taiji fan has only different features and is overflowing, and there is no difference in treatment of different ages.
@ No skill threshold: For many years of practicing boxing, a set of strong and soft Tai Chi fans can help you adjust your life in learning boxing and realize the mysteries of Tai Chi from multiple angles; for beginners, a set of smart and beautiful Tai Chi fans are enough to take you in from a more novel perspective The hall of Tai Chi.
                                            Course effect:
Strong physique, younger self, more flexible and healthy, relaxed and happy for 30 years!
The wind swings the willows, the graceful posture, in addition to beauty, andmore beauty!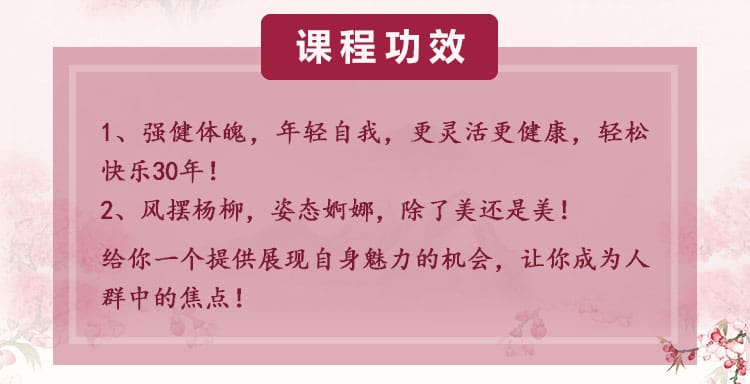 Lecturer:
Master Xu Qinlan, Technical Director of AWCC, was a converted disciple of the 31st Shaolin Temple. Director of Henan Shaolin Boxing Research Association, Executive Director of Henan Chen Style Taijiquan Association, Honorary Dean of Zhang Dongwu Taiji Academy of France, currently Executive Deputy Dean of Henan Tobu Taijiquan Training Institute, General Manager of Henan Tobu Taiji Culture Communication Co., Ltd.(For details, please refer to the instructor profile page)
Course Features
Lectures

8

Quizzes

0

Duration

50 hours

Skill level

All levels

Language

CHINSES

Students

1494

Assessments

Yes
Yunshui Tai Chi Fan 1:

The content arrangement of the first class:
A. Warm up
B. How to hold Tai Chi fan (pinching fan, opening fan, point fan, throw fan, cloud fan)
C. The first seven tricks of Professor 46-style cloud water fan:
1. to start 2. Withdraw step and bright fan 3. Swing a fan in the wind 4. King Kong pounding the reef
5. Leopard look back 6. Left and right cloud fan 7. Push the boat along the water

Yunshui Tai Chi Fan 2:

The second class hour content arrangement:
A. Professor Forty-Six Type Cloud Water Fan 8-15 Type:
8. Frame fan kick 9. Dragonfly 10. Spirit snake out of the cave 11. Independent cross tiger (open fan)
12. Bow archery 13. Arhat and Dragon 14. One Pillar 15.Hold the moon in your arms.

Yunshui Tai Chi Fan 3:

Content arrangement of the third class:
A. Professor 46-style cloud water fan 16-21 style:
16.Strike Huashan 17. Nezha Exploring the Sea 18. White Snake
19. White Crane Spreads Wings 20. Dapeng Spreading Wings 21. Jade Girl Shuttle

Yunshui Tai Chi Fan 4:

The fourth class content arrangement:
A. Warm up
B. Professor forty-six style cloud water fan 22-27 style:
22. Huanglong stirs water 23. Looking back at the moon 24. Butterflies flying
25. With rein 26. Sit on horse and watch flowers 27. Oolong tail swing

Yunshui Tai Chi Fan 5:

The fifth lesson content arrangement:

A. Warm up
B. Professor forty-six style cloud water fan 28-33 style:
28. Turn the tide 29. Embrace the Tiger and Push the Mountain 30. Peacock opens the screen
31. Fish Leap Dragon Gate 32. The hero sits on the mountain 33. Golden Rooster Independence

Yunshui Tai Chi Fan 6:

The sixth lesson content arrangement:
A. Warm up
B. Professor 46-style cloud water fan 34-39 style:
34. Flip flower dancing sleeves 35. Yellow Oriole Falling Frame 36. Withered Trees
37. Walking Cloud Fan 38. Drunk Concubine 39. Shenlong Looking Back

Yunshui Tai Chi Fan 7:

The seventh lesson content arrangement:
A. Warm up
B. Professor Forty-Six Type Cloud Water Fan 40-46 Type:
40. Add to the flames 41. Push the boat along the water 42. Swallow copy water
43. Smell the chicken and dance 44. Push Huashan 45. Embrace the Moon 46. Retreat 44. Push Huashan 45. Embrace the Moon 46. Retreat A. Warm up B. Professor Forty-Six Type Cloud Water Fan 40-46 Type: 40. Add to the flames 41. Push the boat along the water 42. Swallow copy water 43. Smell the chicken and dance 44. Push Huashan 45. Embrace the Moon 46. Retreat

Yunshui Tai Chi Fan 8:

The eighth class content arrangement:
A. Warm up
B. General review (essential tips)