Chen Style Examination course officail level one Single Practice / pair hit
Many people have practiced taijiquan for a whole life but have not found a correct and strong boxing frame because they have not laid a solid foundation at the beginning. To practice taijiquan well, you must learn from the basic courses. The rank system test advocated by the National Sports Administration of China is to guide Tai Chi beginners not to blindly pursue routines and learn from basic skills level by level.
One rank contains the 14 most basic moves of all the Chen-style Taiji movements.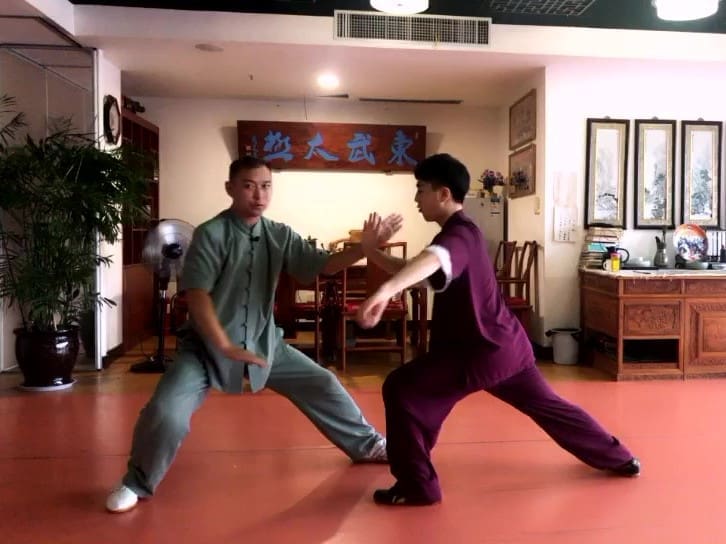 Chen-style Taijiquan one-stage single practice/pair practice is a prescribed course for China's national grade system examination. It is a course used by the Chinese martial arts community to identify and consider the basic level of the martial arts professional. It is also a necessary course for promotion. The technical routines of the same rank can be practiced both single-handedly and in sparring, which fully reflects the teaching characteristics of the "combination of training and fighting" of Chinese martial arts.
A sparring routine is based on the first and last moves jointly completed by A and B. A and B are each responsible for 6 moves.
Through the cooperation and practice of the tactics, you will fully understand and digest the purpose and practicality of each move. Not only will you know how to do it, but also why you should do it. Avoid waste of time by beginners blindly copying
Can't find the essentials.
Lecture : Chaofeng Wang
Head coach of Henan Tobu Taiji Training Institute,Master Zhang Dongwu's personal disciple, Chinese martial arts sixth stage! Engaged in teaching for 8 years, double gold medals in boxing and swords in the International Tai Chi Exchange Competition。
Course Features
Lectures

2

Quizzes

0

Duration

50 hours

Skill level

All levels

Language

Cinese

Students

1468

Assessments

Yes
Chen Style Examination course officail level one: Single Practice

1. King Kong rises
2. Lunge Palm forward
3. squat Punch
4./Raise the knee and stro ke the right
5.squat Punch
6. Lunge push palm,
7. Step in and stroke down
8. Wipe the eyebrow
9.Stroke back in squat
10.Smash reef to end

Examination course officail level one  pair hit

A and B respectively complete the whole set of movements of single training.
A is responsible for the first five moves, and B is responsible for completing the last five moves, forming a set of sparring routines.

A/B: salute , Regress upright
A: Step back, B: Turn around
A/B: King Kong rises: Left open,Toe landing ,heel down
A/B Lift up against the twist, bend knees and press palms
A/B: left up
A:lift Knee level stroke ——B;Step in Press palm
A:Lunge through palm ——B: Turn right left stroke
A: Step forward punch—— B: B: Step left stroke
A: Raise knee and stroke left ——B: Lunge push palm
A: Press the palm up ——B: Back to Resist
A/B: Turn right open arm
A/B: Virtual step Arm close
A/B: Knee lift and fist
A/B: shock foot Smash fist
A/B: Press palm Standing
A/B: Step merger upright