AWCC Tai Chi World Intangible Cultural Heritage 2nd Anniversary Celebration and Wendy Huijiang's Disciple Appreciation Ceremony
Posted by

Date

November 21, 2022
The mayors of several city halls where overseas Chinese gathered in Melbourne were all in place at the same time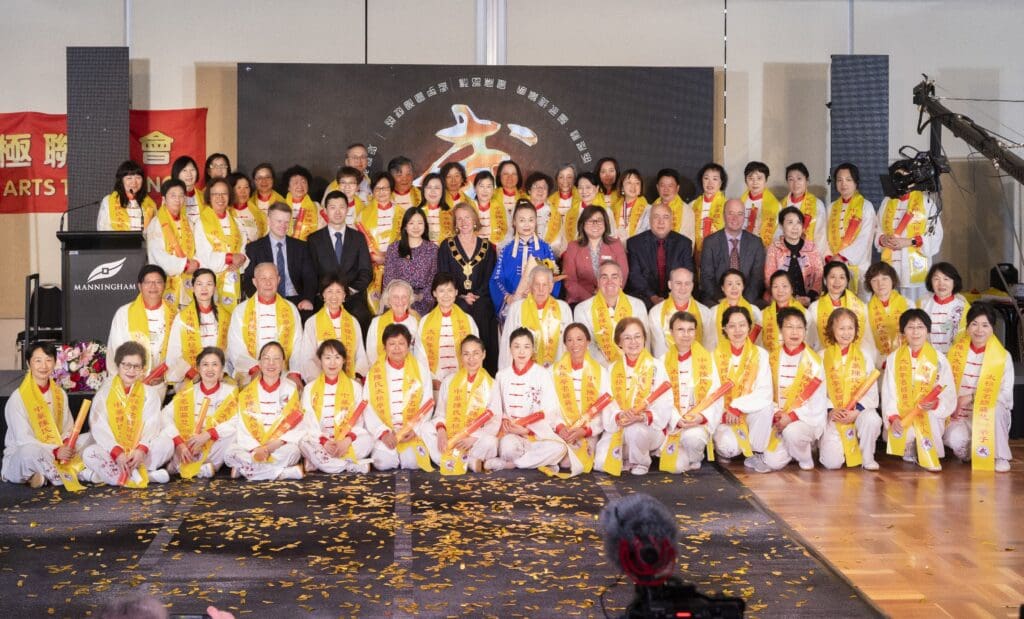 The Consul General of the Chinese Consulate in Melbourne sent a congratulatory letter, and the commissioner
  of the Multicultural Department authenticated and signed the Apprenticeship Certificate for all disciples

Fifty community guests at all levels and nearly three hundred participants participated in the
exercises following the demonstration.Such a grand and spectacular acceptance ceremony has
never been seen before,and the Tai Chi event is unprecedentedly stunning!

Manningham Function center on the 13th November 2022. An astonishing Tai Chi Appreciation Banquet,
an unprecedented Chinese event! Big news of Tai Chi culture overseas! Overnight, small programs, videos,
and photos were frequently released and rushed to be sent in media reports on various channels.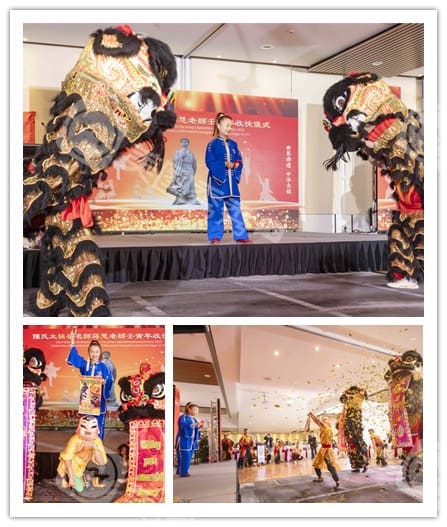 60 overseas disciples of Master Wendy Hui Jiang, the world martial arts all-around champion,
The ceremony Openning with the sound of gongs and drums welcoming guests with a lion dance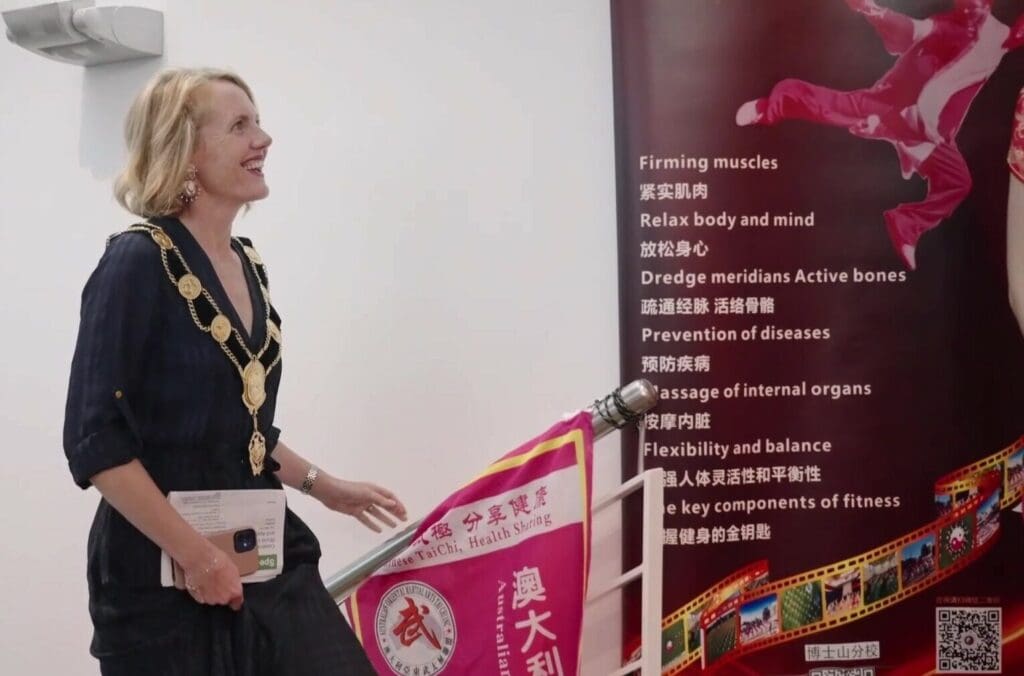 Cr Deirdre Diamante, Mayor of Manningham,Wearing the sacred mayor necklace, she solemnly stepped onto the stage and said to everyone:
How incredible that we can learn from a world class master – for free right here in manningham.
These tai chi classes not only improve our community's health and fitness but also our mental and spiritual wellbeing, increasing feelings of inclusion and connectedness.We have an aging population in Manning ham, and we want to support our residents to live long and healthy lives.Tai Chi is the perfect example of an activity that all ages can join, including our older adults, to keep moving and stay active.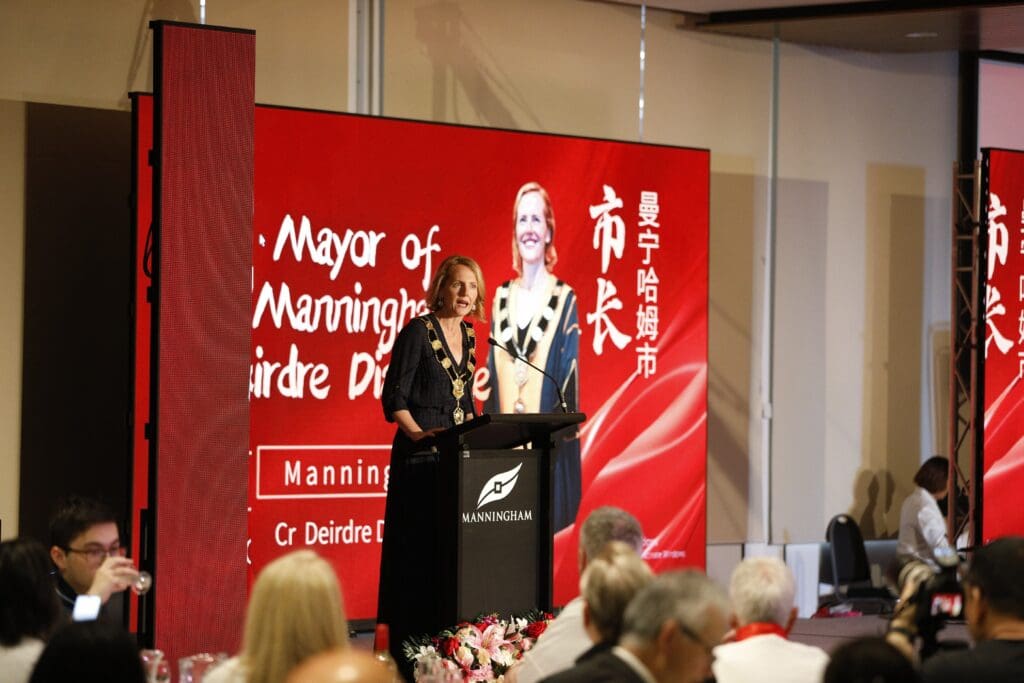 If more of our residents come to these classes and practice tai chi, we can build a healthier, more resilient community.We encourage all our community to get involved in tai chi, and to consider an apprenticeship.
 To hear that Wendy is continuing these classes at age 70 is inspirational. I think the greatest honor we can give her is to prepare the next generation of masters who can continue this great program, to inherit Wendy's love of tai chi and hopefully attain the same same akills as her
 On behalf of council, I also thank the AWCC tai chi charity organization, its volunteers, and its apprentices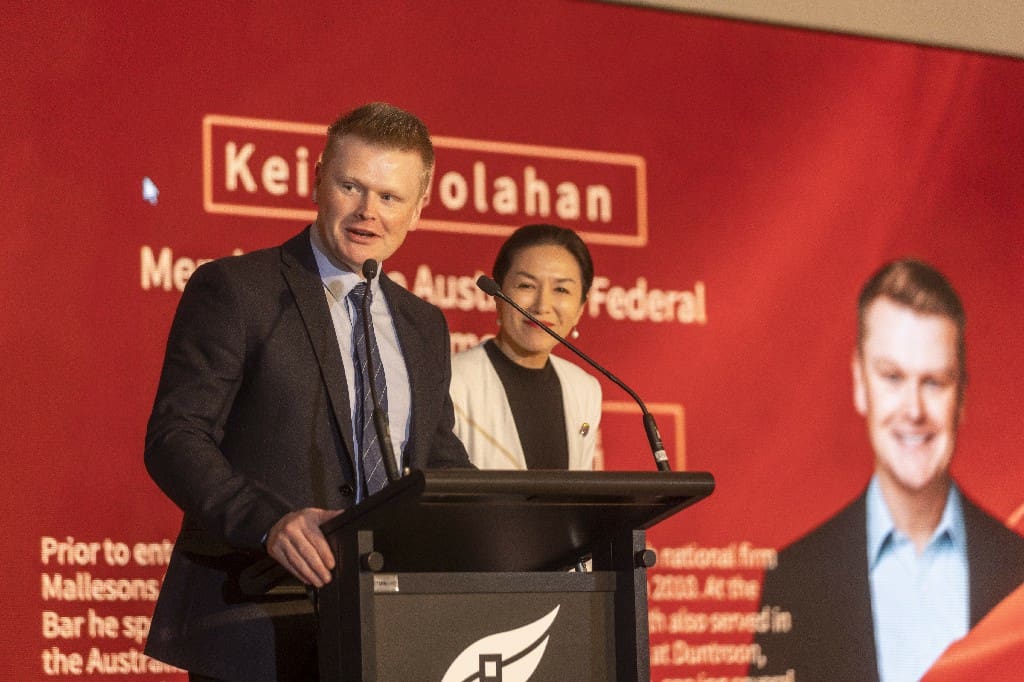 After his speech, Hon Keith Wolanham, a member of the federal government, specially issued an autographed certificate of merit to Master Jiang Hui as a high honor commendation. The full text is as follows:
President Wendy Jiang Hui:
Sunday 13th November 2022 As the Federal MP for Menzies, it is my great pleasure to recognize you for your outstanding contribution to promoting the well-being of the World Intangible Cultural Heritage of Tai Chi and Fitness by providing teaching in the Australian community since 2018 and Achievement.
Keith Wolahan MP (Keith Wolahan MP)
Federal MP for Menzies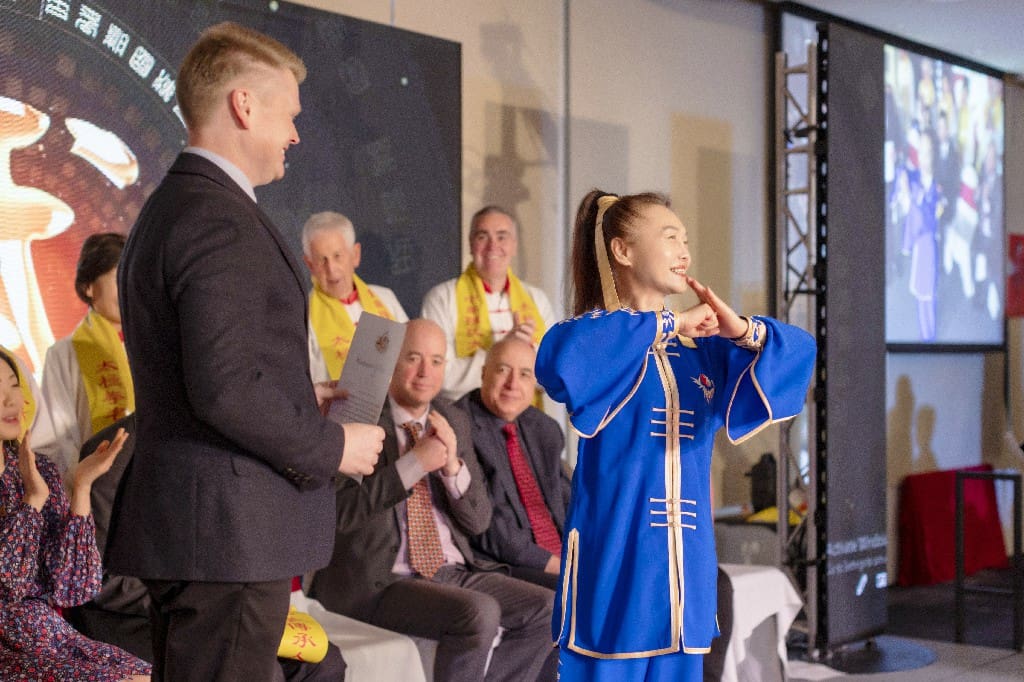 The boxing ceremony of Chinese martial arts! Thanks for the support of federal MPs!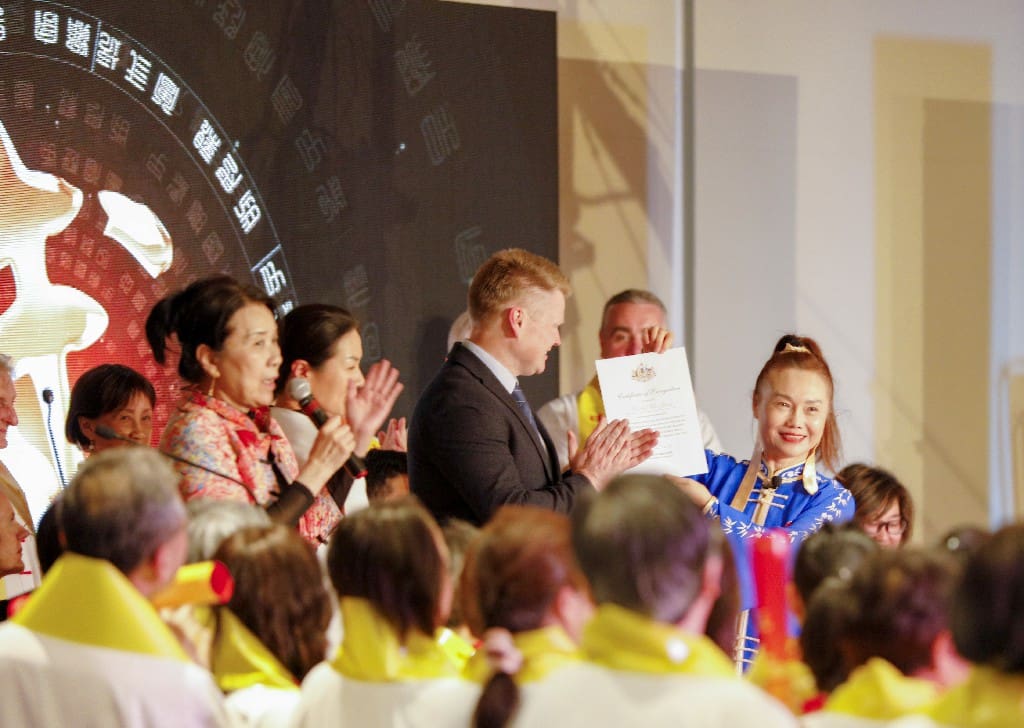 Master Wendy held up the federal government award certificate signed by MP Keith Wolahan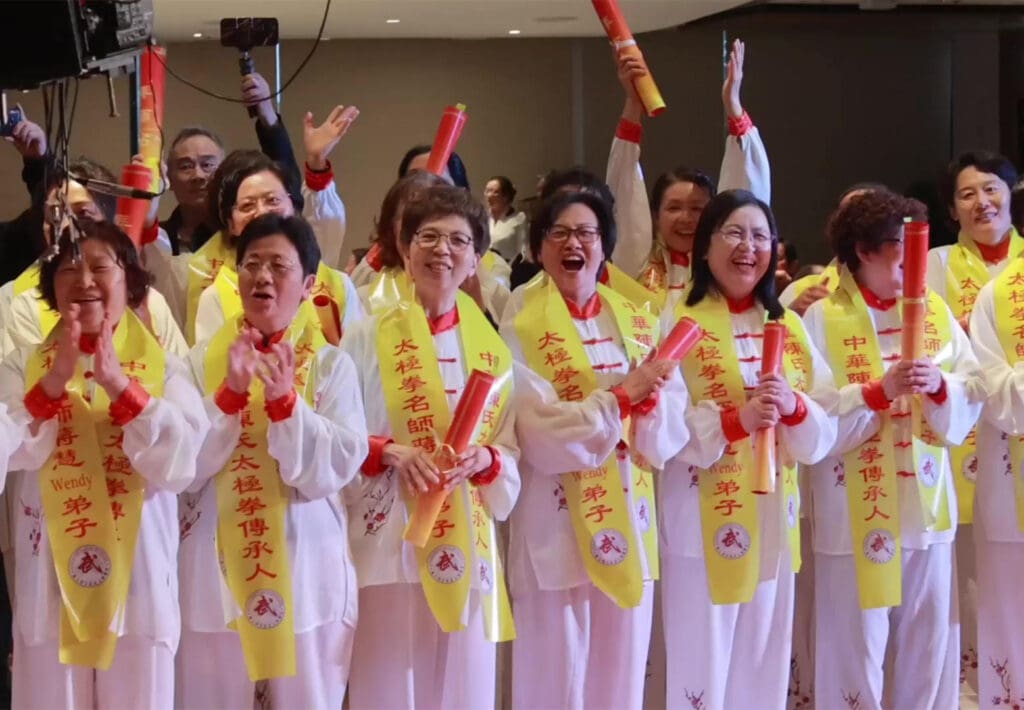 The audience burst into warm applause and cheers.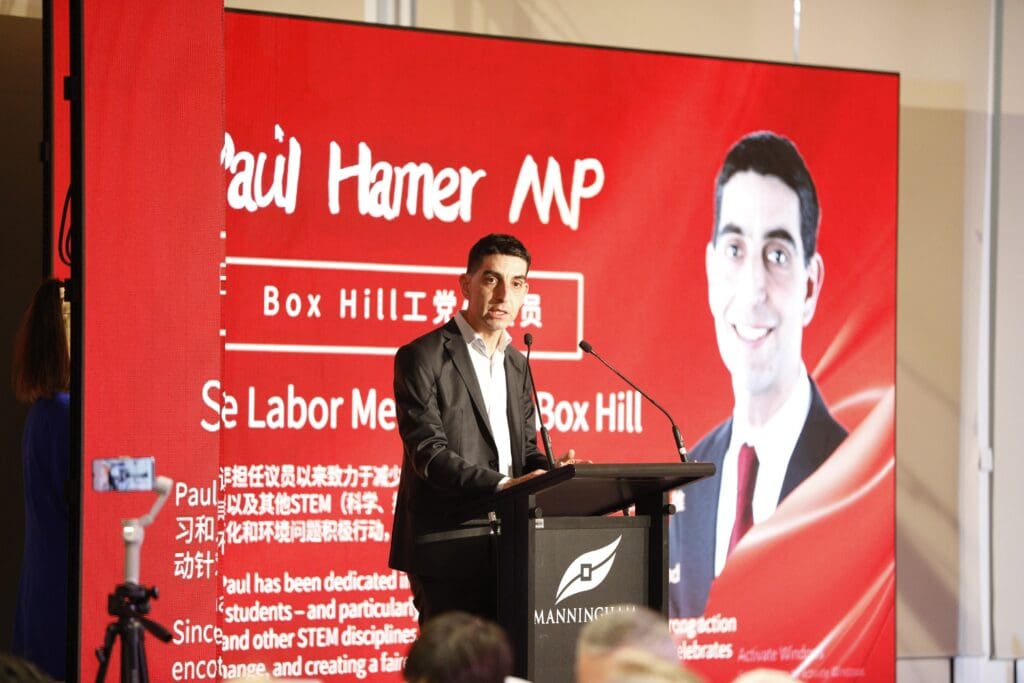 Victorian MP Hon Paul Hamer:
In particular, I would like to express my sincere thanks to Wendy Jiang, the world all-around champion and president of the AWCC Tai Chi Federation. She is tireless and selfless for 5 years giving free Tai Chi classes to the community. This is why Tai Chi can carry forward the inheritance.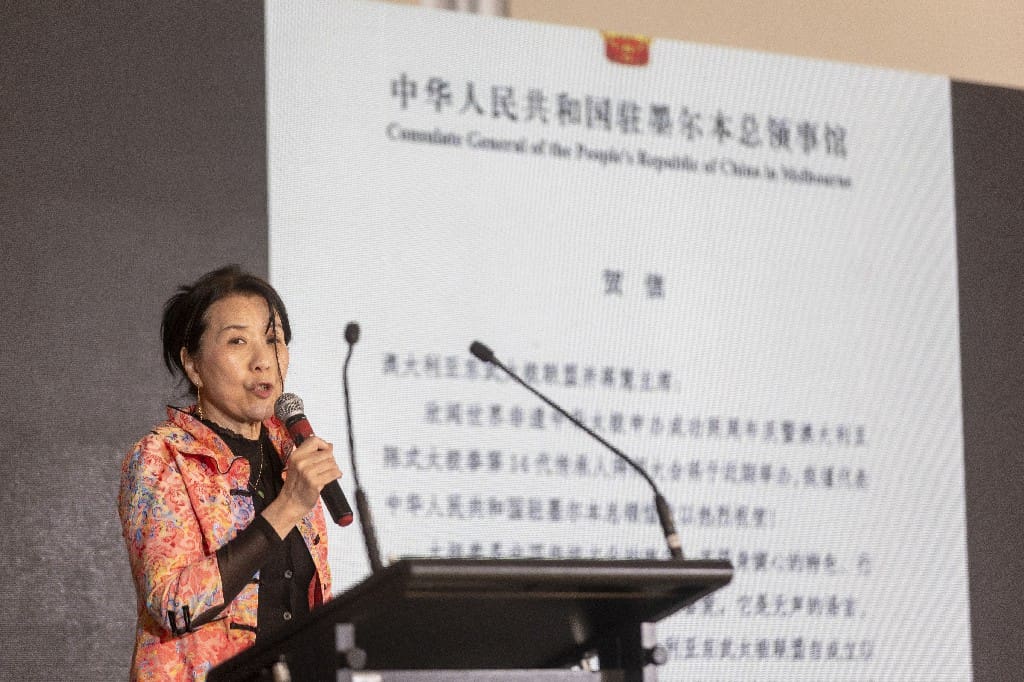 Congratulatory letter from Zeng Jianhua, Acting Consul General of the Chinese Consulate General in Melbourne
Solemnly read by Su Junxi, the former chairman of the Chinese Federation for three consecutive terms
The full text is as follows: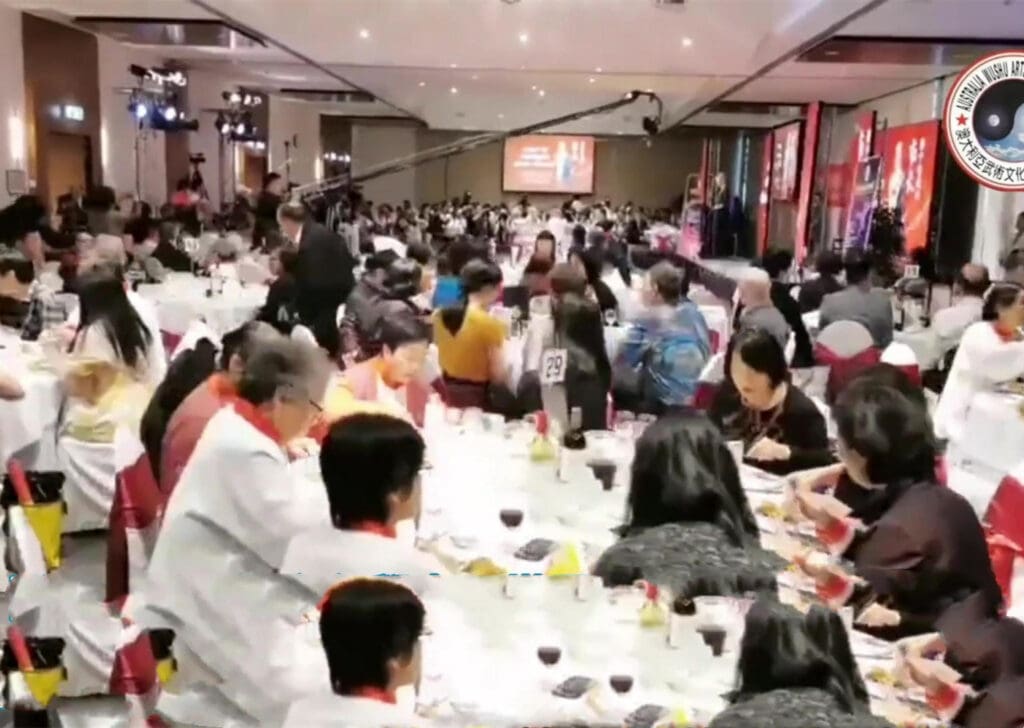 The reading of the congratulatory letter from the Consul General of the Chinese Consulate in Melbourne, Zeng Jianhua, made all the Chinese present and overseas Chinese feel warm in their hearts. The motherland is by our side! I sincerely wish that the great motherland will become stronger and more prosperous, which is the strong wish of our overseas travelers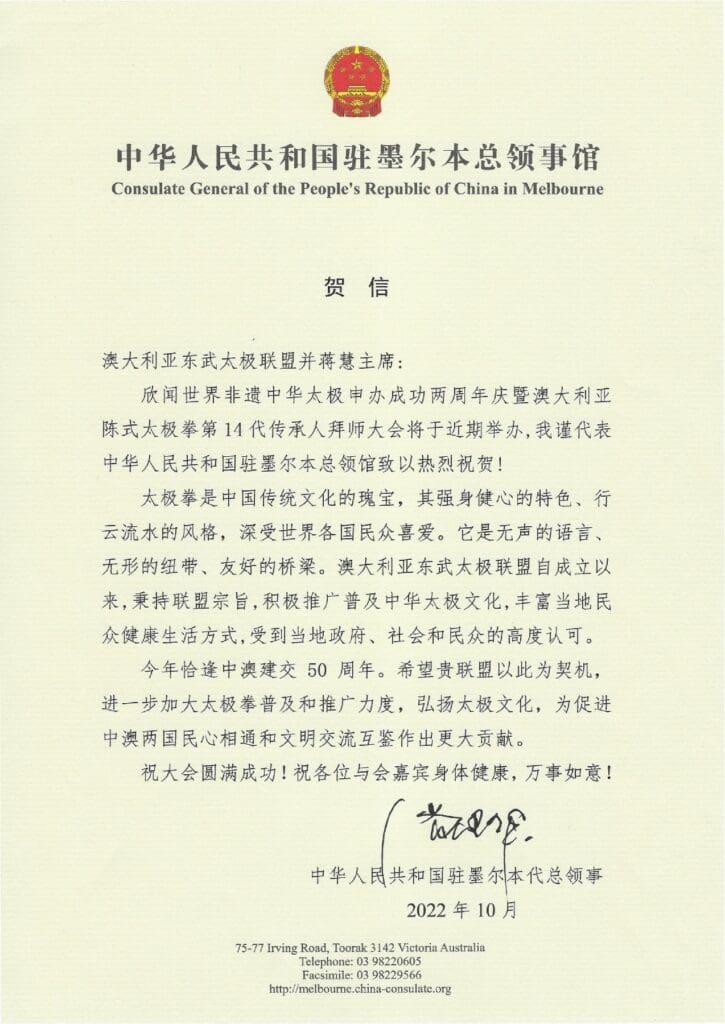 Australian AWCC Tai Chi Federation and Chairman:
I am glad to hear that the second anniversary of the successful bidding of the World Intangible Cultural Heritage of Chinese Tai Chi and the 14th generation of AWCC Tai Chi Inheritor Appreciation Conference will be held in the near future. On behalf of the Consulate General of the People's Republic of China in Melbourne, I would like to extend my warm congratulations.
Taijiquan is a treasure of Chinese traditional culture. Its characteristics of strengthening the body and mind, and the style of flowing water are deeply loved by people all over the world. It is a silent language, an invisible bond, and a friendly bridge. With its establishment, the AWCC Tai Chi has adhered to the purpose of the alliance, actively promoted and popularized Chinese Tai Chi culture, enriched the healthy lifestyle of local people, and was highly recognized by the local government, society and people.
This year coincides with the 50th anniversary of the establishment of diplomatic relations between China and Australia. I hope that your alliance will take this opportunity to further increase the popularity and promotion of Tai Chi, promote Tai Chi culture, and make greater contributions to the promotion of people-to-people exchanges and mutual learning between China and Australia.
I wish the conference a complete success! I wish all the guests to have good health and good luck!
Zeng Jianhua (signature)
Acting Consul General of the People's Republic of China in Melbourne
October 2022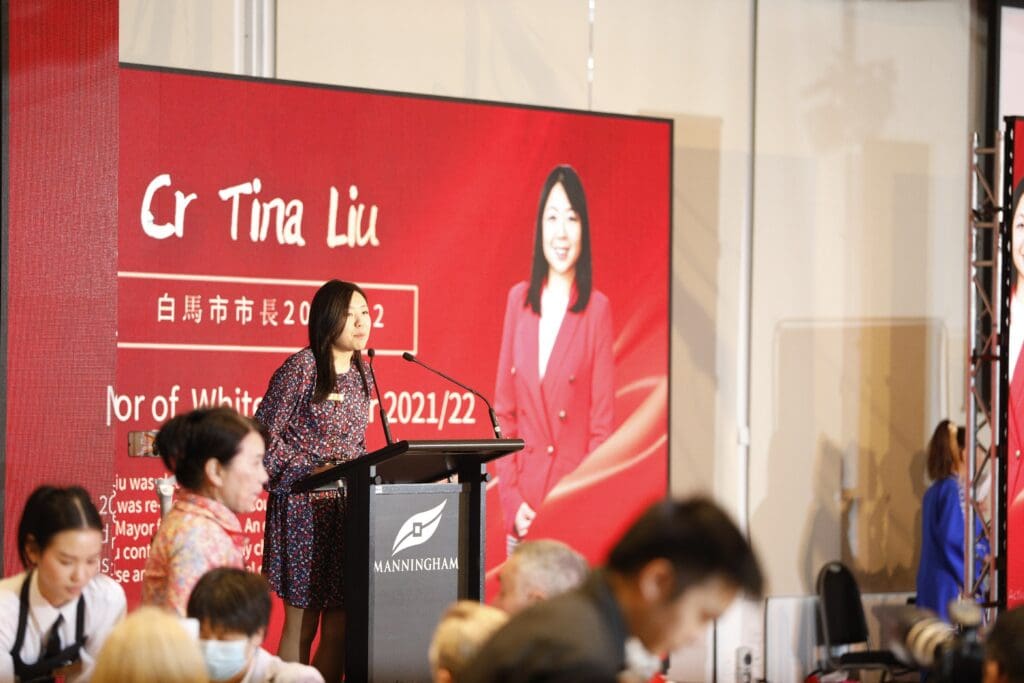 Whitehorse Mayor Tina Liu (2021/22)
I am very excited that the Tai Chi Apprenticeship Ceremony can be held so wonderfully. Congratulations to Wendy Jiang for her years of hard work. Whitehorse City welcomes everyone to continue to participate and wishes the apprenticeship ceremony tonight a complete success.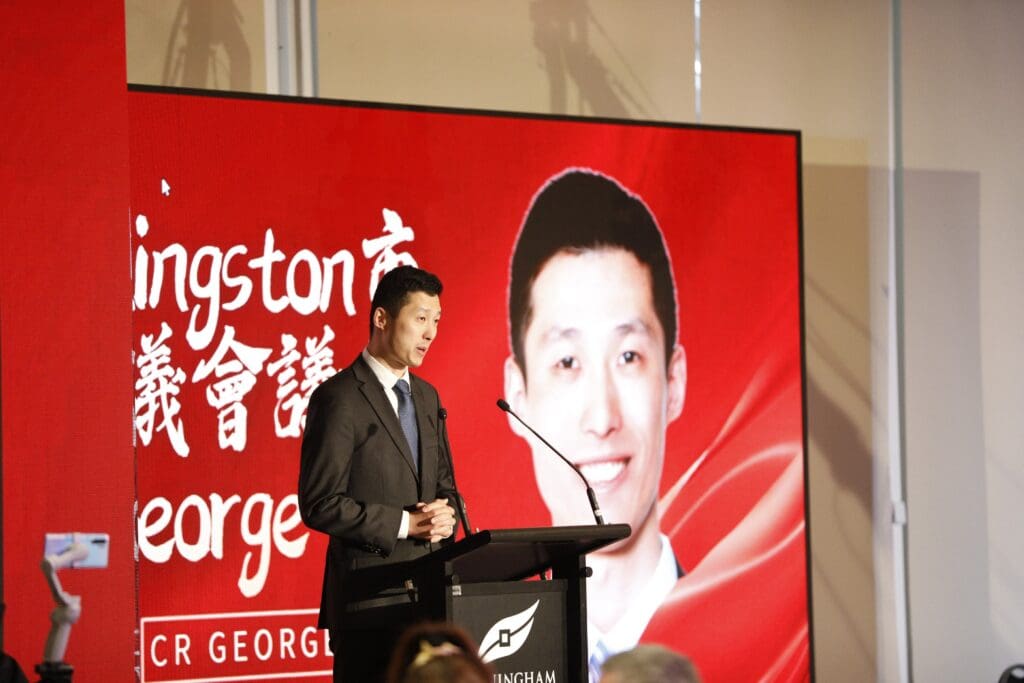 Cr George Hua delivered a speech on behalf of  on behalf of the mayor of Kingston: Your non-profit organization has improved the physical and mental health of the community through free Tai Chi classes. Because it's important to Active Community Health's efforts to promote active aging in our jurisdiction.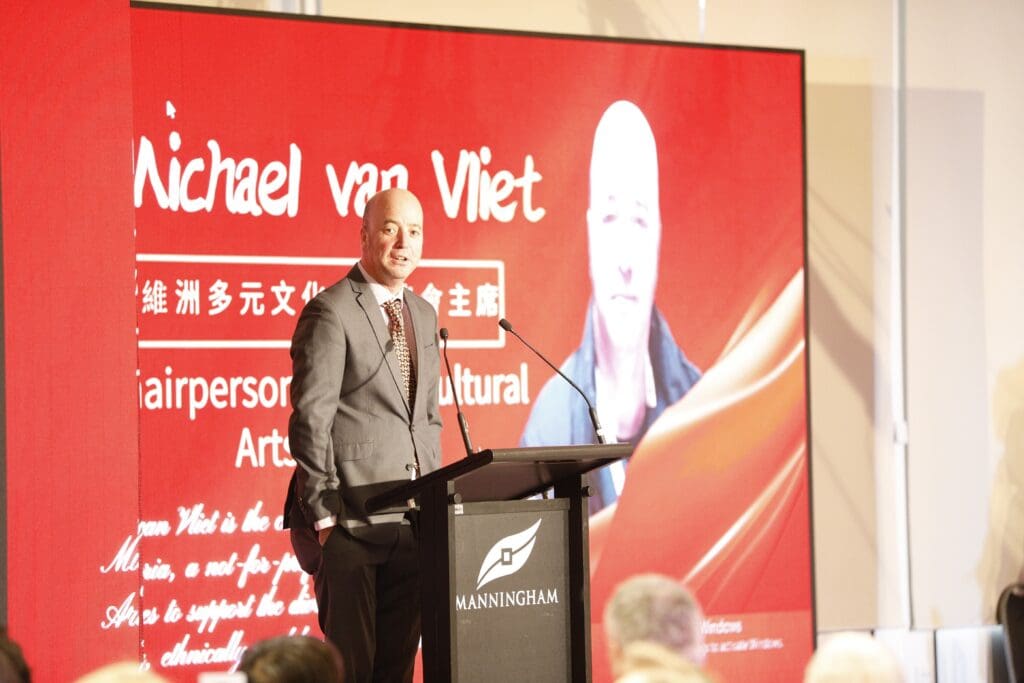 Michael van Vliet, chairman of the Victorian Multicultural Arts Committee, as a Victorian multicultural arts institution, is very impressed by the beauty and long history of Chinese culture. It was the first time to observe such a large-scale Tai Chi demonstration, and I am very happy for everyone's efforts and achievements.
Jie Li, Fomrer Chairman of Chinese Wushu Association,Former Secretary General of International Wushu Federation
Although it was a remote online speech, Li Jie, the former chairman of the Chinese Wushu Association, made the Chinese and foreign guests forget the delicious lobster on the banquet table and stared at the Chinese and English translations on the remote screen. Don't miss the subtitles!
GongBao Yu, Editor-in-chief of World Taijiquan Network,Internationally renowned scholar of Taiji culture
A classic congratulatory speech by Yu Gongbao, an internationally renowned scholar of Taiji culture and editor-in-chief of World Taiji.com, has become a famous saying that has been spread orally: I would like to express warm congratulations to friends who have joined Taijiquan to learn life and health technology and life and health culture.
Hongqi Liu , founder of Taiji.com ,Chairman of the Federation of Taijiquan Inheritors
witnessed the growth process of Ms. Jiang Hui Wendy, who was named the most beautiful Tai Chi person in 2018 and 2021, and the most beautiful Tai Chi team in Australasia East led by her. He congratulated the 60 overseas disciples for their continuous benefit on the road of inheritance and promotion!
World Intangible Cultural Heritage Inheritor, Zhenglei Chen, the ninth dan of Chen-style Tai Chi
Chen Zhenglei, the ninth-dan Chinese martial arts, the overlord of Tai Chi, the inheritor of Chinese Tai Chi non-inherited traditions, and the decendent disciple Jiang Hui Wendy received 60 disciples who sent warm congratulations from thousands of miles away
Famous Master Dongwu Zhang , and  Qinlan  Xu
Master  Dongwu Zhang, a famous Taiji master, and  Qinlan Xu, his wife, entrusted his disciple Jianghui Wendy to make Taijiquan, the quintessence of China, better serve the Australian people and make more contributions.
Shaolin Zhang , the seventh generation successor of Chinese Shaolin Buddhism  Han fist
Zhang Shaolin, the seventh-generation inheritor of Chinese Shaolin Fo-Han Quan, is extremely excited and inspired by Mr. Jiang Hui Wendy's acceptance of his disciples. He hopes that Master. Wendy will lead all his disciples to make outstanding contributions to the public welfare promotion of Tai Chi in the beautiful Australia.
Representatives of prospective disciples before the apprenticeship ceremony:
1618 (student number) Chen Rugang, retired senior psychologist and president, former executive director of China Mental Health Association:
     Master Wendy is a world-renowned Tai Chi master with both virtue and skill. I am very honored to be able to apply to become an introductory disciple of the world martial arts all-around champion!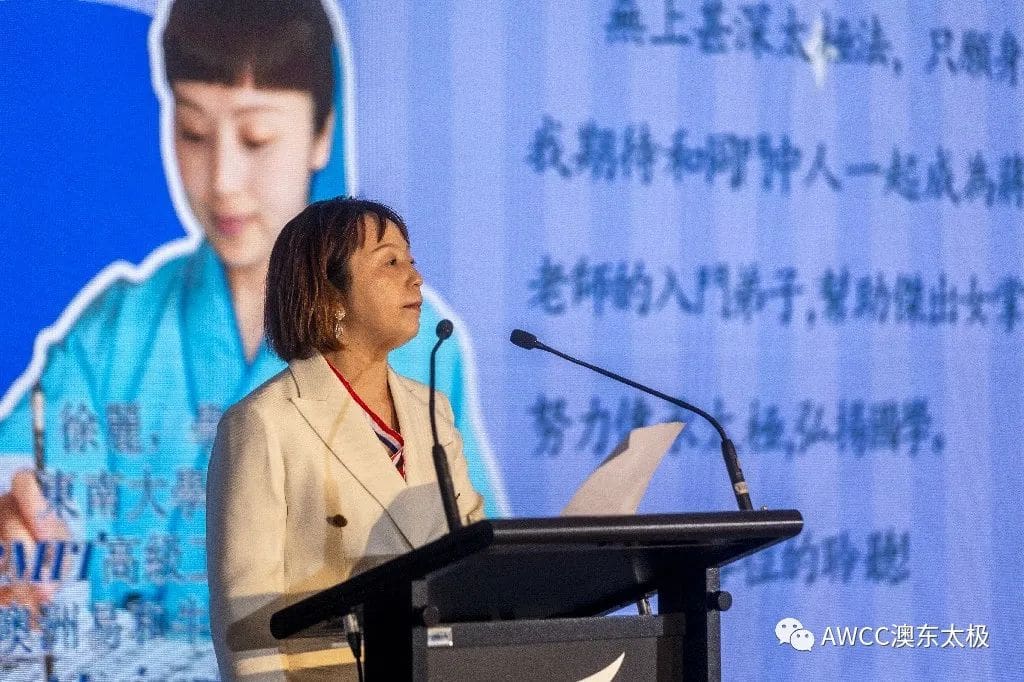 14J5 Li Xu, Senior MBA in Trade Japanese, Southeast University, Chairman of Australia Yiheniu Group:
I am a fan of Teacher Jianghui Wendy. I admire her character and admire her skills. I was very moved by the deeds of Teacher Jianghui Wendy. I am looking forward to becoming an introductory disciple of Jiang Hui Wendy with my fellow disciples, helping outstanding female masters to work together to inherit Tai Chi and promote Chinese studies.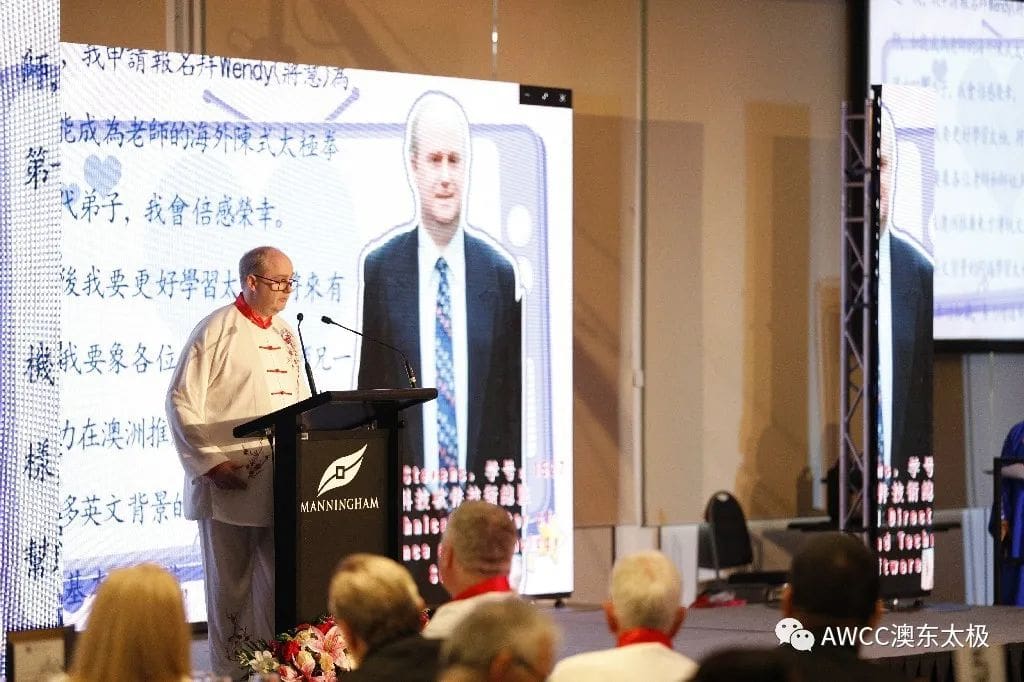 Cadet 1527: Glen Stevens – Technology Software Technical Director:
I applied to enroll as a student of Wendy (Jiang Hui) .I will be very honored to be the teacher's 14th generation overseas Chen Style Taijiquan disciple. I will help more English-speaking companions to learn Tai Chi theory and basic skills, so that more Australians can understand Tai Chi and fall in love with Tai Chi.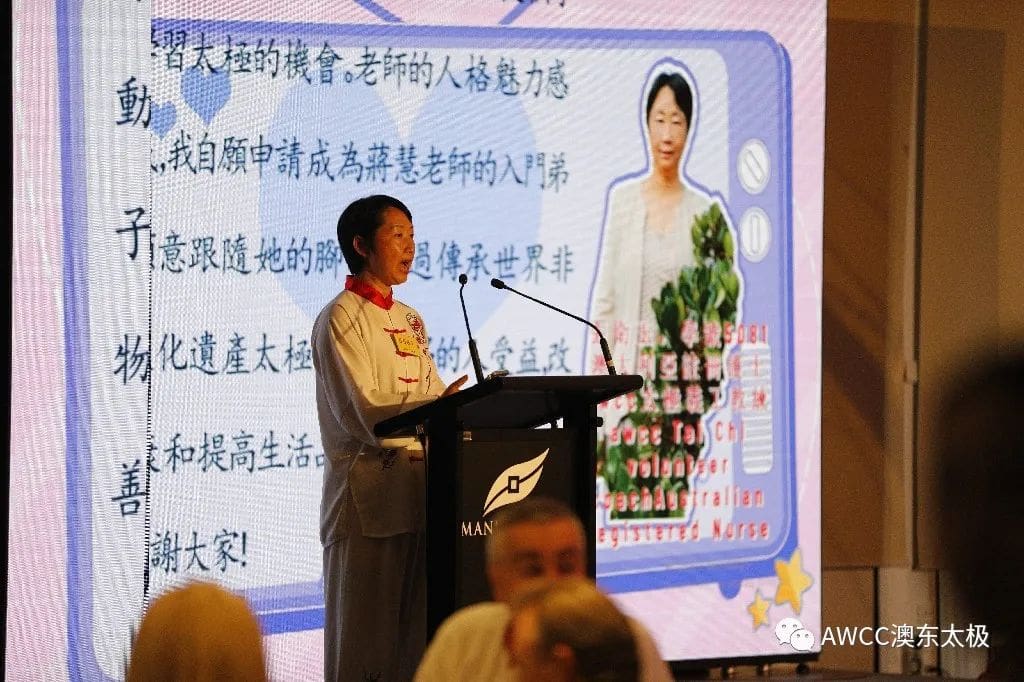 5081 Wei Yuzhang, AWCC Tai Chi Alliance Coach, First Aid Volunteer, Australian Registered Nurse:
I have witnessed the master's painstaking efforts, organizing two Australian Wushu Festivals, encouraging us to participate in the World Tai Chi online video competition to improve our skills, ,and encouraging us to use her online classes to continue exercising to improve immunity During the COVID-19 Lockdown。 her charisma moved me, so I voluntarily applied to become an introductory student of master Wendy.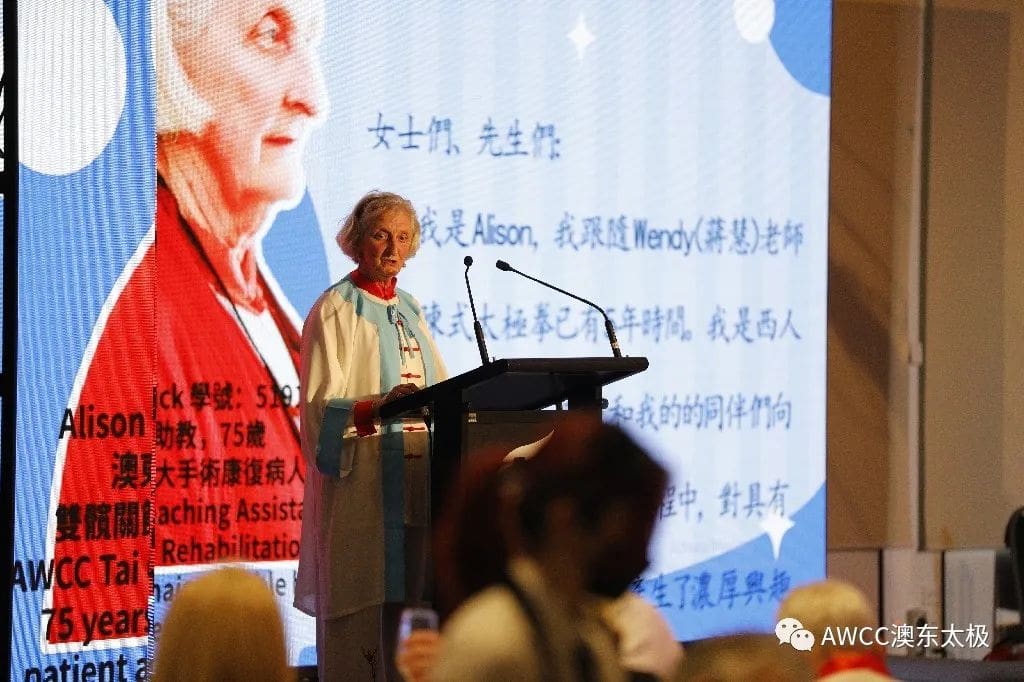 5092: Alison Rennick, 75 years old, assistant coach of Australia East, recovering from double hip replacement surgery
I have practiced Chen Style Taijiquan with teacher Wendy (Jiang Hui) for 5 years. I am one of the Western students. She has excellent skills and noble martial arts. The organization gathers a group of students from different industries to achieve a common goal. This is also very inspiring for us Westerners!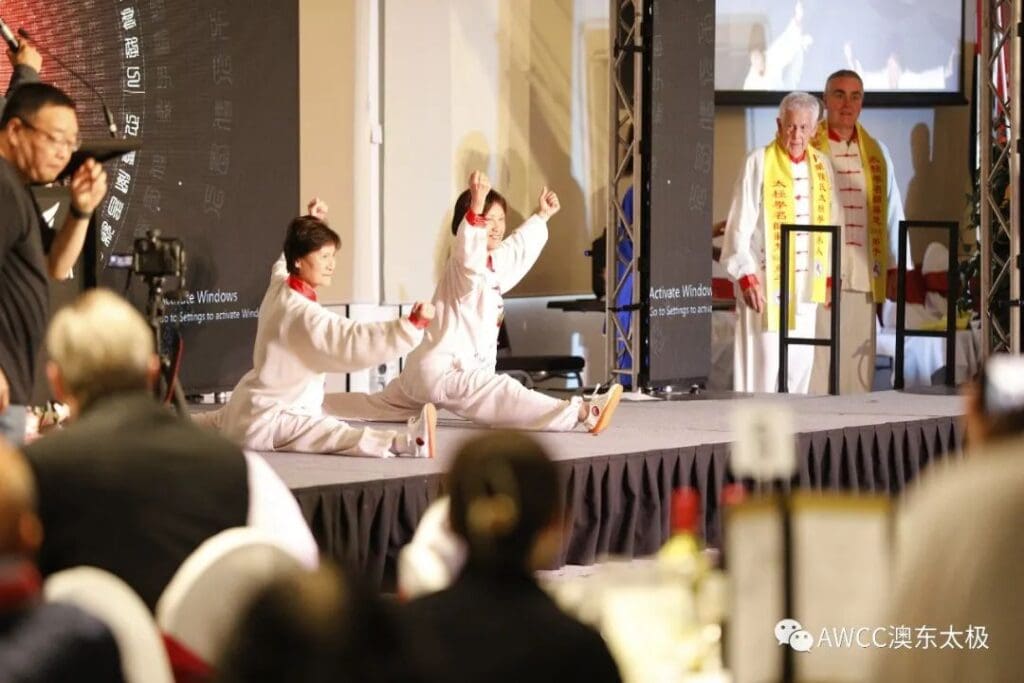 The long-awaited Chinese martial arts apprenticeship ceremony finally announced the beginning.
When the respected Junxi Su , the former chairman of the Hualian Association for three consecutive terms, announced that the 75-year-old Xiang Junrong and the 85-year-old Wang Ling, the female coaches of the Dharma protector Aodong, were on the stage. Unexpectedly, the two old people walked on the stage and "cracked" quickly. The word splitting appeared, which stunned all the guests, and the applause and shouts of surprise and envy suddenly sounded!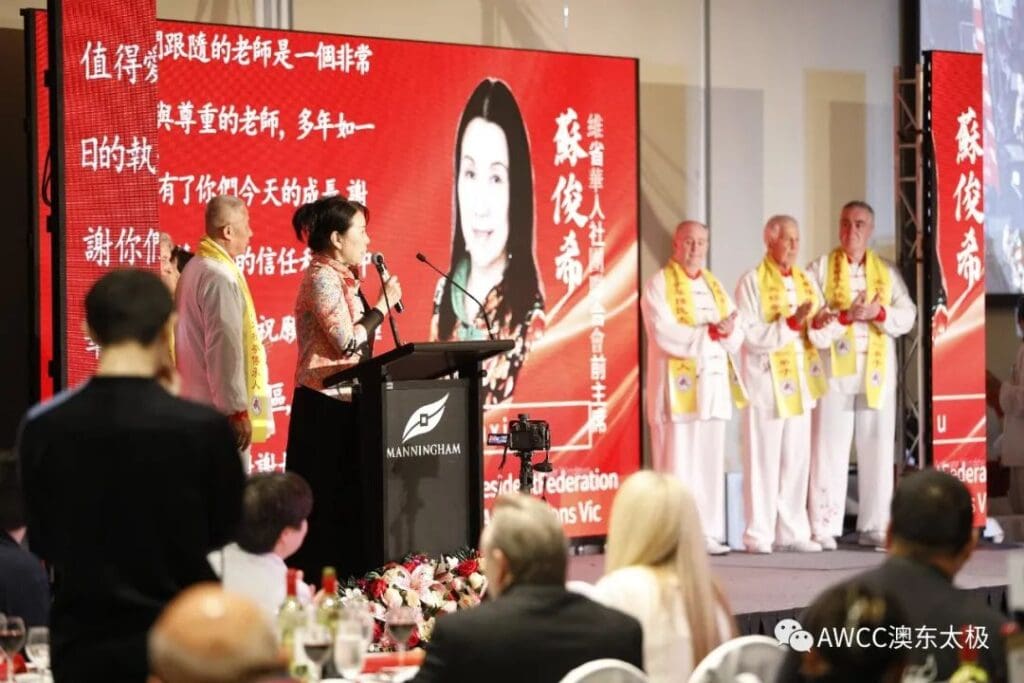 Chairman Junxi Su, the host of the apprenticeship ceremony, said to everyone earnestly:
I have witnessed the growth and development of AWCC Tai Chi,I would like to take this opportunity to say to the many disciples of Ms. Jiang Hui and the apprentices tonight, the teacher you follow is a teacher worthy of love and respect, who has been the same for many years You have grown up today because of your daily persistence. I hope that while you learn martial arts from the teacher, you also learn from her selflessness and dedication.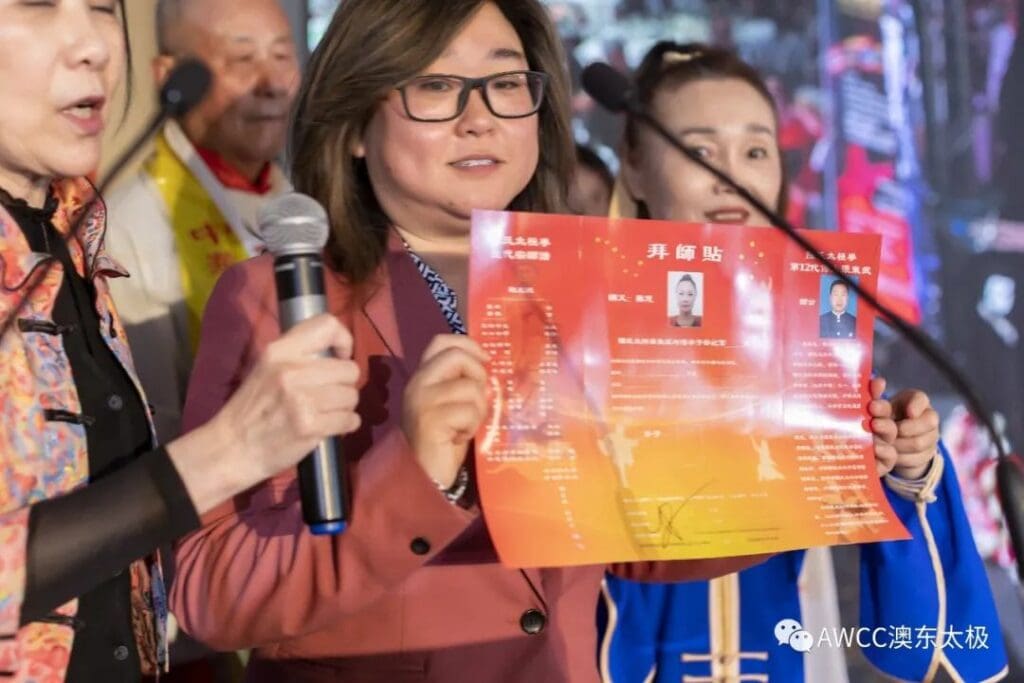 Dr Judy Tang, commissioner of the Multicultural Department of Victoria, made a signing ceremony on the spot for 60 Taijiquan inheritors to learn from teachers in foreign countries. This special signing ceremony will leave behind the teacher's invitations for 60 14th generation disciples of Chen-style Taijiquan A special meaning that is profound and will never be forgotten.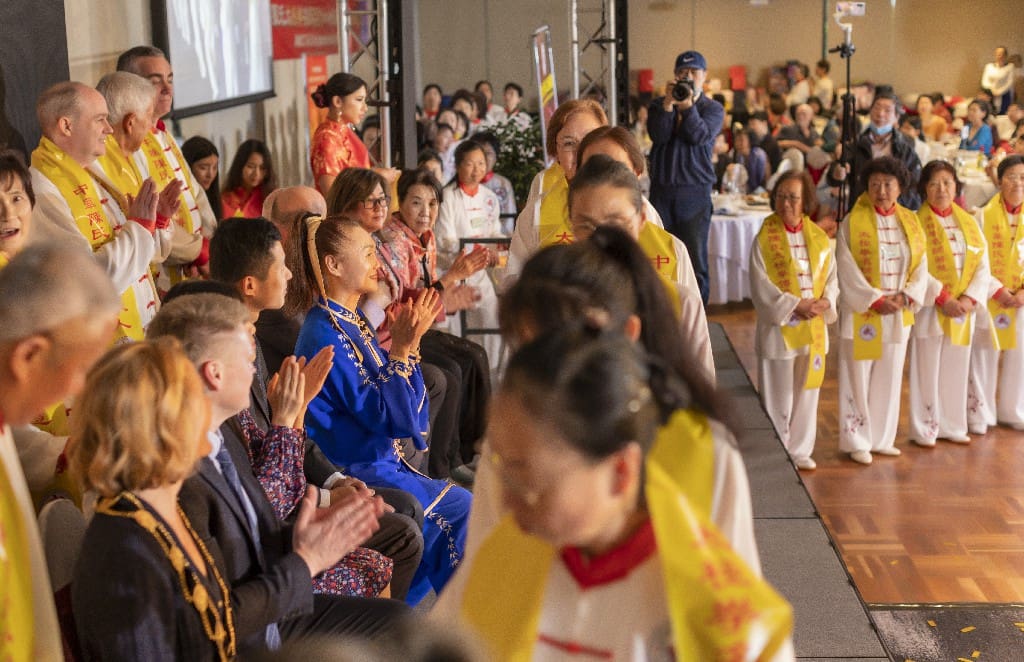 The next exciting moment is coming. Due to the large number of disciples, Mr. Wendy Jiang Hui is unable to accept teacher invitation posts and give back posts to give disciple belts to all disciples in a short time. Complete the ceremony.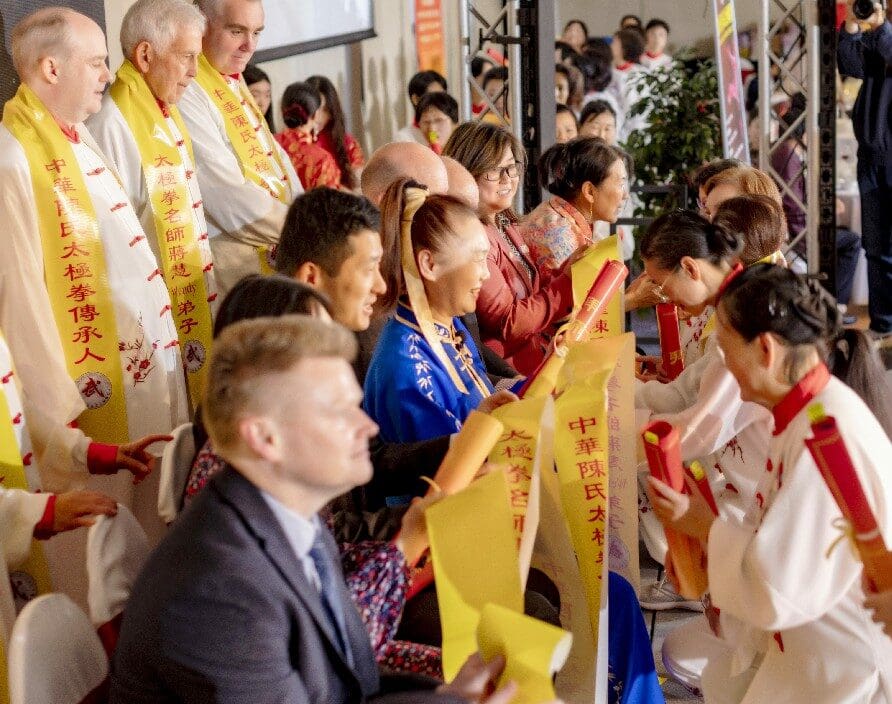 For the first time in their lives, 60 Chinese and Western disciples knelt down on one knee to hand in the letter of apprenticeship, and they were still a little at a loss.It's rare to experience such a high in life,but when they do, it can be intoxicating .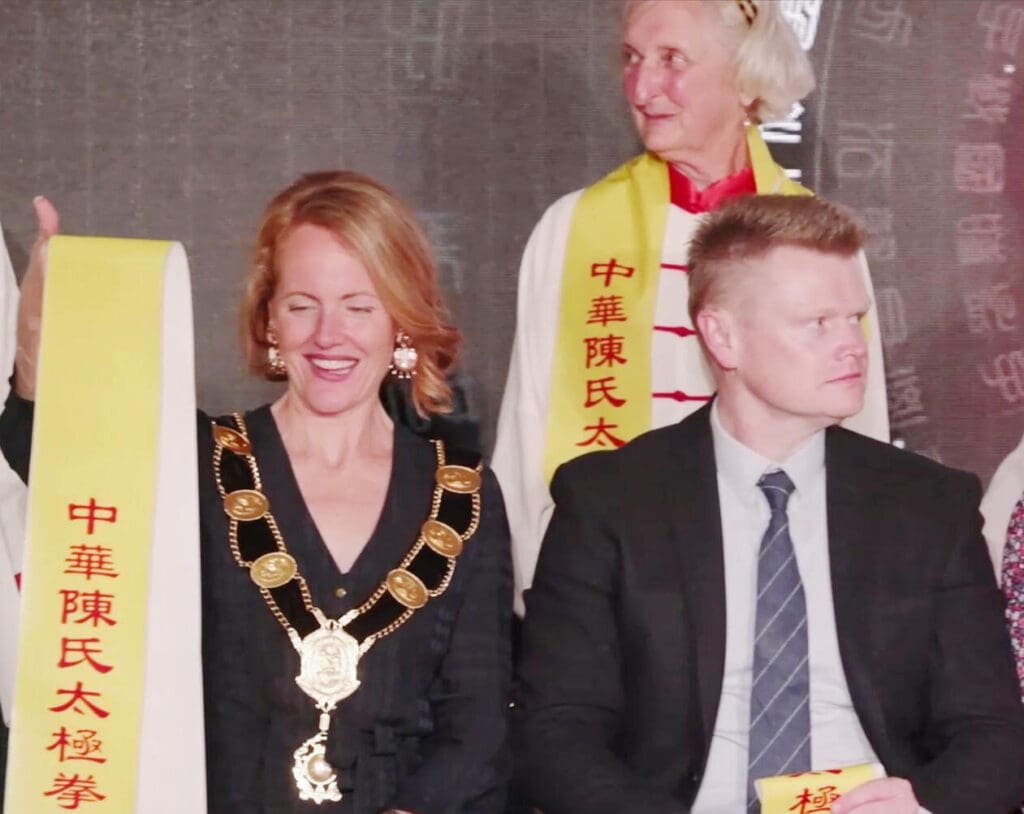 A unique apprenticeship ceremony opened the eyes of people from different countries, nationalities, and age groups, and deeply understood the infinite cultural heritage of China's 5,000-year-old state of etiquette and the profound connotation of oriental civilization.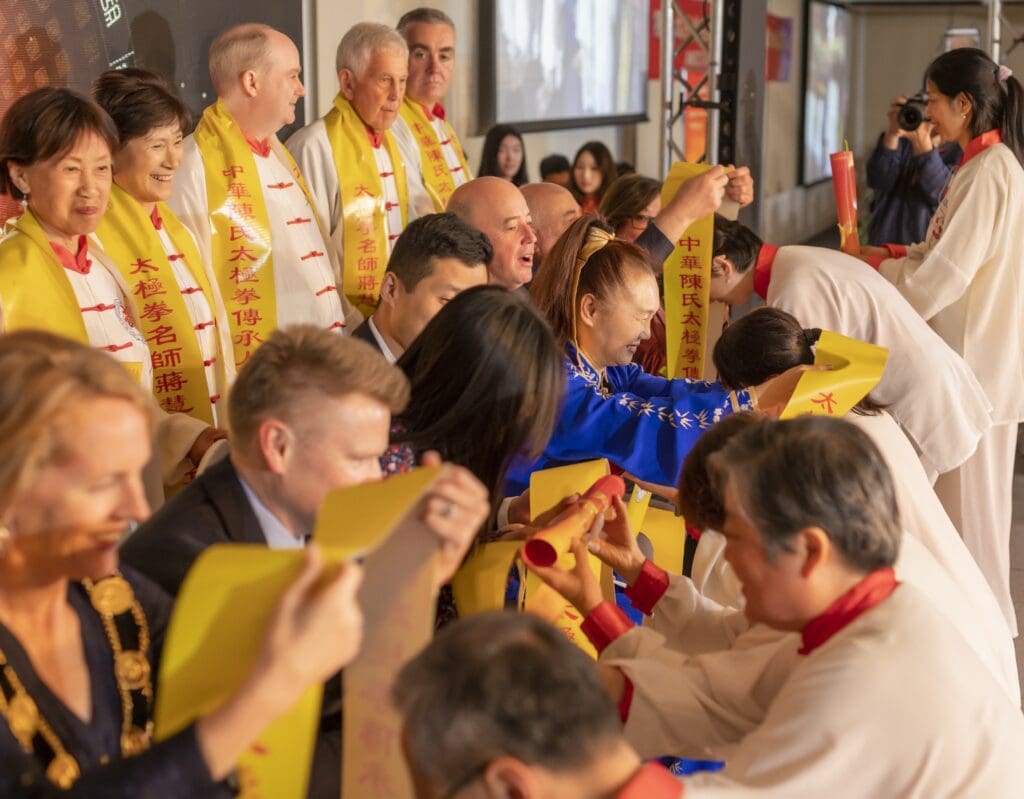 The 30-table Master apprentice banquet is full of attention from everyone on the stage. This is a visual feast of ancient civilization oriental culture. Her charm is far better than that of seafood delicacies.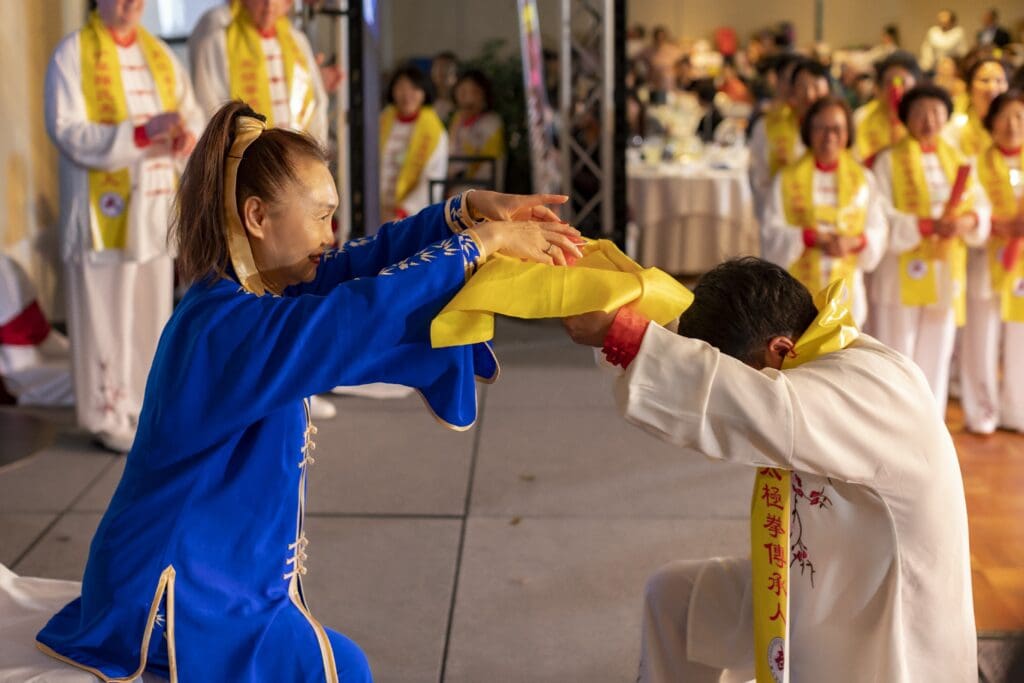 Representatives of new disciples respectfully offer tea to Master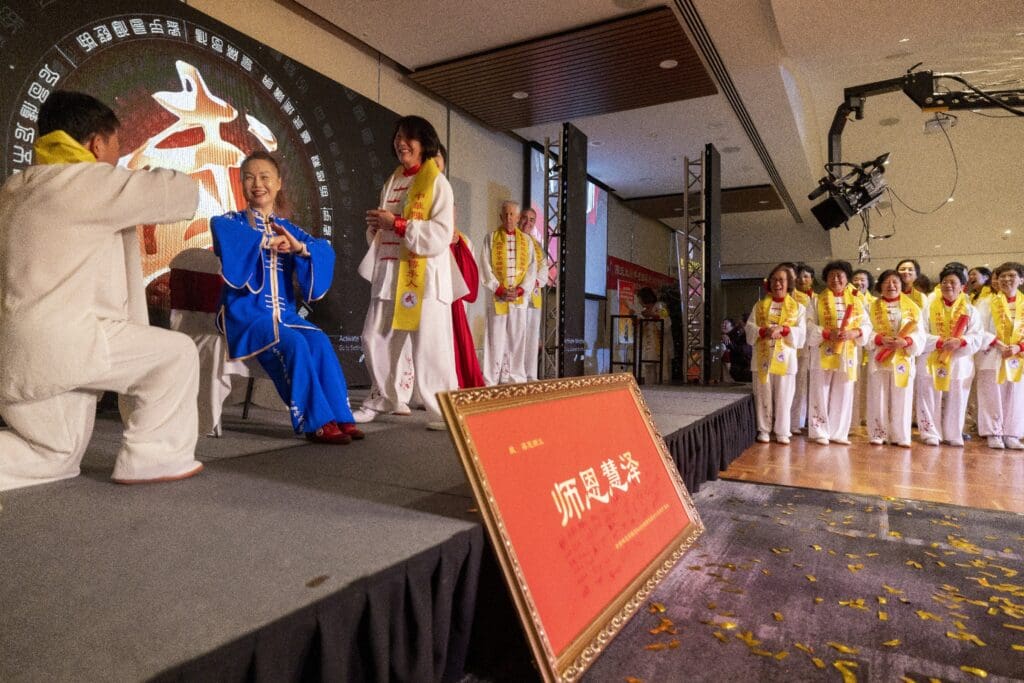 60 new disciples presented their signature plaques to Master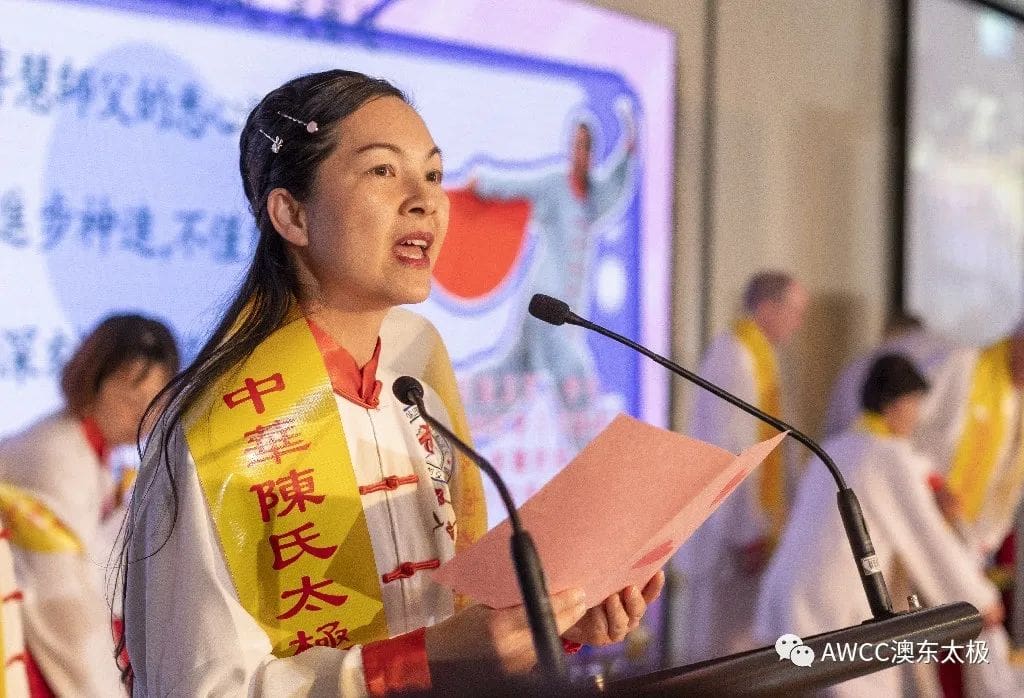 The new disciple solemnly promises to Master Wendy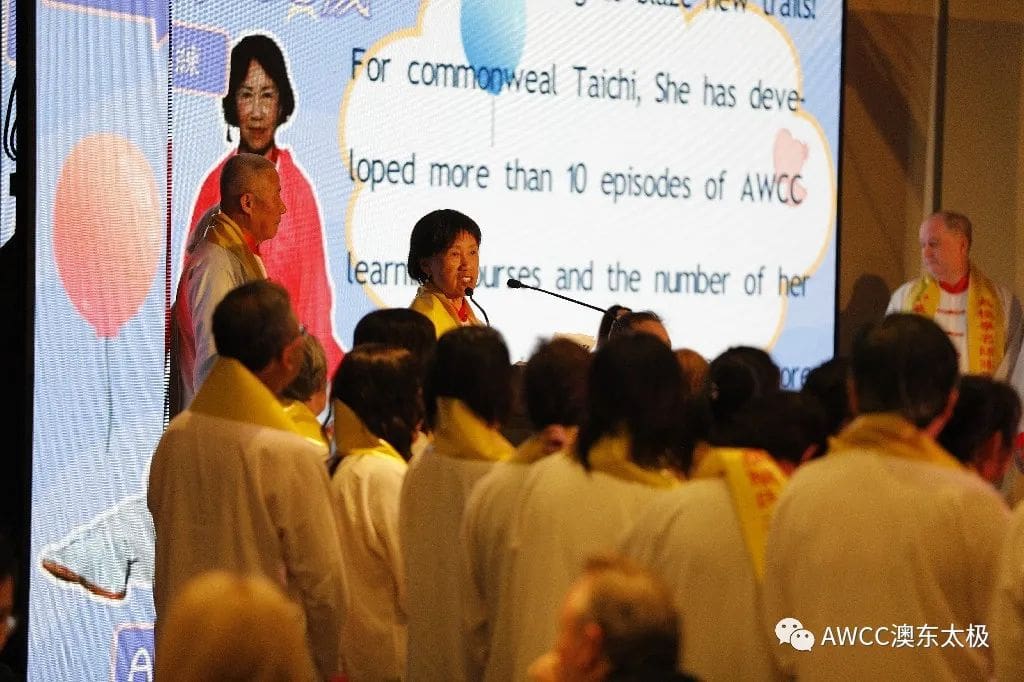 2006Wang Ling, 85-year-old senior coach of AWCC:
We are attracted by Master's spirit, and we don't have the funds to hire professional and technical personnel to satisfy everyone to continue learning online courses under the epidemic situation. She has turned an elderly person who is nearly 70 years old from a computer layman into an expert in making online courses!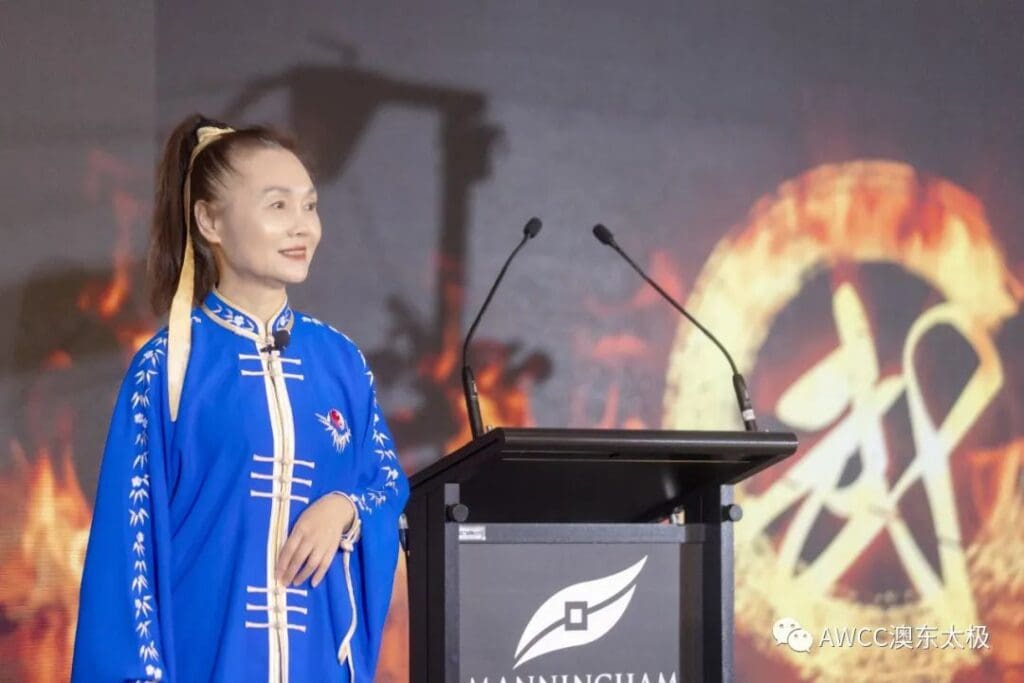 In order to host the International Martial Arts Festival, put your health aside! In order to help those who are willing to learn boxing to a higher level, she took out her front shop that relies on rent to provide for everyone to learn boxing and practice for free! … All gesture gesture  moved everyone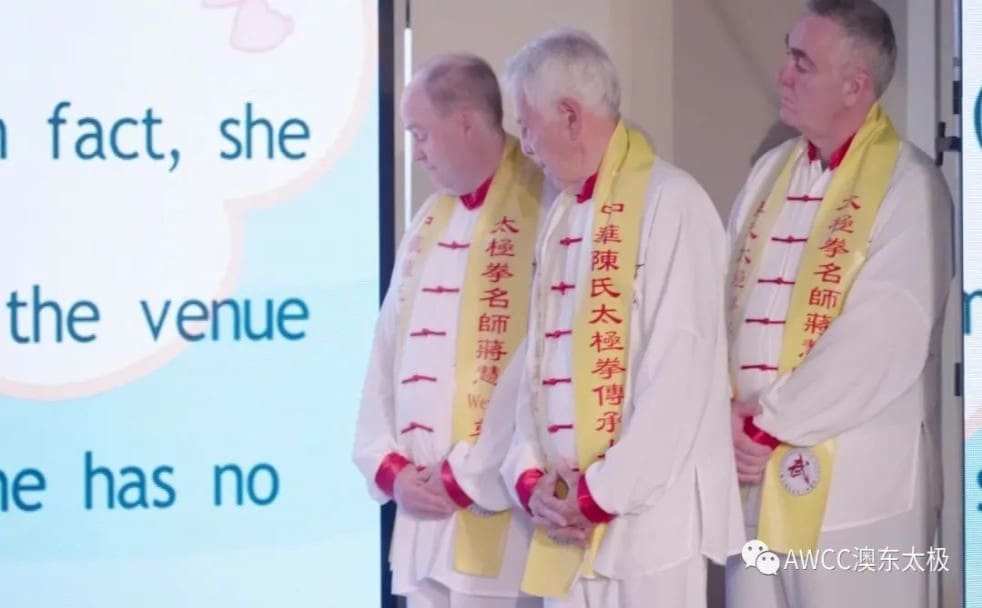 With the simultaneous translation of scrolling subtitles, the Western disciples understood what Wang Ling was saying in Chinese for the first time. Everyone agreed with the old coach's review: it was the teacher's personality that strengthened everyone. We followed the teacher closely to help her promote the inheritance footsteps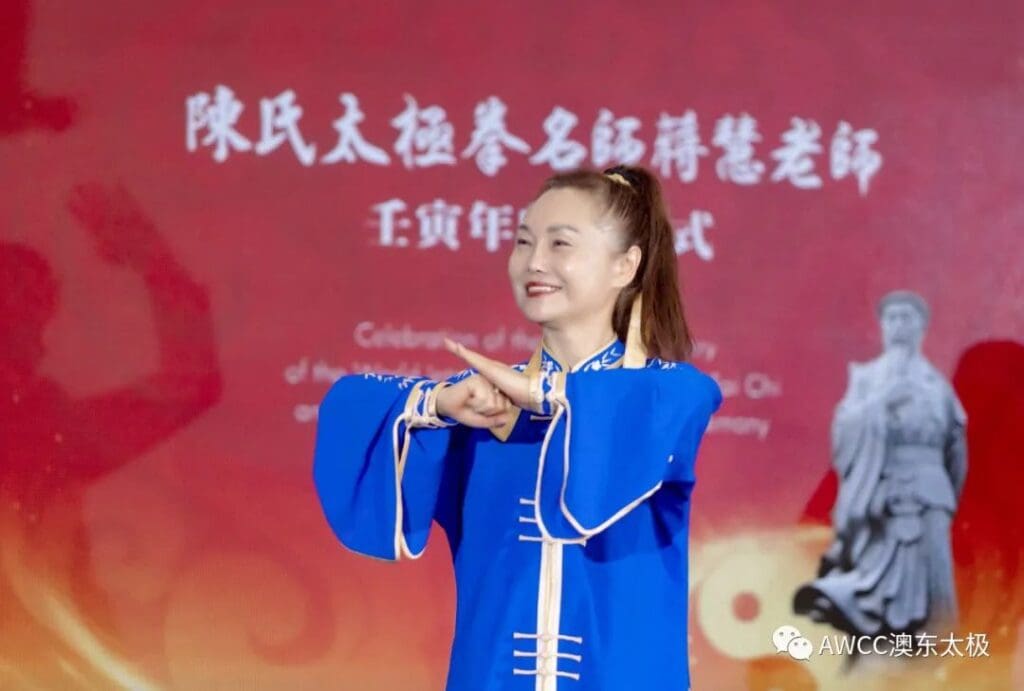 Master Wendy: Thanks to my master Dongwu  Zhang,  Qinlan Xu, and all the respected martial arts veterans for their careful cultivation,we  are able to facilitate today's  grand ceremony that  the fourteenth generation of Chen-style Taijiquan disciples. She saluted the highly respected seniors of Wulin to express her gratitude for the cultivation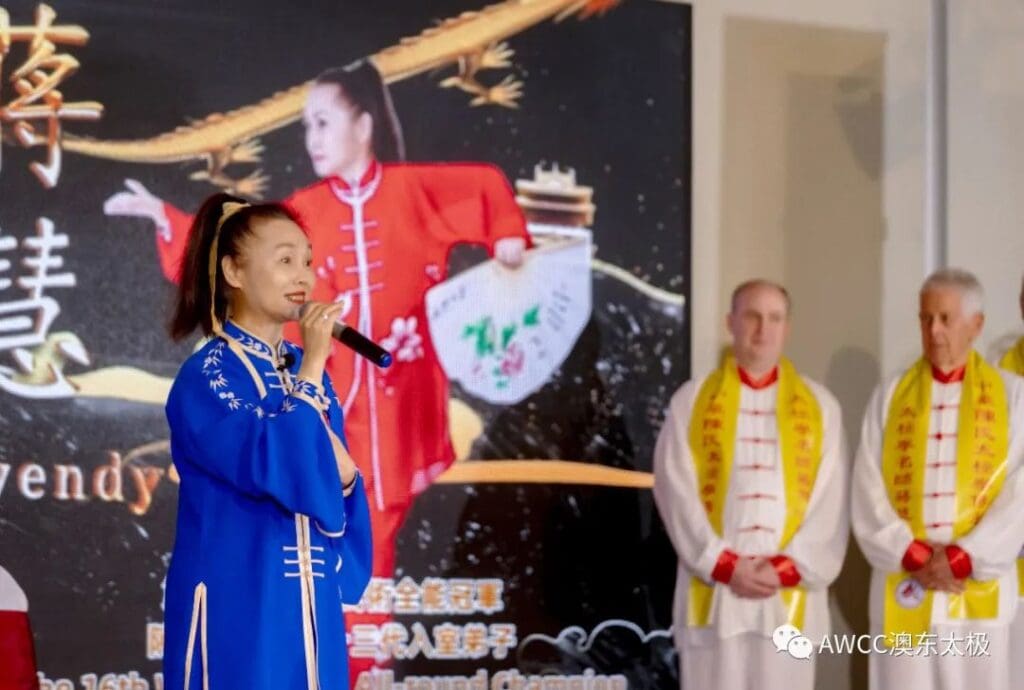 Appreciating teachers is the blood of the inheritance of the quintessence of the country, and accepting apprentices is the combination of virtue and art inherited from the public welfare. Tai Chi originated from China and belongs to the world. It is a long way to go ,Public welfare promotion need every body help together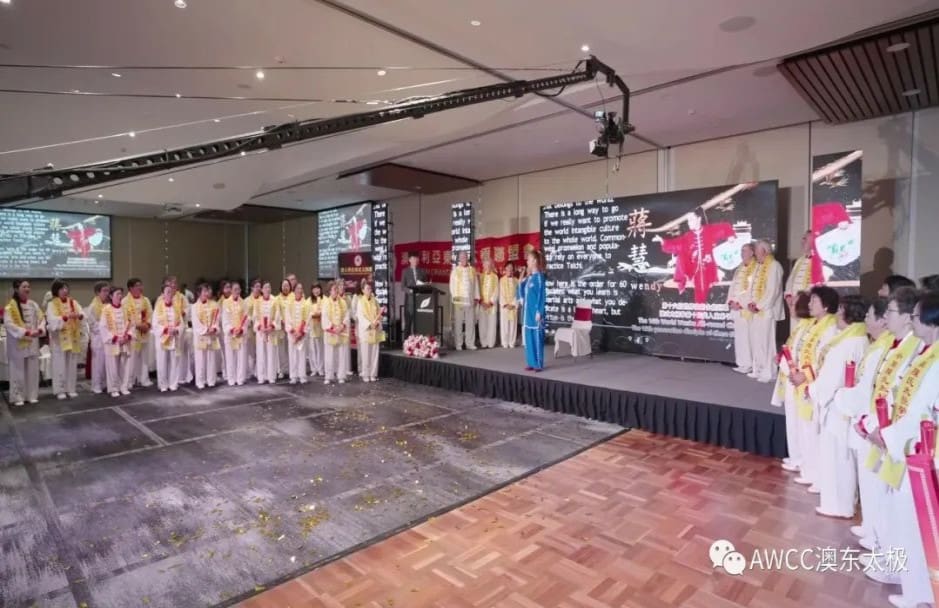 60 inheritors and disciples listened to the order: "Here! Master!"
From now on, what you learn is martial arts, what you dedicate is love,
The combination of virtue and art will always put  virtue first! The retelling by all the disciples in unison shocked people's hearts.Simultaneous cultivation of martial arts morality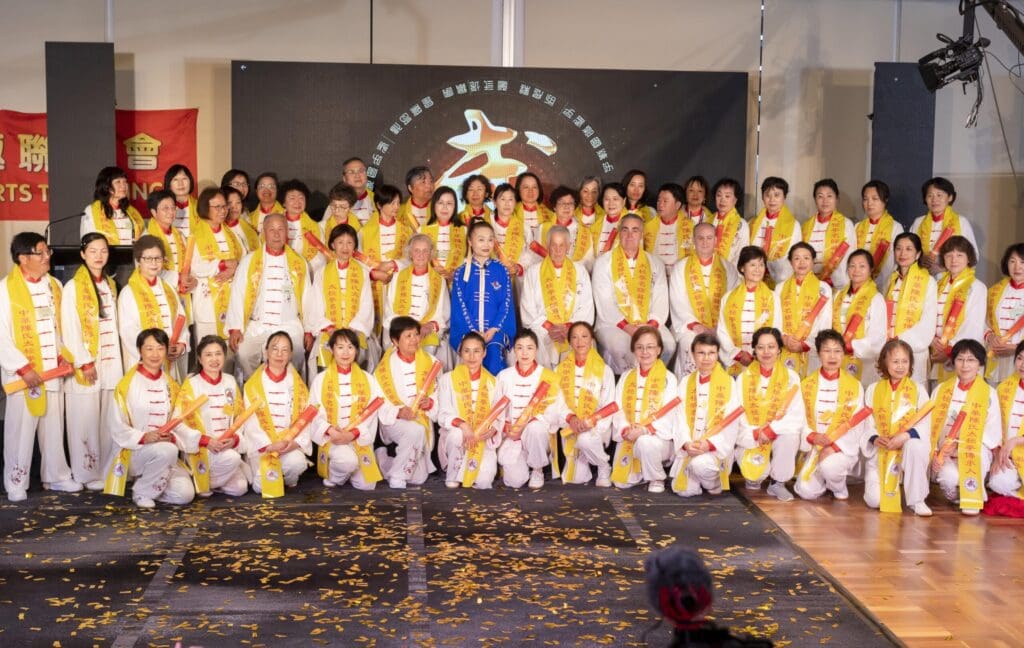 Group photo of master and apprentice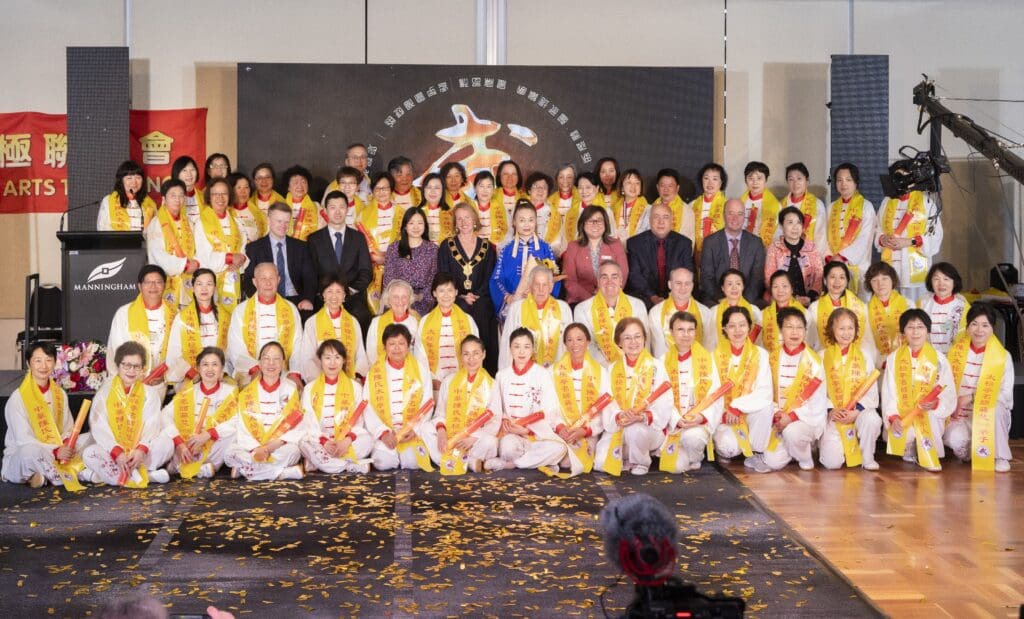 Group photo of guests and masters and apprentices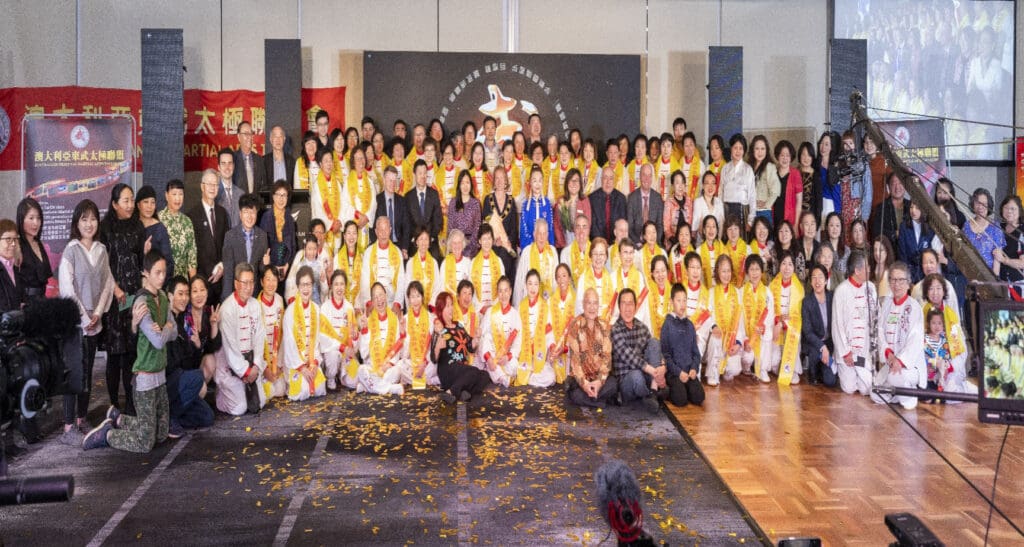 Group photo of guests and all students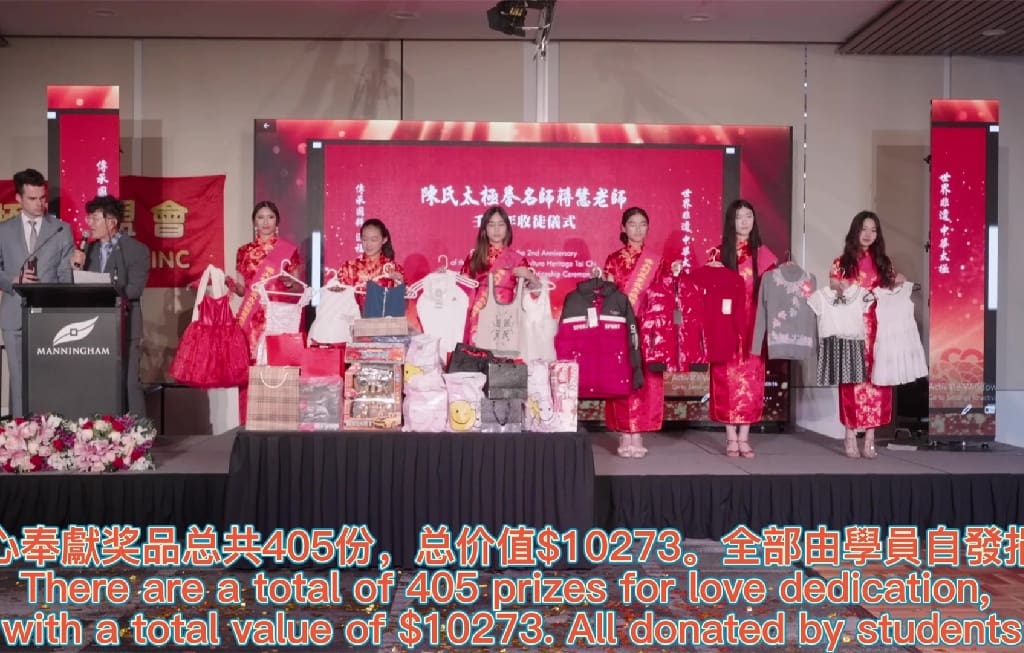 The thankful lucky draw is the highlight of today's teacher apprenticeship meeting. It is like a shining halo to build a beautiful landscape of love and dedication that has never been seen in the world.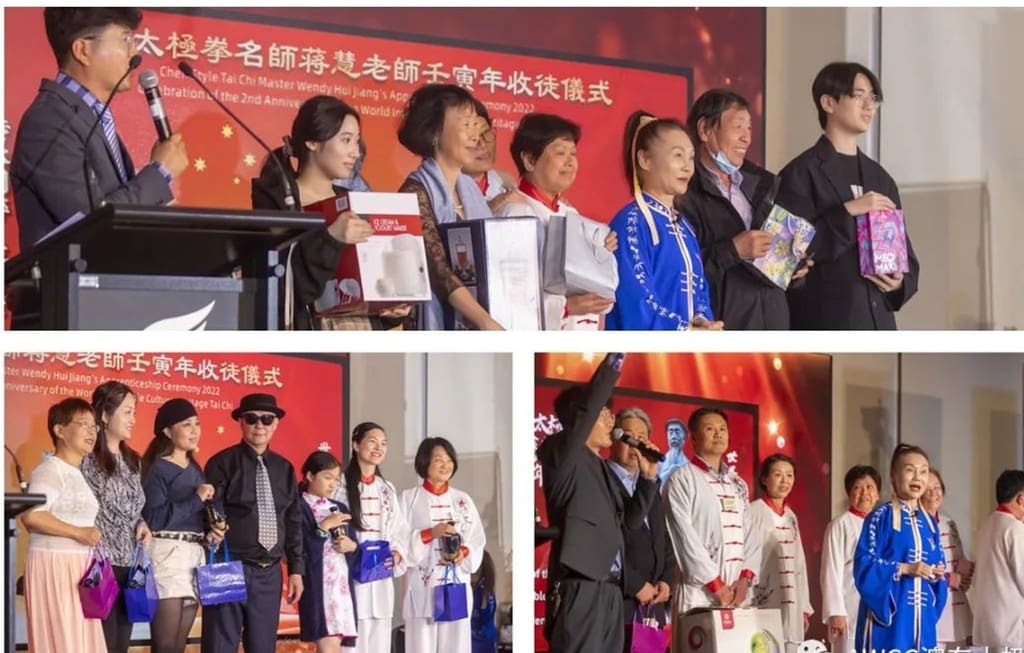 There are a total of 425 prizes, with a total value of $10,449 , all of which are donated by caring members for free. In addition to the special prize and the first, second and third prizes, each gift worth between $10 and $50 is packaged in combination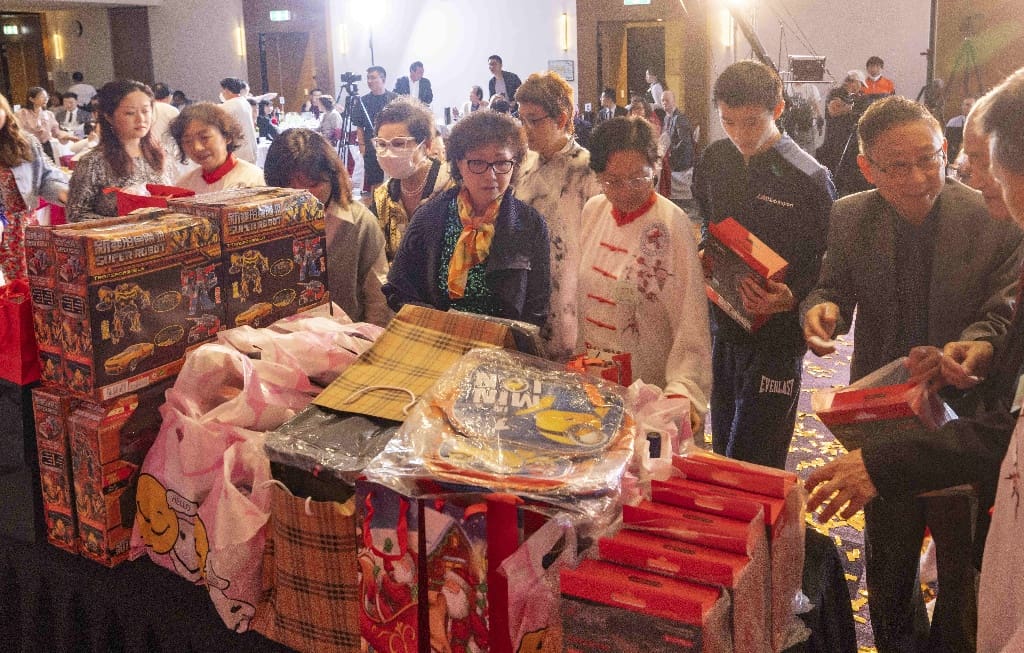 Volunteers of love divided the 260 Christmas interest awards into three parts. Let our 30 tables of guests come on stage three times today and choose first come, first served at will, everyone has a share.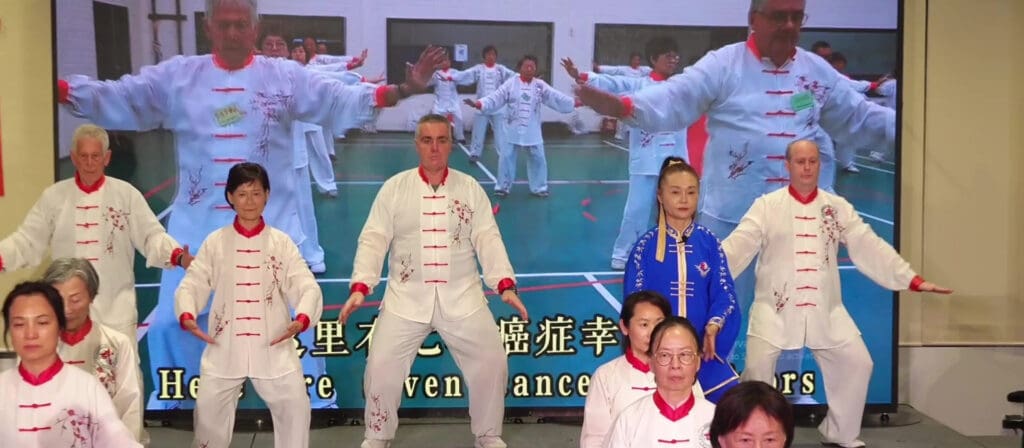 During each lottery draw, the trainees showed their relatives and friends the courses they just learned this year. The program host told everyone: This is a combination of old, weak, sick and disabled Tai Chi novices of different classes and ages.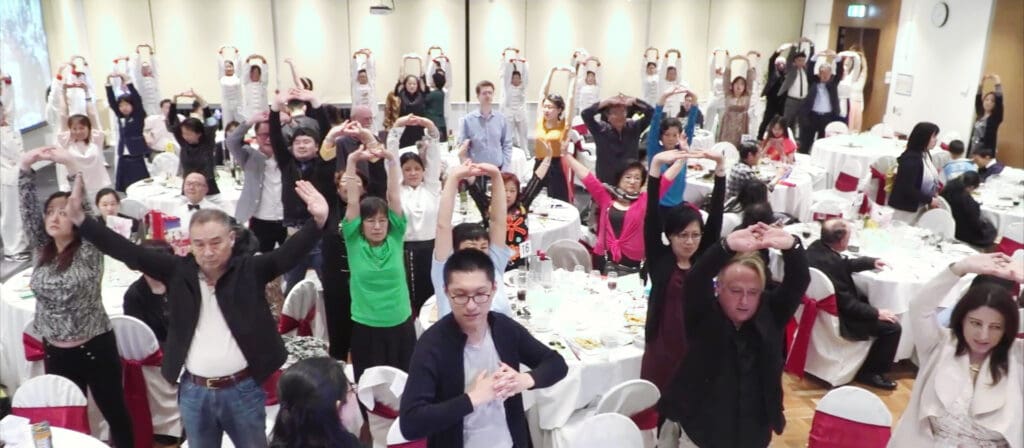 This introduction caused many participants to practice together. It turns out that Tai Chi can not only prevent and cure diseases, but it is also easy to follow. Several people asked to participate in the training course.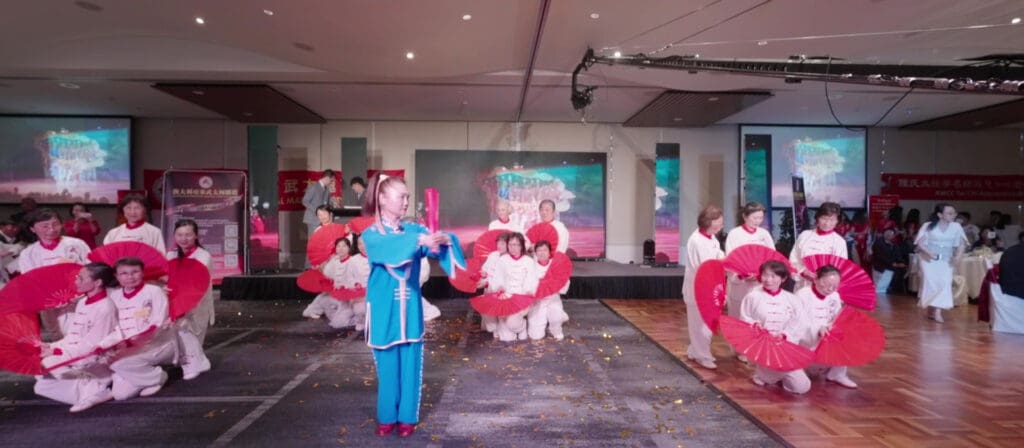 Creating the highest-end demonstration environment for those  who lack self-confidence is not only  improvement of martial arts, but also enhances psychological value and personal dignity, which is in line with the purpose of serving the people of AWCC Tai Chi!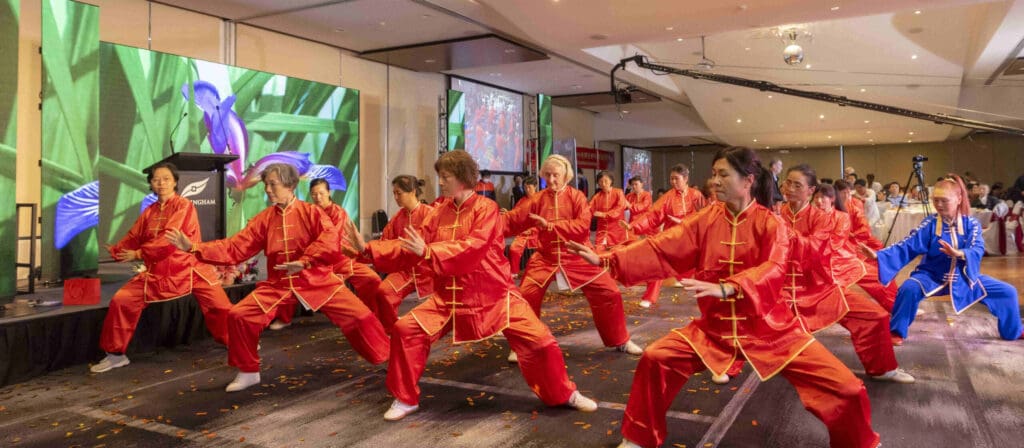 Chen Style Tai Chi Essentials Eighteen Forms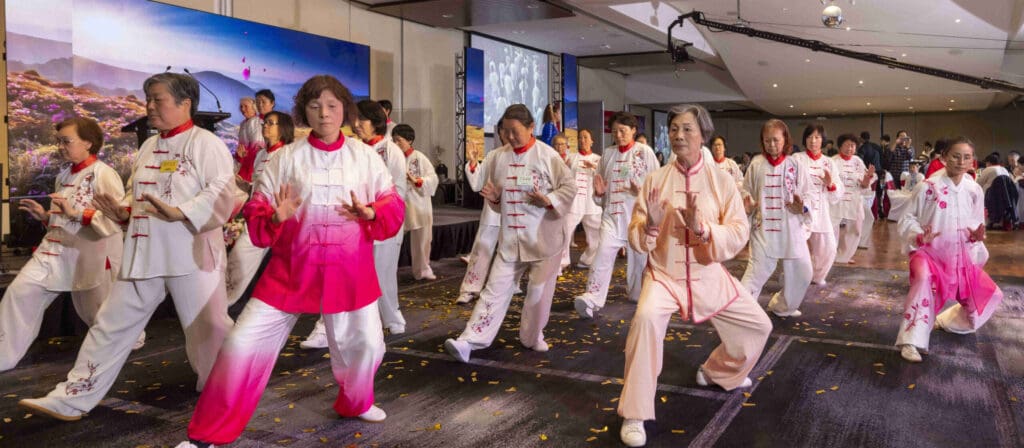 Twenty-four Simplified Tai Chi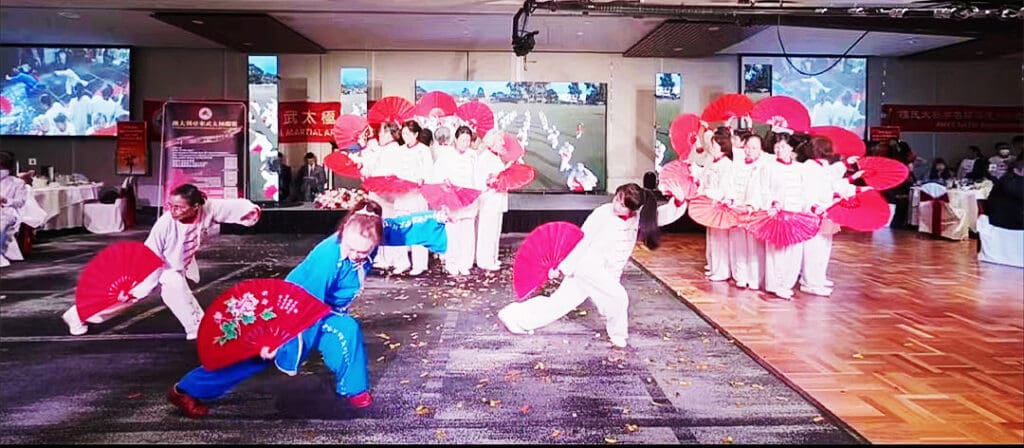 Chen Style Forty-six Cloud Water Fan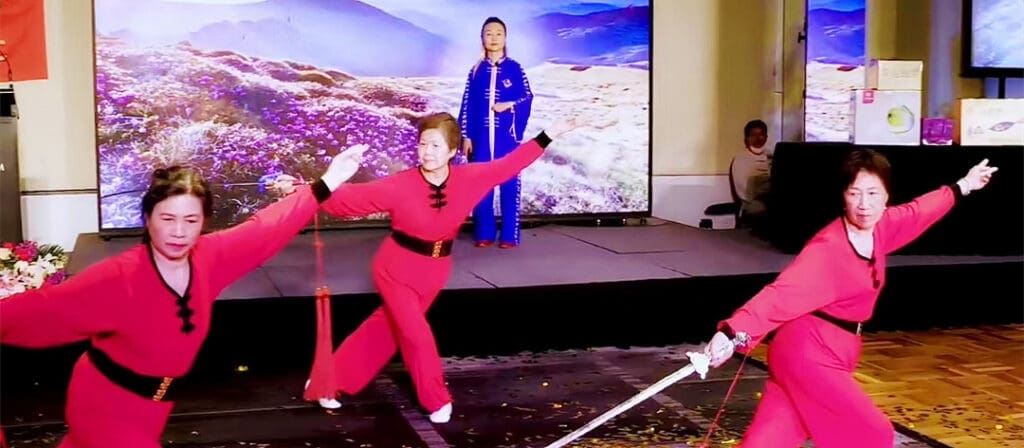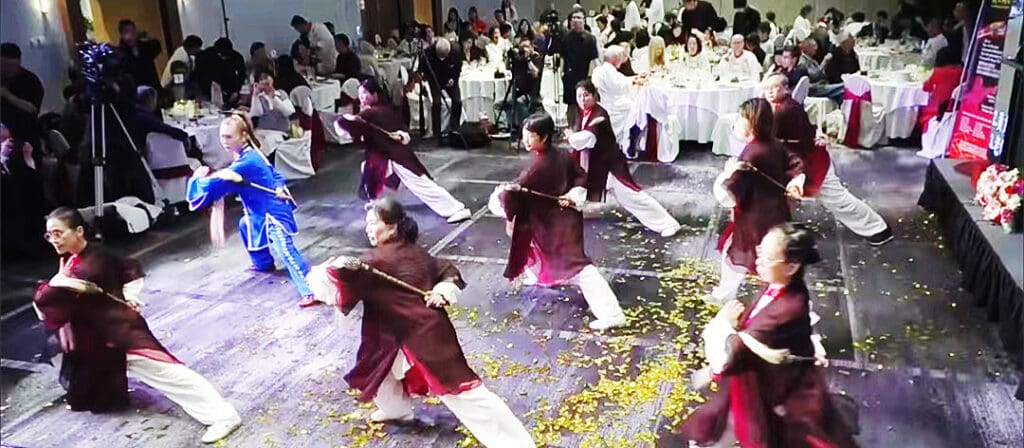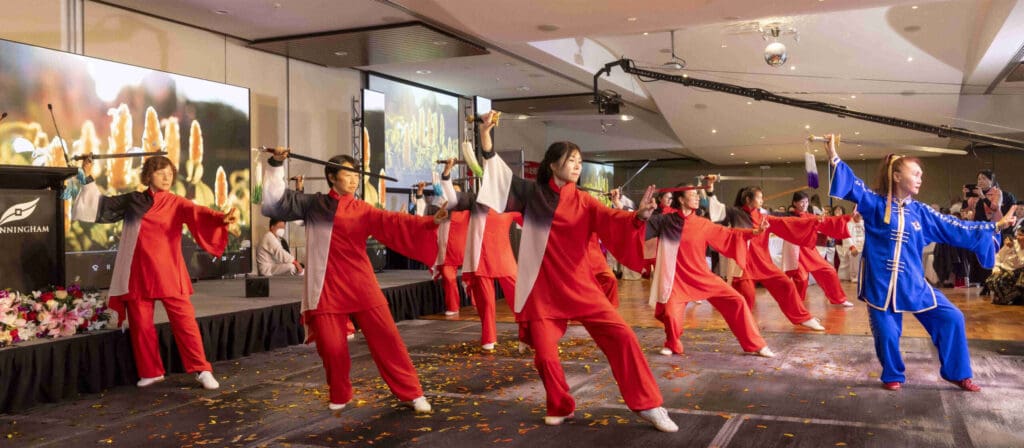 Chen style Tai Chi sword fine weaving routine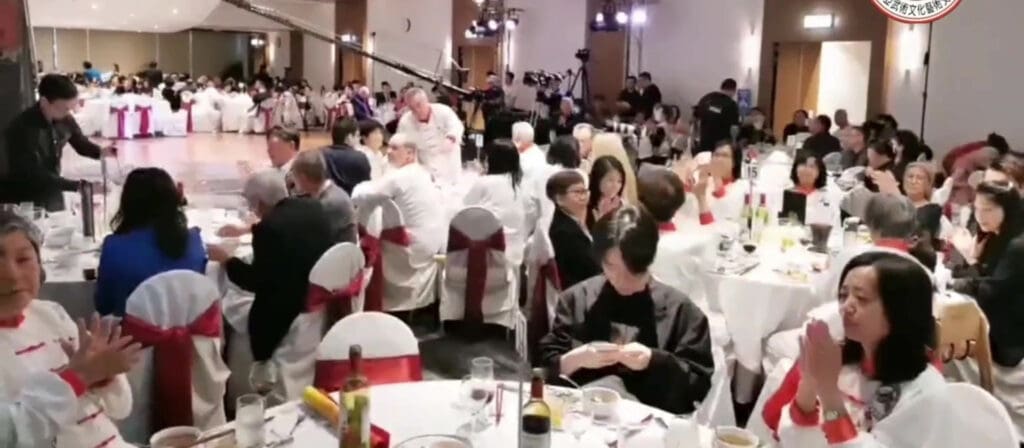 Acknowledgments to the participating and supporting media are as follows:
CCTV four overseas channels
TVB Emerald TV station in Australia
Australia-Asia National Television
Sunshine TV Australia
Australia Dahua Media Group
Ocean Media Australia
Chinese Wushu Wudang Magazine
Network platform: People.cn, World Taiji Net, Tai Chi Net, Henan DongWu Tai Chi Training Institute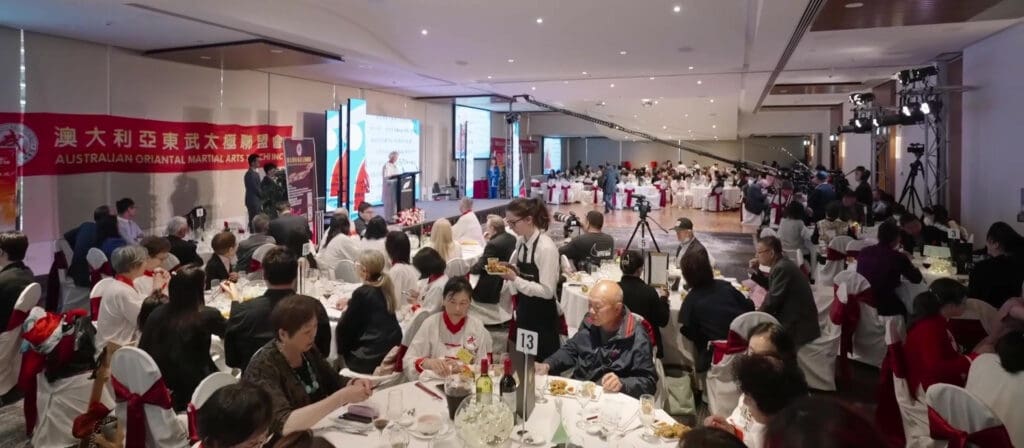 Acknowledgments for this event include the following sponsorship donations $800~ to $2000 :
Chen Yunguo, Chairman of the Federation of Victorian Chinese Associations
Disciple student Wei Wenyi
Xu Li, Chairman of Australia Yiheniu Group<br>Teng Jun, Chairman of Sunshine Accounting Firm, and Coach Qin Liying<br>and the generous donations of all AWCC members not listed<br>Thanks to the participation and verification of the leaders of more than 50 societies in Melbourn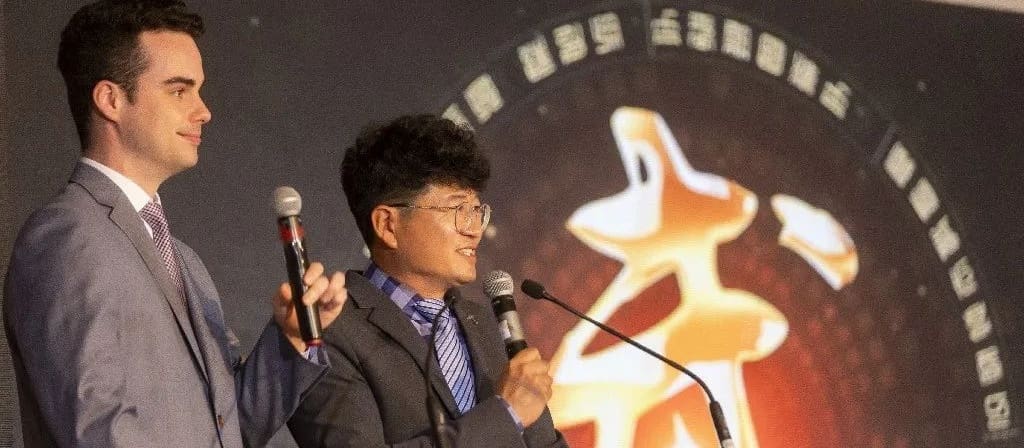 The English host of this special program: Patrick Dempsey
Chinese program host: Zhang Tiansheng, anchor of 3CW Chinese radio station in Australia, host of 2014 and 2015 Australian Chinese Spring Festival Gala, former Dalian TV host, former CCTV-1 "Sunset Red" column dubbing, etc.