Personal Statement Selection: Tai Chi's magical charm to community health:
Tai Chi makes people live longer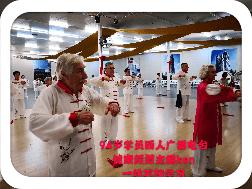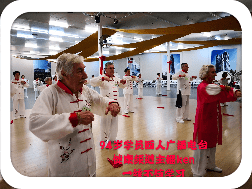 Ken Lyon 94 years old The seventh trainee AOMATC, ID:7034–Burwood
Classic words of Old birthday star is :" people must move when they live!"
Five generations of the same family, is a registered pharmacist in Australia. He is also the anchor of the 3WBC Health Channel program on Monday and Thursday.
Half a century ago, he suffered from severe lumbar disc disease. It was difficult to get out of bed. His tenacious vitality and optimistic attitude made him step by step in the struggle to fight against the disease.
He said confidently: " People must move when they are alive!Tai Chi should be our most suitable exercise, if people don't move, it's over!"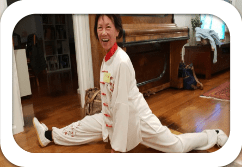 Wang Ling –82 years old Second Trainee of AOMATC ,ID:2006
I walked into Tai Chi in 1995 due to illness and practiced Tai Chi for 25 years.
Now I am a Tai Chi volunteer in Melbourne.25 years ago, I need other people to help when i turning over from bed to walk like a penguin.
I m  a Tai Chi assistant teacher at AOMATC. My life is wonderful because of Tai Chi; the magic of magical Tai Chi has made me taste the sweetness.
I often have Tai Chi exercise, and my body is getting stronger. I used to control and disappear all three tumors on my body. Amnesia has been improved. has an open mind and a rejuvenated spirit. Thanks to Tai Chi for giving me life again!
Favorable rehabilitation of hip replacement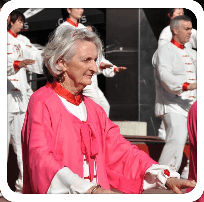 Alison Rennick,The fifth trainee Of AOMATC,ID 5191
Im 72 years old,with both hip joints replaced  Major surgery
 Since undergoing 2 total hip replacements in 2016, I have been able to practise Tai Chi more regularly and thoroughly enjoy its physical and mentally stimulating  benefits.
In June, 2018, I began to learn Chen Style Tai Chi With Master Wendy Jiang and am part of an amazing and Encouraging group of dedicated participants!
Now I can already teach new students who need help 。Also followed by wendy teachers often go out to Promote Tai Chi demonstration.I am So happy: Tai Chi changed my lifeI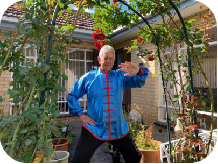 John Nation,AOMATC's fifth trainee ID: 5192–
80 year old
with both hip joints replaced loves Tai Chi.
My introduction to the mysterious Martials Arts discipline began in 2015 with Waverley University of the Third Age (U3A) which provides activities for retired or older persons. Very basic Tai Chi  Prior to taking up , in my younger years, I played many types of sports, Despite having two total hip replacements,
in June 2018, now in my mid-seventies, I began learning Chen style Tai Chi under the guidance of Wendy Jiang and joined the Australian Oriental Marshall Arts Tai Chi group. It has been an amazing journey and insight to a wonderful healthy and exercise regime, challenging both mentally and physically。As a result of this experience I am wanting to encourage my very young grandchildren to learn Martial Arts. For me personally, although very much a beginner and slow learner,I am determined to continue trying to improve and reap the health benefits from doing Tai Chi.
QuaFang Liu 80 ys old,The seventh trainee , ID:7095
Tai Chi cured my asthma
33 years ago. has been preparing an asthma drug vaporizer (Nebuliser) to prevent an acute attack.
Twenty years ago, I came  Australia. Melbourne's changing weather and pollen world have caused me to have multiple asthma attacks and even hospitalization.
More than half a year of AOMATC  training has strengthened my physique and lung function, and I feel more at ease.Although I am 80 years old, I am Tobu Taichi and I am proud of it!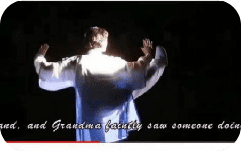 XiangJunRong 72 years old The fifth trainee AOMATC, ID:5001
I have been frail and sick since childhood.
After decades of hard work in Tai Chi, my physical health has improved a lot. And obtained the Chinese Yangshi Taijiquan five-stage certificate .
I am currently a licensed coach of  AOMATC, and I look forward to having greater help for the health of myself and the community during my studies.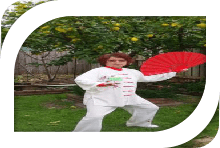 ZhenZhen Wong The fifth trainee Of AOMATC,ID 5033
Tai Chi makes my blood pressure return to normal
Im 76 year's Old-,
After each Tai Chi lesson, I feel relaxed   and my body is ready.
The high blood pressure of old diseases has stabilized in the normal range and sciatica has not recurred. It can be seen that Tai Chi has a great effect on physical fitness. Thanks to the teacher's selfless dedication.
Member's personal statement Sharing benefits of Tai Chi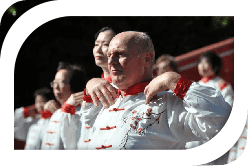 Andrew Zigouras Eighth Trainee of OMATC ID:8040
My life with Tai Chi, Im a builder,
and I have back pain and arthritis for many years.  So at my first Tai Chi lesson, my arms and my legs were all over the place, I felt I am hopeless.
At the end of the first lesson I was totally exhausted, but strangely I also felt physically and mentally charged.
Six months later, my life changes with Tai Chi. The physical changes that I've noticed are that I have a better posture, better co-ordination, I have and am still losing weight, and my sleep has improved. I also feel more positive and feel stronger. friends as I can, and hopefully someone improve their health and wellbeing like it has to me.With all of my heart, I thank you Master Wendy.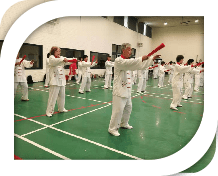 Chen HongYang– Eighth Trainee of ID:8076
Fortunately,  I had Taiji to accompany me through my illness.
For a long time, the lumbar intervertebral disc has been seen in all hospitals, but the disease has been tormenting me, and my body is swollen and deformed. Since joining this tai chi activity class, the waist has undergone a certain transformation and the body has become stronger before.Tai Chi exercises with standardized movements have made me feel better than to die, and my pain has reduced a lot. In particular, my beloved teacher personally pasted me pain-relieving plasters. These lively and touching scenes made me unforgettable.
This kind of warm and ingrained heart made me more determined to overcome difficulties and get out of the illness, and live up to the teachers' hard work!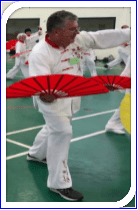 Kevin Goodrem The fifth trainee Of  TC  ID:5195
I would recommend Tai Chi to anyone interested in improving their health.
I suffer from Arthritis mainly in the knees which was restricting my movement. My doctor recommended exercise to help free up my knees.
I decided to try Tai Chi as an exercise course to see if that would help.I have made some great new friends within this group and enjoy it greatly. I would recommend Tai Chi to anyone interested in improving their health.
XiuJuan Zheng-Seventh Trainee ID:7076Choose Taiji instead of heart supportI am 62 years old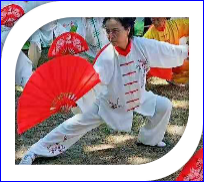 Choose Taiji instead of heart supportI am 62 years old with coronary heart disease.
 CTA revealed moderate to severe stenosis in the mid-distal segment of the anterior descending branch of the left coronary artery of the heart. Doctors recommended placement of a stent.I was afraid  so I took medicine to control and practice Tai Chi. Through learning and exercise. Great improvement in physical health. Psychologically, I also have confidence in defeating the disease. Practicing Taiji is not only healthy and happy. I can also make friends at home and abroad, and my friends  all practicing Tai Chi. Thank you very much Taiji  all the coaches!
Tai Chi cured my lumbar disease
Tai Chi student No. 7050-Li Ming
Tai Chi magically cured my severe lumbar muscle strain
Family surprise: Tai Chi magical cure my severe lumbar muscle strain
I suffer from lumbar muscle strain, and my spine is narrow in two segments. I cannot carry objects over 2 kg. I usually rely on walking to exercise.

It was the first time I participated in a great class to practice warm-up and I couldn't hold on. Practicing Yidanwei, Baduanjin and Yunshui fans, so that the whole body is sore for three consecutive days, like a skeleton.
However, after several times, there was slight soreness in the waist and legs, which was not a major problem. The teachers took the trouble to correct our boxing styles over and over again.

Now my mental outlook has taken on a new look. During the exercises, I have fever in my knee joints, and sometimes my fingers feel a bit of strength. Recently, I carried objects of more than 2 kilograms and walked a distance of nearly 200 meters. My family was very surprised. This accidental discovery made me happy, and I knew in my heart that it was all due to Tai Chi.
Thanks to Master and volunteers for their selfless dedication.
Although Taijiquan is not a "prescription" that cures the disease,
if you persevere and practice it, it can also be a magical remedy for all kinds of illnesses.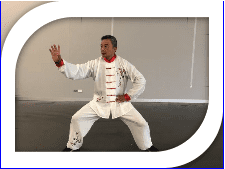 Xue Lan-Second Trainee of AOMATC ID:2022
 Tai Chi not only beat my high blood pressure, blood fat, lose weight, but also teach people to learn tolerance.
 I am 58 yearsold. Ten years ago, I became the second highest in the high-three population, with high blood pressure and high blood lipids. As I got older, I was always worried about how to manage my health. 2018  I joined AOMATC as a second-stage student. Under the leadership of Wendy Jiang, he started to learn basic skills.
In just two months, he deeply felt the charm and magic of Chen Taiji.Six months have passed and I feel my back straight. The wonderful thing is that I lost 5 kilograms of weight. The stomach I used to hold out was stubborn. The indexes of blood lipid and blood pressure have also dropped.
Tai Chi restored my blood pressure to normal
Ten years ago, was found to have chronic glomerulonephritis for a long time, and was sentenced to "death of remission" by a doctor. Because I do not like sports ,my body muscles have shrunk sharply, and I have unfortunately suffered from back muscle spasm. Western medicine can do nothing about it; Chinese medicine uses acupuncture, massage, cupping, but with the frequent occurrence of the disease, the effect is gradually increasing. Weaken. In the end, I had to choose Tai Chi. joined AOMATC to learn Tai Chi in March 2018. Under the teachings of the World Martial Arts All-Around Championship, I can't even believe it myself:
First, I was never born in any sport for more than three months. Secondly, each training time is two hours, and this training intensity is unprecedented for me! Third, many exercises in training, such as raising arms vertically, bending straight legs to land on both hands, squatting, standing on tiptoes, etc.,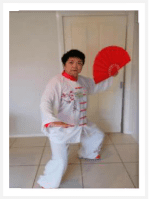 Hong Li-Eighth Trainee ID: 8039– Glen Waverley
The doctor was sentenced to death,
Tai Chi make me rise
were impossible or difficult to achieve from the beginning, and became possible Or, it 's easy to do.
Fourth, I did n't suffer from back deltoid muscle spasm during this time.  what 's even more incredible is that I recently did a urine test. The urine protein content (higher than normal) Many times) actually decreased by more than 100 compared with December last year, a big step towards normal values. I still doubt whether the test results are accurate?The surrounding relatives, friends and acquaintances learned that my situation was the same as mine, and I felt that "Tai Chi" was really incredible! Many of them, like me, have never been exposed to "Tai Chi" and people who have practiced Tai Chi without feeling the same with me also want to come to "AOMATC" to look for differences. I look forward to the miracle of life, not longevity, but just healthy life every day. Thanks  my master!

AiHua Xing –Seventh Trainee of ATC ID:(7090)
By chance, I met Master. Wendy and led boxers to the Taijiquan performance at Glen Waverlye Library, which made me fortunate to make a warm family with the OAMATC Taiji Alliance.
In addition to class exercises, they also practice video at home every day. I have improved my boxing skills and exercised my body.Master. Wendy's selfless dedication and rigorous teaching attitude and the hard work of the teaching assistants moved us.
So We are happy to volunteer for everyone

Couples join hands to learn Tai Chi     Very happy willing volunteer
Tai Chi & My Knees
As I get older, I ca n't squat down my knees because I have n't exercised for a long time. After more than two years of Taijiquan learning and exercise, my knee joints are completely fine,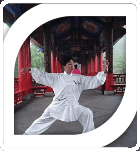 DeHui Wen-Eighth Trainee of AOMATC ID :8017
 and I have been able to squat up and down. Playing Tai Chi is so good. It  not only reap health but also friendship. Let us, who are from all over the world, come together in the Taijiquan family in a foreign country, and feel like being in the motherland.
Scientists, accountants, Doctors & nurses enthusiastically participate in the volunteer team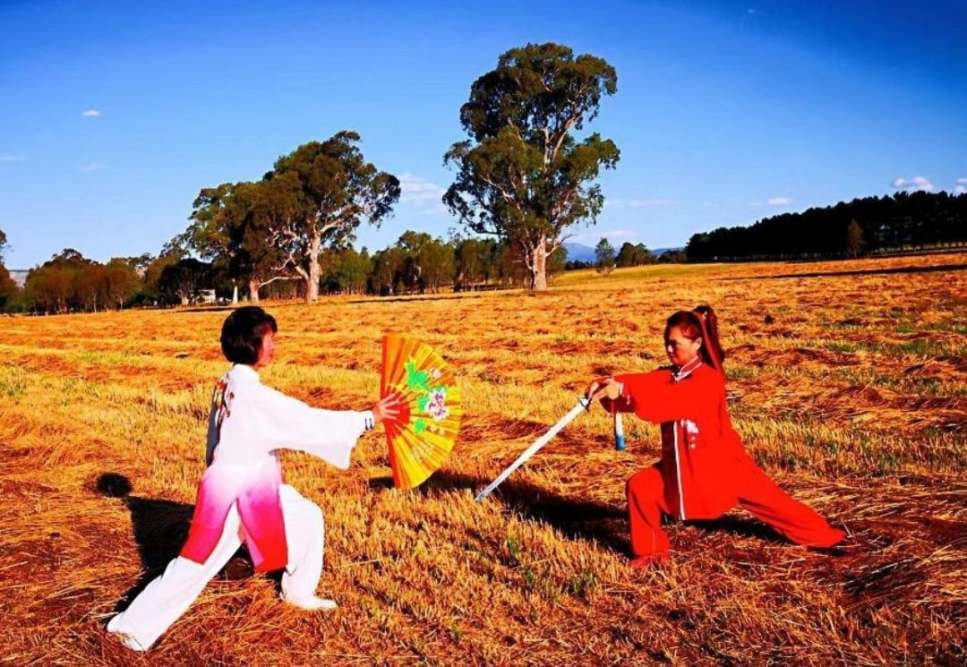 Pollana Wong-Sixth Trainee Of AOMATC ID:6006-
As an CPA, take the initiative to provide services and love
With gratitude, as an Australian Certified Public Accountant,
I took the initiative to provide tax assistance to the AOMATC Alliance to reduce the burden on the teachers,
and I am happy to be busy and tired! Because Tai Chi benefits the community,
AOMMAT is a warm and lovely family full of positive energy. It is worth contributing to this team for charity.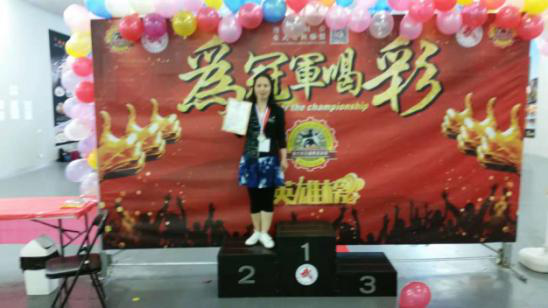 Yulan Wei –class leader The third trainee of AOMATC ID: 3077
I work as a nurse, cure disease, I volunteer    management Tai Chi classes to treat "not" sick.
I am an Australian registered nurse and face painful patients every day. Our job with doctors is to help the country restore health for citizens.
And the positive energy team that promotes Tai Chi for public welfare is to help people use scientific and effective methods to relax the veins, clear the blood, massage the internal organs, and activate the bones in order to trengthen the body and improve the immune function before entering the hospital. It is a very meaningful job to keep people as few as possible from llness.Although I was exhausted after going home from work, but I do is to help people to be physically and mentally healthy  before they enter the hospital. I have given love but I have won the respect .I am  feel an unparalleled happiness, I am proud of it!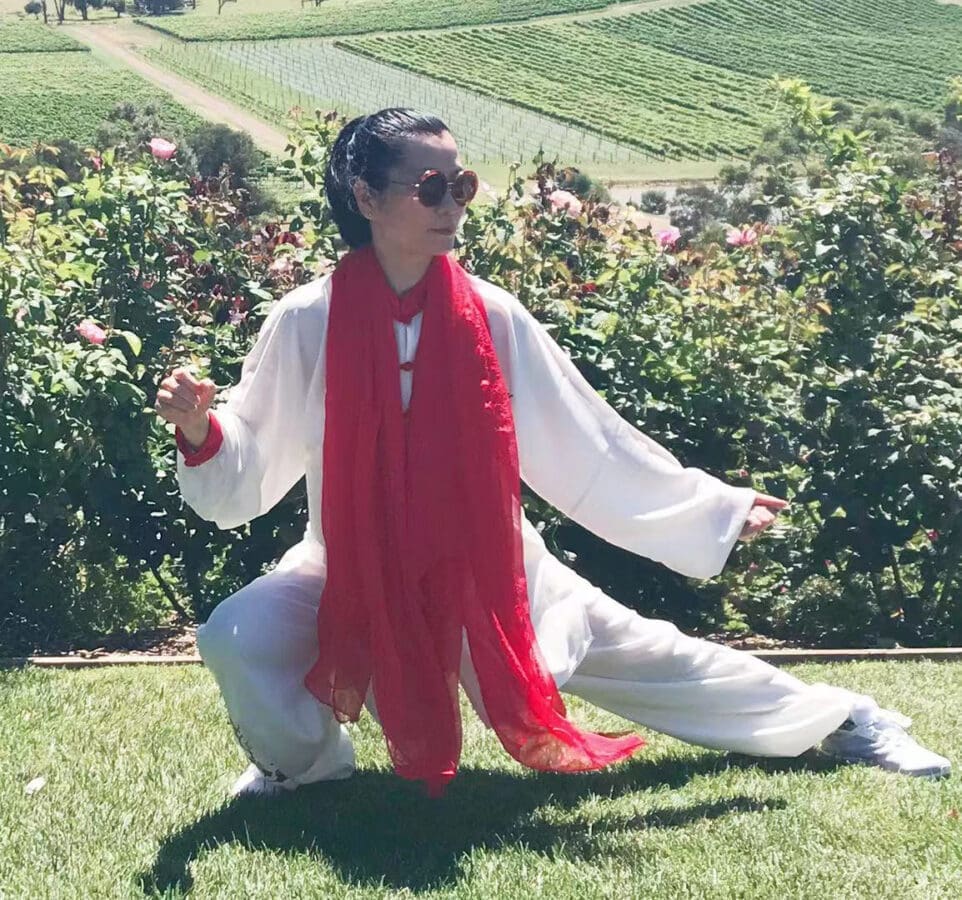 Nancy Wang– Fourth trainee of AOMATC ID:4323–Glen Waverley,
 As a scientist – Tai Chi made me feel better.
Tai Chi made me feel better.
I am a scientist, engaged in environmental analysis, and have been dealing with computers for a long time.
Cervical spondylosis is severe, and sometimes the pain is unbearable. After practicing Tai Chi, the symptoms are obviously relieved.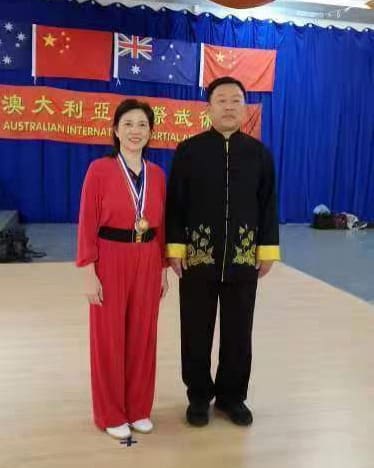 Polly Feng -The third trainee of AOMATC  ID:3016 -Mt Waverly
 class leader of  Fourth, & eighth  public welfare training class
I was weak from an early age.After 10 years of Tai Chi exercises, his weak body was improved. Now With gratitude, we rise up to take the responsibility of the charity squad leader, and the helper teachers who work hard and resentment give all their love for enrolling students and managing the students'  internal affairs. Won the love of everyone.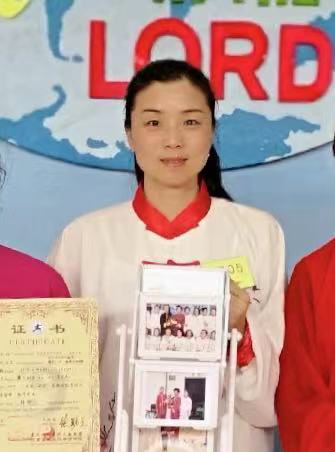 Yu Gui-The first trainee ID:1005
Self-funded Chinese medicine pain reliever to help the elderly relieve pain
With the help of the teacher set up the AOMATC mutual help group. I served as the group leader. I saw a lot of middle-aged and elderly people with low back pain and swollen bones. It was very uncomfortable. Trainee relieves the pain. I bought a lot of ancestral TCM plasters at my own expense Helping each other, inclusive of the world, giving a healthy, happy life, and benefiting the world. I m full of happyness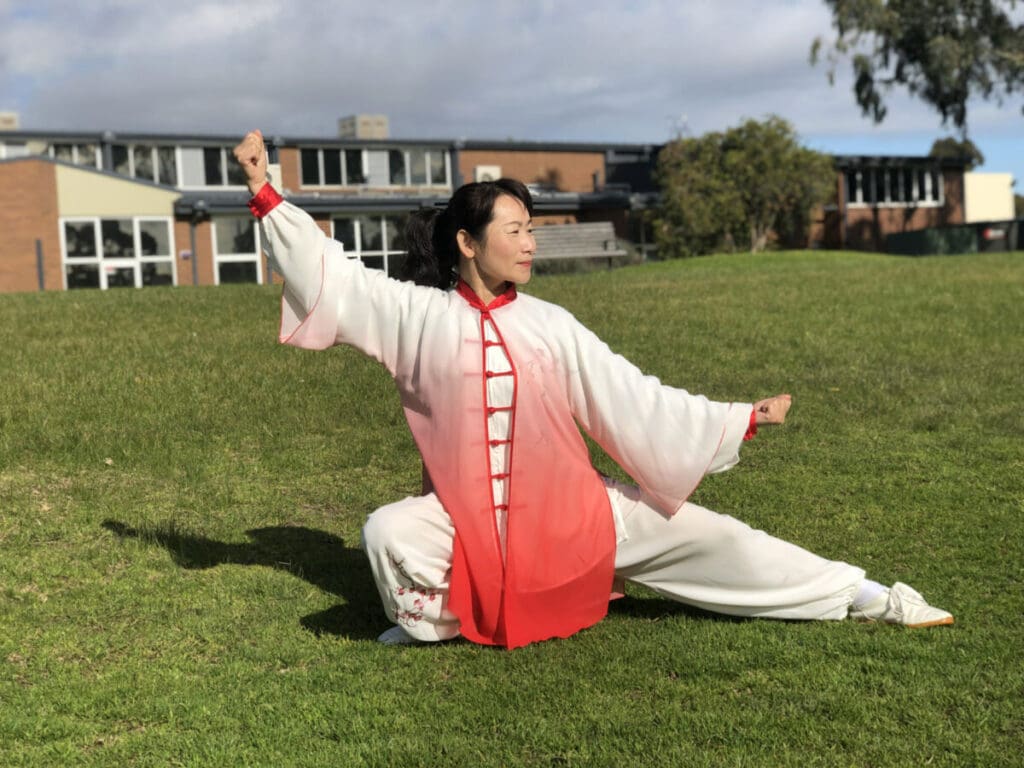 XinYan Jiang-Second Trainee of AOMATC  ID: 2005-
 Admissions Volunteer-Mother of  Three children 
I am a mother of three children .. one is in my arms, two are entering the college entrance examination.
I entered the second phase to learn Tai Chi with the help of a volunteer student in the first phase. In order to help teachers of public welfare teaching, more people share the Tai Chi exercise. Amazing charm,
I volunteered to do enrollment statistics for everyone, from the second and third phases. . . Now it is the tenth charity training course.
Our team is formed by a group of volunteers who are willing to give love as I …