World Wushu All-Around Champion teaches Tai Chi for free
Join us and move towards health!

Starting from a zero foundation, stepping into the threshold of fitness Tai Chi!

Learn Chen Style Tai Chi Basic Skills from the world champion without spending a cent
AOMA Tai Chi  Charity Training Course for Beginner
Doncaster Class  Every sunday
Address: Doncaster Secondary College-David Perry Hall
Time : every Sunday: 10.00am-12.00pm, 1st July 2020—30.Jun.2021- closed for school holidays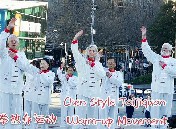 Tai Chi makes people feel peaceful and happy, Tai Chi improves immune function and strengthens physical fitness. Tai Chi is the best slow exercise for middle-aged and elderly people, and patients with chronic diseases. Tai Chi makes people live longer.
Through the study of strict and formal public welfare teaching courses, many office workers, patients with chronic diseases such as diabetes, hypertension, cardiovascular disease, people with severe sleep disorders and disabilities, and cancer survivors have significantly improved their pain symptoms
Click this link to view member story sharing:【Tai Chi saved my life】
The purpose of popularizing Tai Chi for public welfare:
Use public welfare teaching to promote fitness Taiji means, with strict basic skills introductory teaching as the principle. It aims to help all people who want to prevent and treat diseases and enhance their immune function, and to selflessly contribute to society and provide love and free service to the society.
Conditions for tuition-free learning Tai Chi courses:
1. registered members who have been provide personal health status and emergency contact detail, reviewed and agreed by training school to join the member.
2. Members register once a year and new member registration is not accepted during training
3. To enter the training class, you must be equipped with uniform practice clothes and Tai Chi fan (if you cannot equip it, you can get it from the administrator: pay $30 for a full set of embroidered Tai Chi clothes , and pay $8 for a Tai Chi Fan
4. After registration, the membership fee is non-refundable.
2021 annual syllabus of public welfare popularization class:
1. Chen-style Taijiquan joint warm-up exercise
2. Chen-style Taijiquan basic skills for beginners: Chan Si gongfu training
3. Chen Style Taijiquan National Examination course lever one single practice.
4. Forty-six style cloud water Tai Chi fan
5. Health Qigong Ba Duan Jin
6. Chen style Taijiquan basic moves: six styles and four directionsRights enjoyed by members:
2021 Beginner Course Content Video Trailer
Tai Chi beginners won the first prize of the 4th World Tai Chi Online Video Competition
Address: Doncaster Secondary College-David Perry Hall
 Time every Sunday: 10.00-12.00am
How to join us:
For  enquires : Wendy on  0467597080
Email: ad@awcc.com.au
Charity Training for Beginner Doncaster Branch every  Sunday