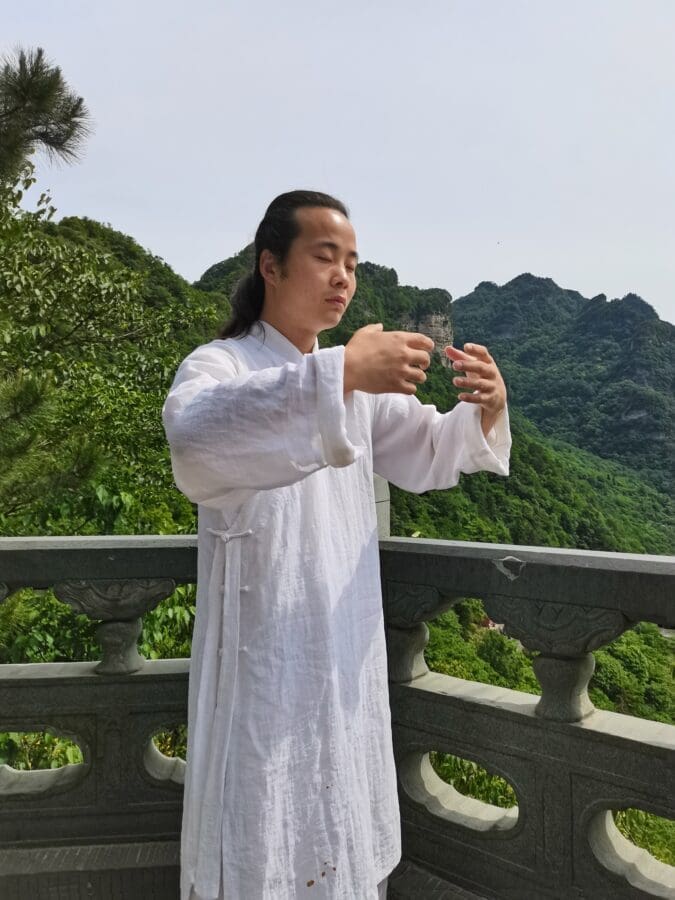 Wudang Baduanjin Introduction:
Baduanjin is a Taoist exercise that combines the inner family's breathing, guiding, and stretching of the muscles and bones. It has the beauty of Tai Chi and the effect of health preservation.
It belongs to slow-moving exercises, suitable for all ages. Only six feet of land, a stick of incense time. Mainly aimed at sub-healthy people such as five labors and seven injuries, the blood circulation can be promoted by pulling tendons and vomiting to achieve the effect of curing diseases and prolonging years. 
Features:
Rigid and soft, stretch muscles, move joints, circulate qi and blood, relax and flexible limbs, prevent and treat bone hyperplasia, and it is the best exercise for sub-healthy people. 
Essentials: The movement is coordinated with the breathing, the slower the better. When you open your chest, breathe, exhale when you close your chest, and keep your breath when you stop. For a long time, you will be proficient, naturally light and healthy, and will not suffer from all diseases. It can make the thin people healthy and the fat people lose weight. Can be described as the first method of health.
[Introduction of Lecturer]: Li Xiaokang:
Taoist Name: Chongning The 26th generation disciple of Quanzhen Longmen faction,Dean of Wudang Wuji Kungfu Academy, Former Wudang Taoist Kung Fu Team Coach Chief Coach of Taoist Cultural Development Center Good at: Wudang whisk, Wudang sword, Taijiquan, Sanshou, Baguazhang and other exercises.
Course Features
Lectures

8

Quizzes

0

Duration

50 hours

Skill level

All levels

Language

English & Chinse

Students

0

Assessments

Yes
Wudang Baduanjin Section 1: Raise your hands to dredge the triple Organs

Wudang Baduanjin Section 1: Raise your hands to dredge the triple Organs
Hello everyone, Baduanjin has been announced by the official
Baduanjin has the effects of relaxing muscles and promoting blood circulation and strengthening internal organs
Friends who don't know how to practice can follow me together
In the first section of Wudang Baduanjin
both hands to pinch the Dantian area
The heels are close together, and the toes are splayed out
Cross the fingers of both hands and raise the tremor
Flip your palms up and push up hard to inhale enough
Seeing the back of the hand, penetrating the Laogon
Exhale while returning to normal
Rotate to inhale and back to normal exhale
Every joint from hand to foot must be twisted
Left and right three times as a group, do at least three groups
Friends with good physical conditions can increase the difficulty by raising your feet while turning
The effect will be better
Back shoulder clip, lift up the waist to relax
While pulling up the tibia
Let the internal organs hanging on the spine also get a stretch
Mainly exercise upper, middle and lower triple energizer
It's actually the internal organs
The appearance is eight Void
Two elbow, two armpits, two hips and two popliteal fossa.

Wudang Baduanjin Section 2: Open the Bow shooting the Eagle

Wudang Baduanjin Section 2: Open the Bow shooting the Eagle
This section mainly strengthens the cardiopulmonary function
It has a good prevention of shoulder-clamp and knee joint diseases
Now start practicing , open both sides of the hands
Bend the knees and drop the hips in a horse stance
Cross your hands on your chest, the outer hand is: fist
The hand inside is: palm
Open in slow motion with a bow
Then once again, pull one string, hold the bow with one hand
at the same time inhale
So that the left and right cycles are repeated
Each of the left and right is a set of 3 times,
Practice the movements to be proficient first
Then slowly cooperate with the breathing, open and inhalation
Close your hands and exhale, Inhale through the nose and exhale through the mouth
The action essentials: index finger up, numb the index finger
Feel palm fever As standard
Take the base of the outer palm and the elbow of the other hand as the distal points
A very important acupuncture point is called Chuanzhong acupoint, between the breasts
Taoists call it middle dantian,to dredge the lung meridian, to improve the cardiopulmonary function
With the opening and closing of the action, Tanzhong is also stimulated by stretching and pulling
Put both hands back to the lower abdomen and DanTian will guard for a moment

Wudang Baduanjin Section 3: Lift your one hand to regulate spleen and stomach

Wudang Baduanjin Section 3: Lift your one hand to regulate spleen and stomach.
Mainly promote gastrointestinal peristalsis
Treat vomiting, diarrhea and abdominal distension etc.
Hold the dantian with your hands pinch Ziwu and hold your hands to Tanzhong acupoint
Touch the sky with one hand, press the ground with the other
Stretch out, inhale enough
Open the spleen and stomach
Rotate the body and left and right hands swap positions
When the body returns to normal, push up and press dow
Change to the other side
While rotating the body
You can pull to the liver and gallbladder meridian on both sides
The five elements regenerate and restrain each other, wood restrains soil
To regulate the spleen and stomach, first regulate the liver and gallbladder
This section: Alternate left and right, do 12 times
By stretching expiration and inspiration
After practice, there are symptoms of burping and farting
this is a good thing
Practice tips: between the two breasts, Tanzhong point
Zhongwan Point is in the middle of Shenjue Point 中脘穴在这段至关重要 Zhongwan Point is very important here 申拉到中脘可以促进足阳明胃经的能量循环 Stretching to the Zhongwan can promote the energy circulation of the Foot–Yangming Stomach Meridian
When practicing: press the palm base, Support each other up and down
Separate thumb and index finger,the five fingers relax
Close your posture: Return to the DanTain

Wudang Baduanjin Section 4:Look behind to heal the organs injured

Wudang Baduanjin Section 4:Look behind to heal the organs injured
This section deals with the injuries of our five internal organs and seven kinds of emotional over-activity
There are 3 movements in this section
The first movement is the palm facing up.Arm external rotation
Open it hard and look backward
This is the key to every action
Go to the extreme, three taps
Turn around and exhale, change to the other side
Note: Shoulder blade clamping
The second movement: palms facing down, arms internally rotated
The body remains the same, just changed hands
Keep the left and right movements consistent
The third action: press down with both hands, fingertips outward
Rotate your body and Pull your head up as much as possible while turning
Close your posture: Hold back the pubic area 注意细节:脚的内裸是三阴交 pay attention to details: the inner bare of the foot is Sanyinjiao
This is a longevity point
It is fully stimulated when turning
Rotate the feet, knees, hips, shoulders, and neck simultaneously
The upper limbs are also the same
The three movements push up from external rotation
Turn inward and press down
To stimulate the Dazhui point at the back of the neck、head
Look backward as far as possible
Follow me,shake your body to invigorate heart meridian in the next section

Wudang Baduanjin Section 5:Shake your body to invigorate heart meridian

Wudang Baduanjin Section 5:Shake your body to invigorate heart meridian
Look at the complete action first
Two feet open, in a big horse step
Put your hands on the knee joints and turn from horse to lunge
At the same time rotate the body
Take the Baihui point on the top of the head to the tip of the upper and lower ends of the tail
Lead and drive the spine of the body
Large rotation, lunge step and horse step to change the center of gravity
Three circles on the left and right as a group, do two groups
It's practice is to shake the body
Pull the blood vessels in the neck by shaking your head, and the Dazhui point at the back of the neck
While turning, use the Baihui point on our head to draw a circle
Swing the body: it is the exercise of the lower limbs
The center of gravity is lowered
The hips are fixed, the pelvis is rotated
Enhance waist strength by swinging the body
The kidney water is enough, invigorate heart meridian are naturally removed
Practice points: The heart should be lower than the kidneys when turning
Lower the chest and regulate the quality of sleep
If you think the action is too simple
Flexible friends can make a lunge into a pounce to increase the difficulty
The effect of conditioning the invigorate heart meridian will be better
Closing posture:Back to preparation Posture
Follow me,The next time will be Lifting heels for seven times to protect you from all the aches

Wudang Baduanjin Section 6: Lifting heels Bump down for seven times to avoid all the aches.

Wudang Baduanjin Section 6: Lifting heels Bump down for seven times to avoid all the aches.
Let's practice the sixth section of today
Hold the dantian in your hands, move your left foot out,
slightly wider than your shoulders, place your palms on Laogong point
Put it on the center of the back waist
Breathing method is nose inhale and mouth exhale
Inhale enough, raise your head back
Exhale halfway, tap three times to get up
Exhale the other half and cycle
Practice the movements before cooperating with breathing
After finishing lean backward, do forward
Open hands to reach fingertips
Straighten your legs and inhale enough
Exhale forward and exhale to your feet
Get up and inhale, rest your hands from your feet and legs to your chest, open the sides to the power reachs your fingertips
Do both forward and backward movements seven times each
The magnitude of the movement should be gradual
So as not to strain the body
Pay attention to details and retract your hips when you bend forward
Keep your back straight and dive down
Exercise the waist, from the lumbar spine to the cervical spine when you get up
The spine is pulled up section by section, and the chin is pulled back
Stimulate the back meridian
Closing posture:Return to the DanTain

Wudang Baduanjin Section 7: Clenched fist and opened eye help to gain your power back

Wudang Baduanjin Section 7: Clenched fist and opened eye help to gain your power back
Let's first talk about an essential point
This is very important when practicing
This section is the movement of horse step punching
Practice as two sets of fast and slow
They mainly regulate the liver and increase strength
So when you strike and close your fists
Rubbing the ribs on both sides to make a punch
Be sure to clenched fists
Chinese medicine believes that the liver governs the grasp and hidden the soul
If your grip power is strong
Then your liver function will be good
Start practicing, open your feet and slowly bend your knees into a 90° position as horse step
Fist with both hands on waist
From fist to shoulder, adding strength
Slowly spin out punches and closing
Pull back slowly
Liver resuscitates the eyes
Eyes wide open and look into the distance
Stimulate the liver and gallbladder
Use the power of pushing the mountain when punching
When reclaiming fists, you must use the force of pulling nine cows
Practice the movements to be proficient first, and then cooperate with the breathing
Exhale when punching, and inhale when closing punch
Nose inhale and mouth exhale
This is the first set: six punches slowly
The second group must hit six punches quickly
On the contrary, breathe well, relax the whole body
Hold a hollow fist and look into the distance
Strike and squirt quickly, with both punches at the same point
If you think the action is too simple
You can open the step to lower the center of gravity
Add a wrist wrap when closing the fist, the effect will be more significant
Closing posture:Return to the DanTain

Wudang Baduanjin Section 8:Hands on toes to strengthen waist and kidney

Wudang Baduanjin Section 8:Hands on toes to strengthen waist and kidney
First look at the action,open your feet
Slightly wider than your shoulders,put your hands behind your waist
Pay attention that the palms of your hands are close to the waist of the kidney
Rubs up and down with very large amplitudes
Until the waist is relaxed
Then both hands slowly fall along the outside of the leg
Go through the instep of the instep and raise your head
By a small margin, But you need three hard clicks
Get up with your hands on the inside of your hips
Fall on the outside and rise on the inside, do 6 times, or more
Practice the movements to be proficient first, and then cooperate with the breathing
Take a deep breath and fall slowly, slowly spit it out
Lift your head and inhale,three clicks
Exhale, get up and inhale
Nose inhale and mouth exhale, there are two acupoints inside and outside the ankle
Behind the outer ankle of the foot, Kunlun point belongs to the bladder meridian
Taixi point behind the medial malleolus, belonging to the nerve
When practicing, be sure to hold them to better exercise to the kidney meridian and bladder meridian
Closing posture:Return to the DanTain