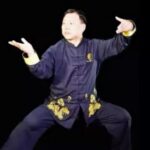 Vice Chairman of Henan Taijiquan Association, one of the "Ten Taiji Outstanding" in Wen County
One of the main creators of "Chinese Wushu Duanwei Chen Style Taijiquan" textbook Duanwei Routine.
Participated and demonstrated "Chinese Wushu Duanwei System Series Tutorial Chen Style Taijiquan" was published by the Chinese Wushu Association as the national standard textbook for Duanwei examination.
The Chinese Musashi Film Crew recorded the Chen-style Taijiquan's Old Frame No. 1 and No. 2 Road, Xinjia No. 1 and No. 2 Road, Sword and other DVD teaching CDs taught by Teacher Zhang Dongwu
2012 to present; Henan TV News Channel "Healthy Central Plains" column group of the main experts to teach the famous, has repeatedly recorded and played the "Chen style Taijiquan 12 styles" "Chen style Taijiquan 46 styles" "Chen style Taiji" drilled by his professors Tai Chi teaching series such as "Fisting Old Frame One Road" and "New Frame One Road".
The editor-in-chief of "Chen Style Tai Chi New Frame 83 Styles", "Chen Style Tai Chi Compilation 46 Styles", "Learning Tai Chi from Zero" and other books and the series of tutorials on the Chinese Wushu Duan System he participated in the compilation. "Become a rare treasure of Tai Chi materials.
Since 1988, in more than 30 years of teaching, he has taught tens of thousands of students from all over the world; he has cultivated dozens of national and international Tai Chi, sword, and push hands champions.
His deeds have been included in the "World Excellent Talents", "Chinese Folk Martial Arts Dictionary", "Chinese Taijiquan Dictionary", "Shaolin and Taiji", "Wuhun", "Taijiquan", "Europe Times", "Karate" 》And other authoritative publications at home and abroad