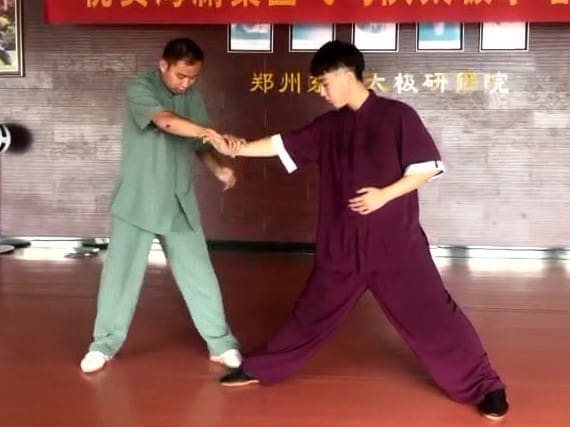 Chen Style Examination course officail level Two Single Practice and  pair hit
From  16th August to 23 third August 2020, every Sunday at 12:30 P.M–1:50 PM. —— 2 lessons :160 minutes in total,become member Review and study courses at any time
On the basis of the first and last moves jointly completed by A and B, A and B are each responsible for 6 moves:
A is responsible for completing the first section:
1. King Kong rises 2. Clouds hand (stroke right in step) 3. Sparrow dragon (thump step and open arm) 4. Turn around and present fruit (raise knee and swing fist) 5. Split body beat (horse step block) 6. Hit the ground and beat 7. Turn around and beat.
B is responsible for completing the second section:
8. Wipe Meihong (horse step push palm) 9. Turn around and swing lotus (swing leg left stroke) 10. Kick (kick leg split palm) 11. Cover hand Hongquan (lung step punch) 12. Right two up (flying foot in the air) 13. Jade girl shuttles (jumping to the right)
Lecture : Chaofeng Wang
Head coach of Henan DongWu Taiji Training Institute,Master Zhang Dongwu's personal disciple, Chinese martial arts sixth stage! Engaged in teaching for 8 years, double gold medals in boxing and swords in the International Tai Chi Exchange Competition。
Course Features
Lectures

2

Quizzes

0

Duration

50 hours

Skill level

All levels

Language

Chinses

Students

844

Assessments

Yes
level Two Single Practice Examination course

the first section:
1. King Kong rises 2. Clouds hand (stroke right in step) 3. Sparrow dragon (thump step and open arm) 4. Turn around and present fruit (raise knee and swing fist) 5. Split body beat (horse step block) 6. Hit the ground and beat 7. Turn around and beat.
the second section:
8. Wipe Meihong (horse step push palm) 9. Turn around and swing lotus (swing leg left stroke) 10. Kick (kick leg split palm) 11. Cover hand Hongquan (lung step punch) 12. Right two up (flying foot in the air) 13. Jade girl shuttles (jumping to the right)

level Two pair hit Examination course

On the basis of the first and last moves jointly completed by A and B, A and B are each responsible for 6 moves:
A is responsible for completing the first section:
1. King Kong rises 2. Clouds hand (stroke right in step) 3. Sparrow dragon (thump step and open arm) 4. Turn around and present fruit (raise knee and swing fist) 5. Split body beat (horse step block) 6. Hit the ground and beat 7. Turn around and beat.
B is responsible for completing the second section:
8. Wipe Meihong (horse step push palm) 9. Turn around and swing lotus (swing leg left stroke) 10. Kick (kick leg split palm) 11. Cover hand Hongquan (lung step punch) 12. Right two up (flying foot in the air) 13. Jade girl shuttles (jumping to the right)