AWCC Tai Chi Manningham Branch Anti-Virus Immunity-Boosting Celebration
Posted by

Date

July 5, 2022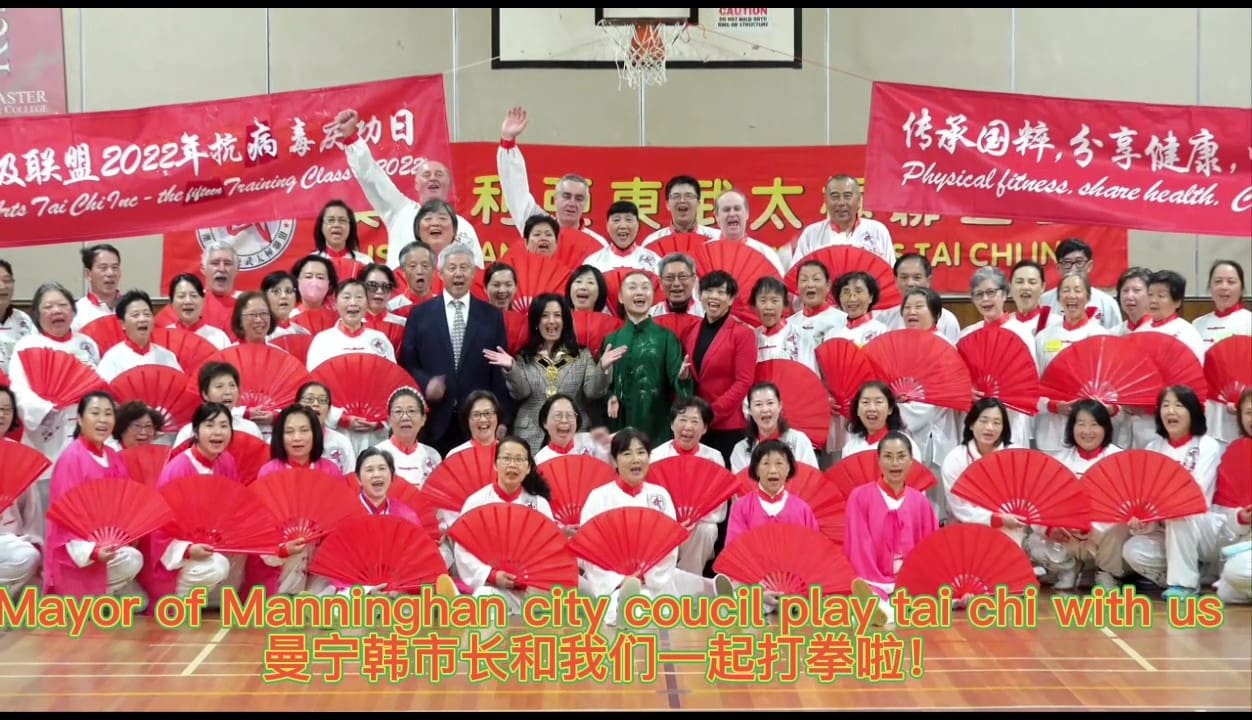 10am June 19, 2022 ,Doncaster Secondary college, Australasian Oriental martial arts Tai Chi Manningham Campus Anti-Virus and Immunity-Boosting Celebration
AWCC Tai Chi Manningham City Campus Anti-Virus and Immunity Enhancement Celebration was a complete success, and the new mayor of ManningHam personally awarded the anti-epidemic heroes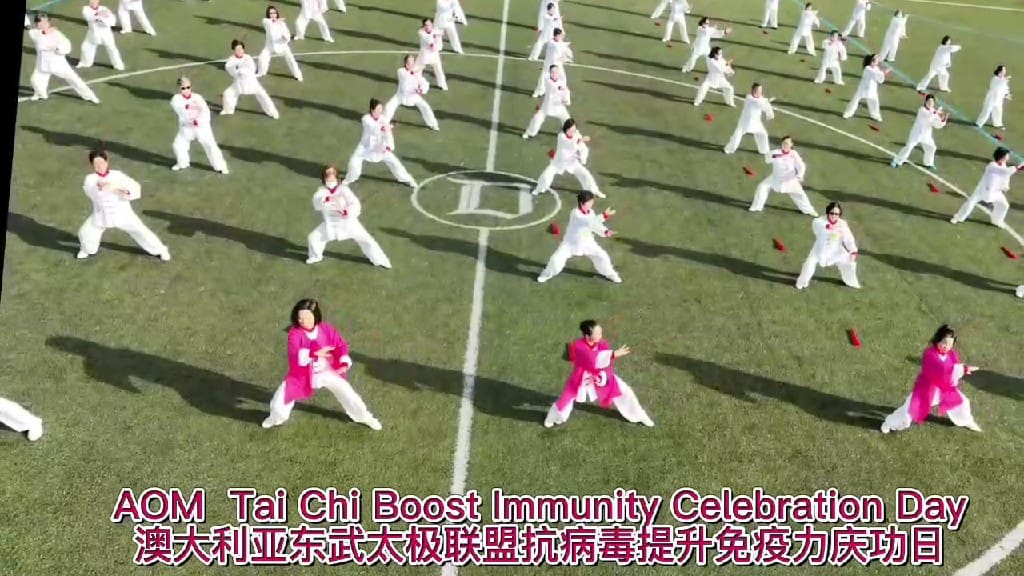 Chen-style Tai Chi warm-up exercise under the hovering drone start first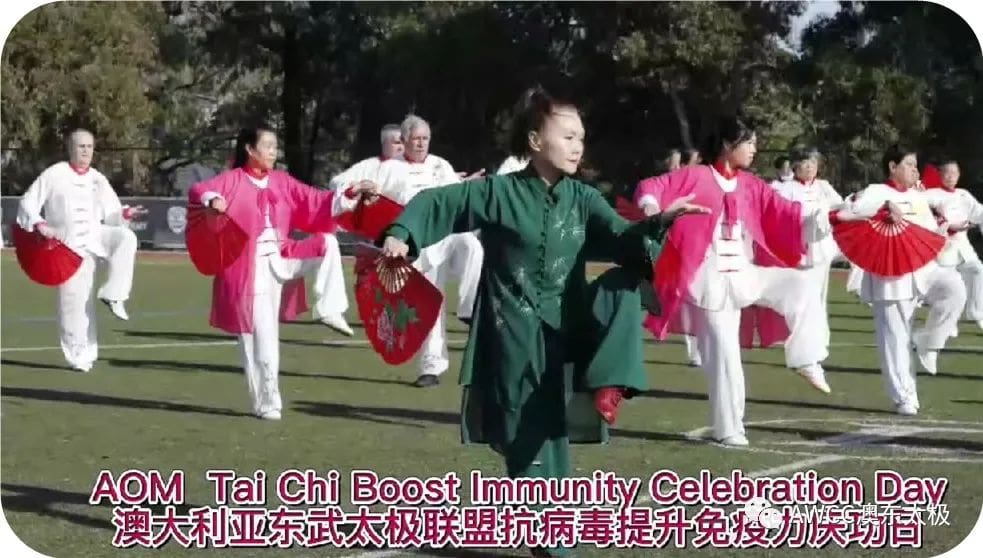 Practice the 46-style cloud water Tai Chi fan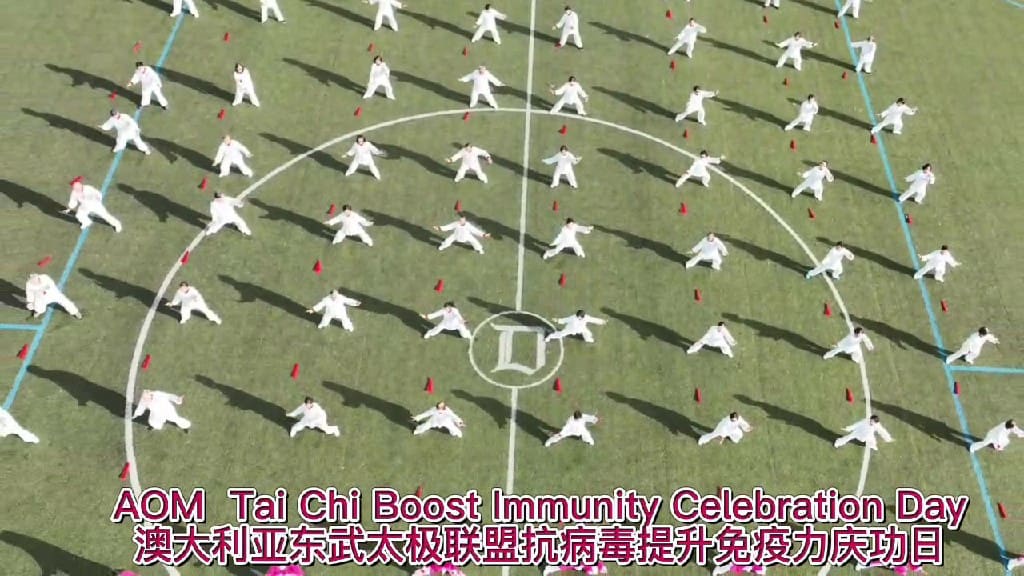 Basic skills Rolling practice is essential
I will pick up soon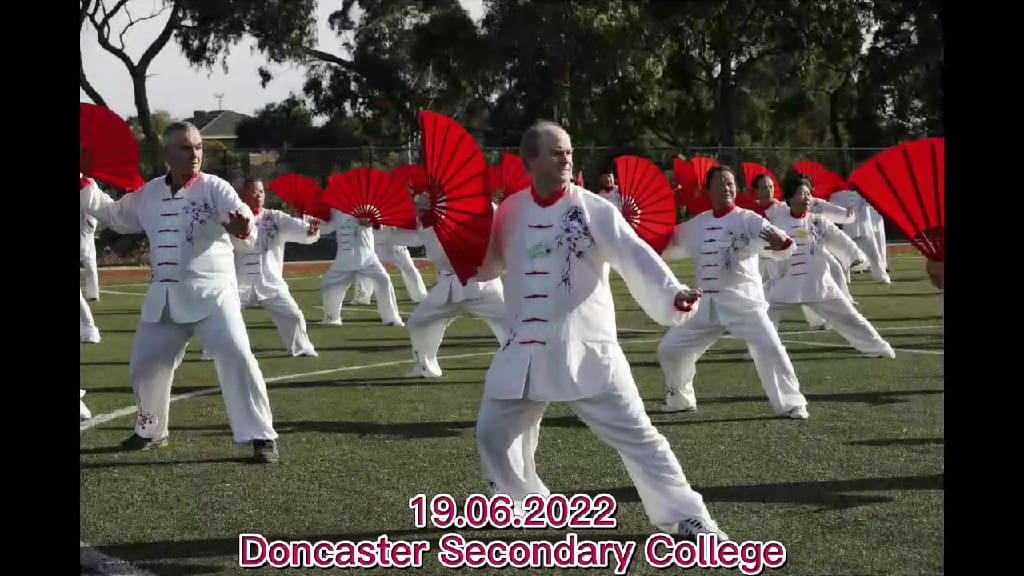 I'm a new student, I don't show weakness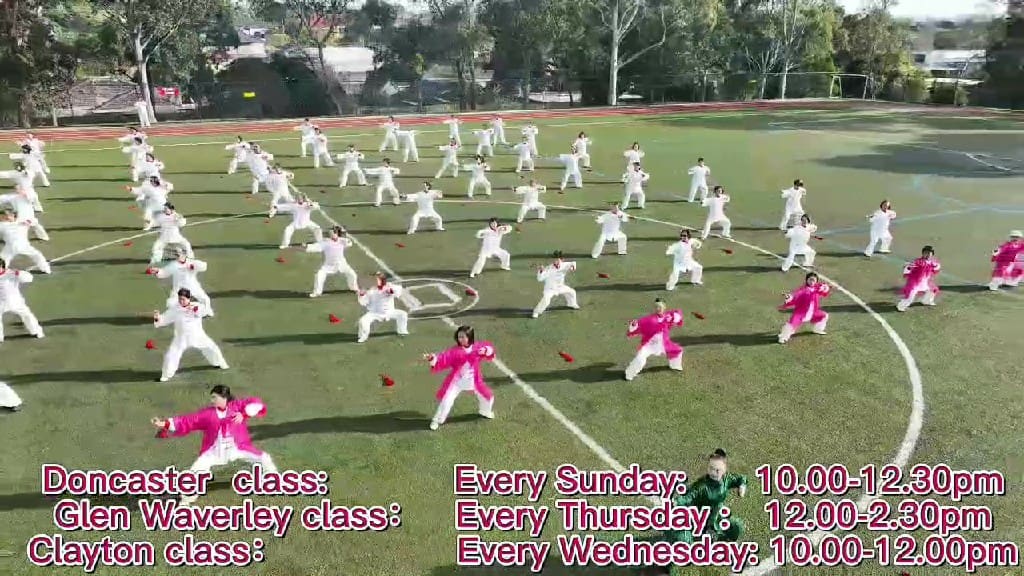 health Q i Palace BA end-to-end, level one single practice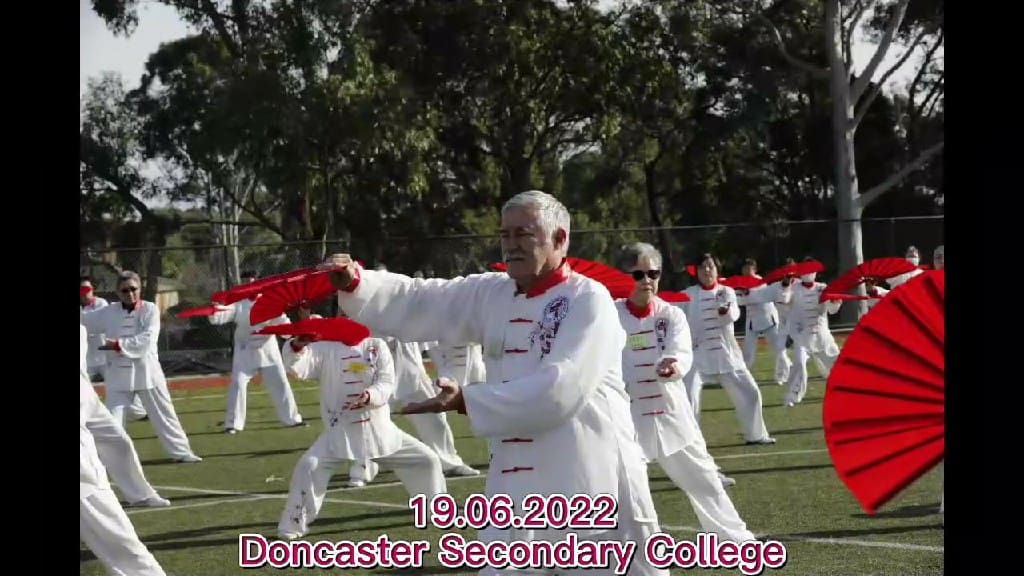 The police have retired, and I have changed my way of life for myself!
Anti-epidemic celebration awards ceremony begins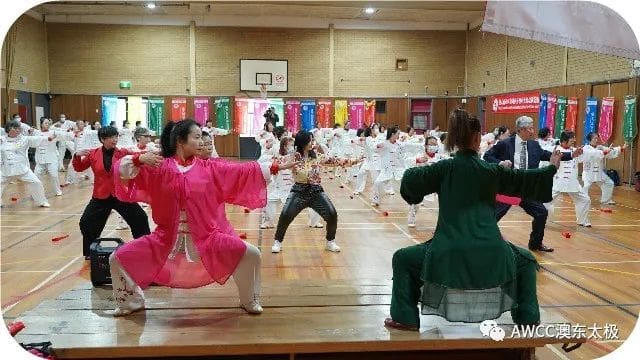 After the aerial photography is completed, go back indoors to start today's event theme: AWCC Tai Chi Alliance Anti-Virus and Immunity Enhancement Celebration Conference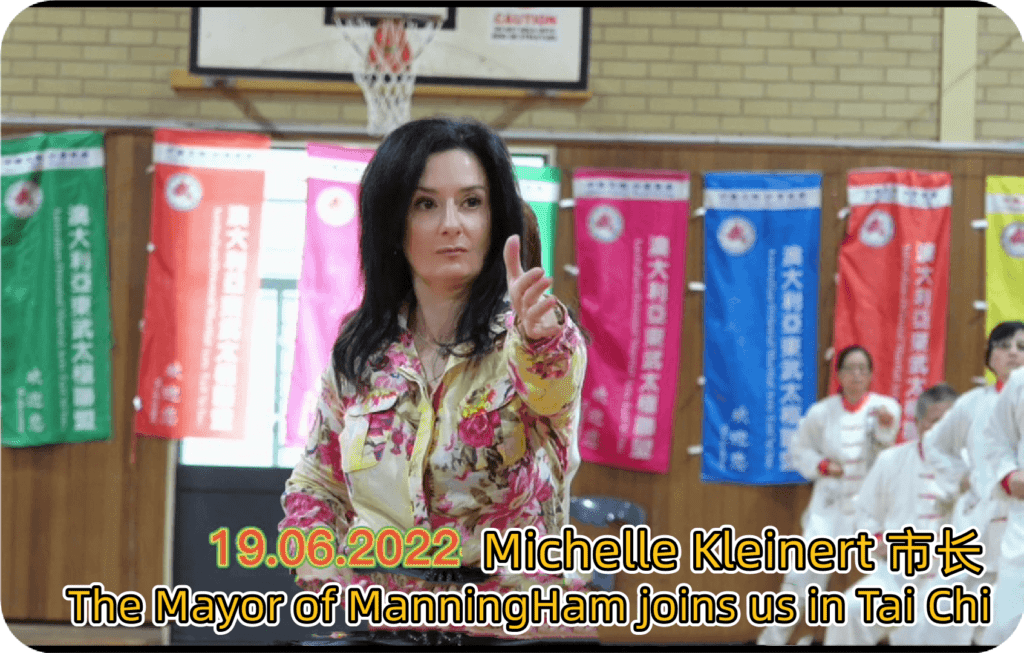 The new Mayor Manning Han and guests, teachers and students practiced Baduanjin together to kick off the celebration!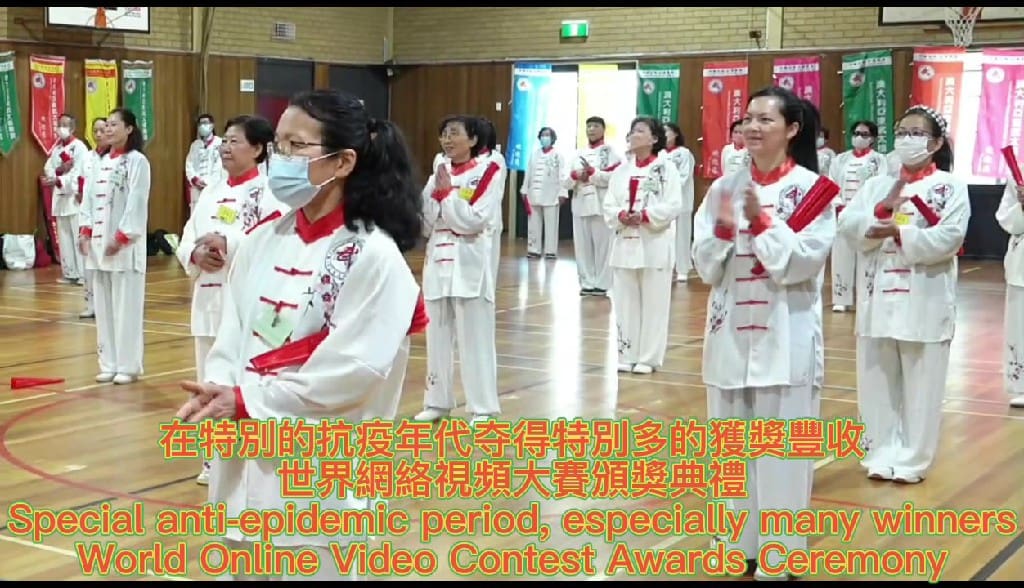 During the special period of the epidemic, so many people participated in the competition and won the award, which is unique and unparalleled in the world! so much to celebrate
Representatives of Tai Chi students share their experience of benefiting from fitness Tai Chi
1. Glen Stevens: Technical Director of Technology Software (Student ID: 1527)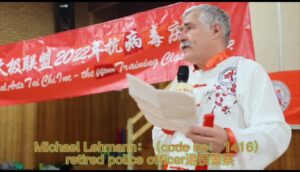 2.Michael Lehmann:retired police officer( code no: 1416)
3.Karl Tlihom:Mechanical Engineers(code no:4129)
4.Tengjun: funder of JG Accounting firm( code no: 1172)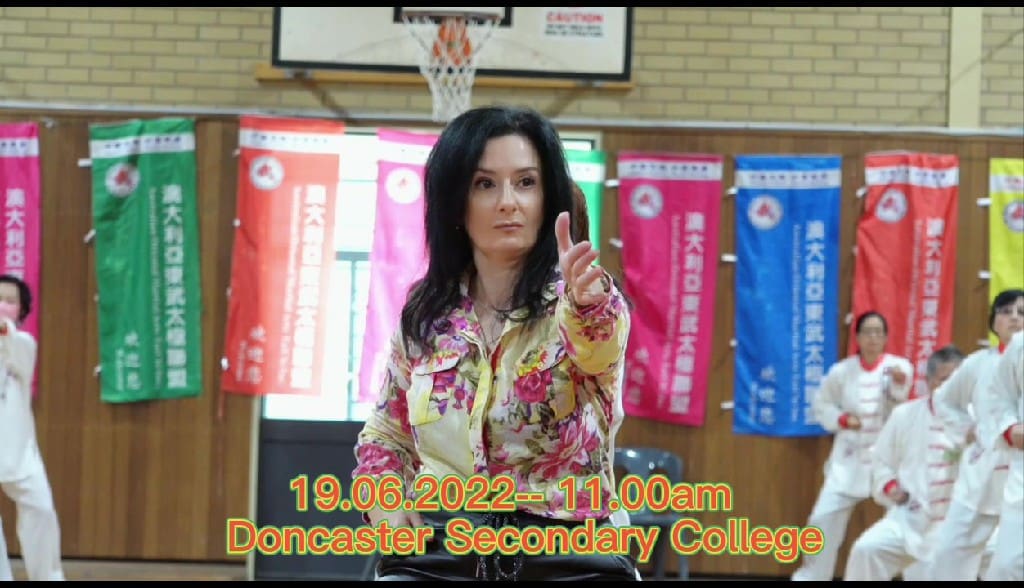 After  practiced Baduanjin together, the mayor Michelle Kleinert gave a speech to the students enthusiastically. She said:
The four students represented their true feelings and expressed their fate and pursuit with Tai Chi, which is also the voice of everyone.
Thank you, Wendy, thank you all of the volunteers tohelped,I Think I've learned today that the money is very well spent.
I tell myself  if we have more people learn Tai Chi in Manningham , or my God, We'll live older we'll live longer, we'll live healthier. If everyone learn Tai Chi, life will never end. and its safe !I did just a few minutes. I feel very good, I feel strong, I feel alive, it's wonderful.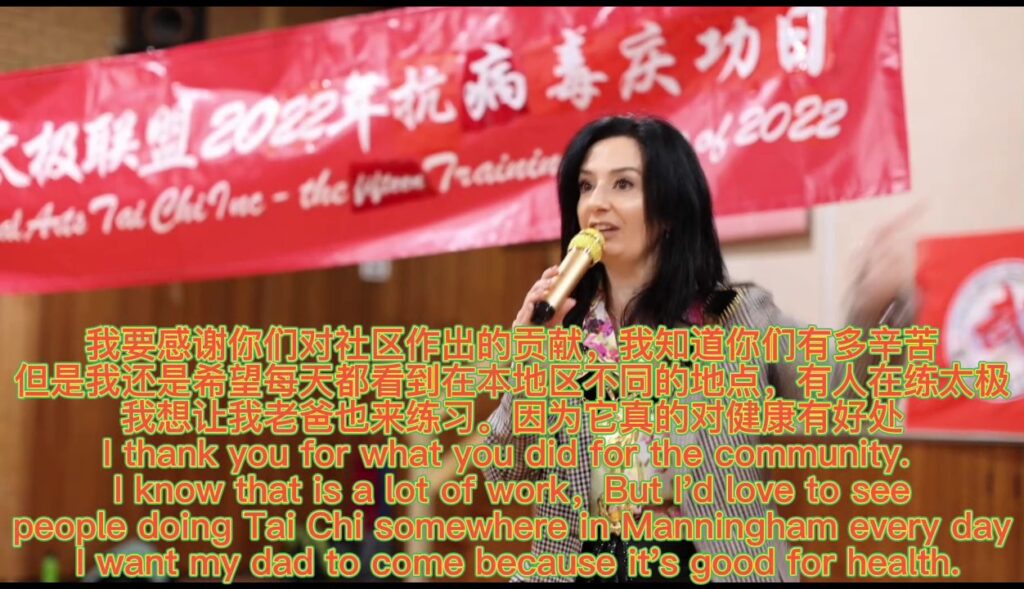 I thank you for what you did for the community. I know that is a lot of work,But I'd love to see people doing Tai Chi somewhere in Manningham every day.That will be very good. I love the stories people shared, I want my dad to come because it's good for health.
Fu Gao Chao: Principal of AOMA Taiji Henan Association Branch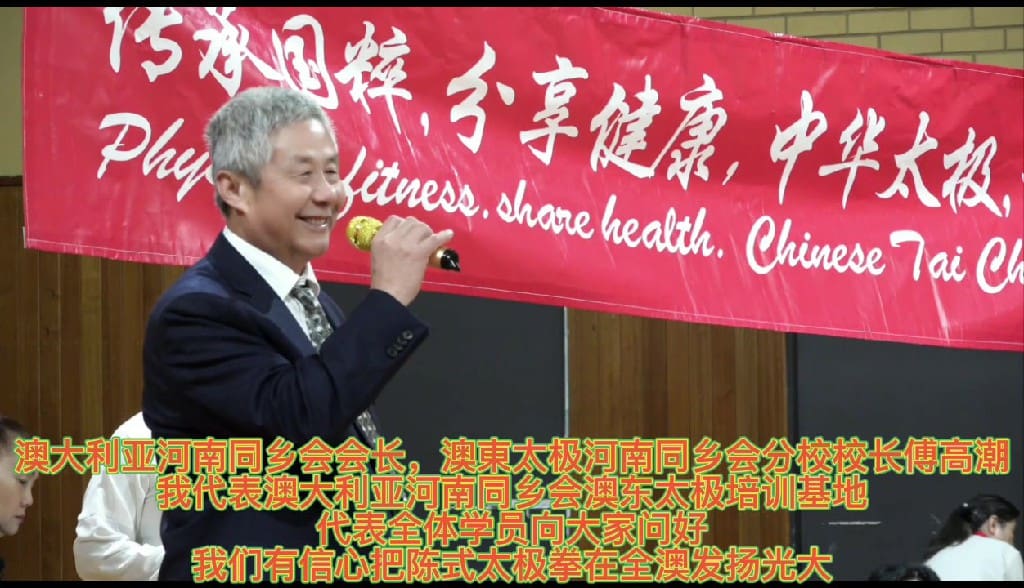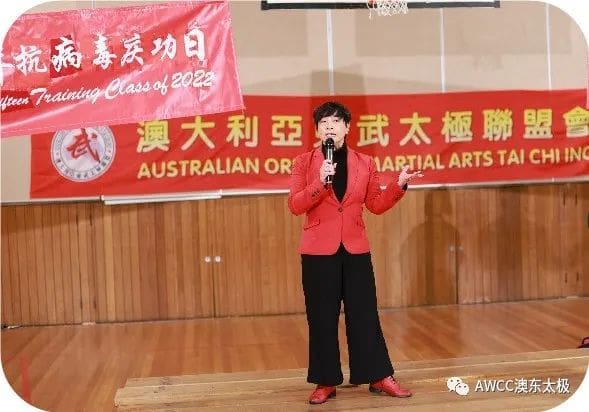 June Andeson:Victoria Multicultural Commission Member of Regional Andover Council Eastern Metropolitan Region
I was touched by every volunteer coach in this activity, especially when the project started this year. Every morning, I saw these coaches, no matter the long distance, to rush to Flemington and North Melbourne to teach these diverse cultures. group. Whether it's windy or rainy, or it's suddenly cold now, they'll be there on time. And tirelessly to teach these different local multicultural people.
So I think we should be proud of our culture, and even more proud of our willingness to make unpaid contributions to this society.
Wendy Hui Jiang(Chairman of Australia Oriental Martial Arts Tai Chi):
Our AWCC Tai Chi , a Tai Chi public wel fa re organization, has gone through its fifth year. In the past two or three years, the world has ex perien ced the worst COVID-19 infection,Many people have lost their lives and families because of this.
However, we, a special team, still have 75 people who signed up for a total of more than 160 individual events (including 23 group competitions) during the special period of COVID-19 to join in the 7th World Taijiquan Online Video Competition in 2021. More than 3,000 people worldwide in the program, the broadcast plat form has received more than 53 million visits, and our AOMA Tai Chi won 43 first pri ze s, 47 second prizes, and 52 third prizes in the individual competition。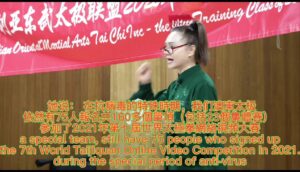 Especially our group competition:
Health Qigong Baduanjin and Wudang Taiyi Fuchen both stood out in the 7th Taijiquan Online Video Competition and won the first prize with double gold and tied for the first prize, which caused a huge shock in the world Tai Chi people
Especially our group competition Health Qigong Baduanjin, with the large number of participants, the wide popularity of national fitness, the top quality of video production, the members help each other a group for warmth, pay the love to each other, and all the  Chinese and Western people with different nationalities and different skin colors but we  Learn fitness Tai Chi together ,This is the only team in the word nearly a hundred people join the Group competition,this is our team
No one believes that such a huge successful is made up of a group of residents of Melbourne, the elderly, the weak, the sick and the disabled, even most people have no Tai Chi expertise. No one believes this is true, but we did it! We really did it!
World Online Video Collective Competition Individual Competition Award Ceremony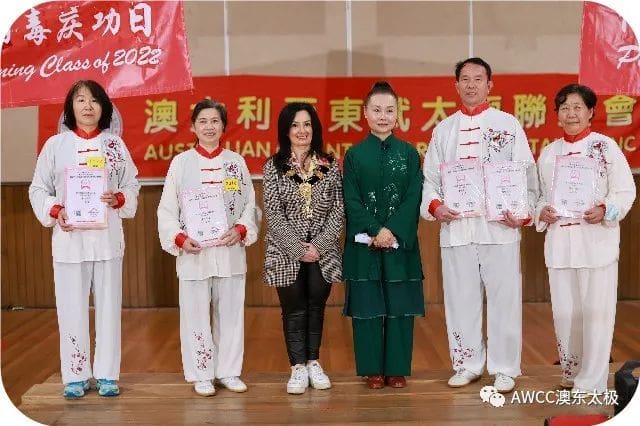 Mayor Michelle Kleinert presents the collective award and medal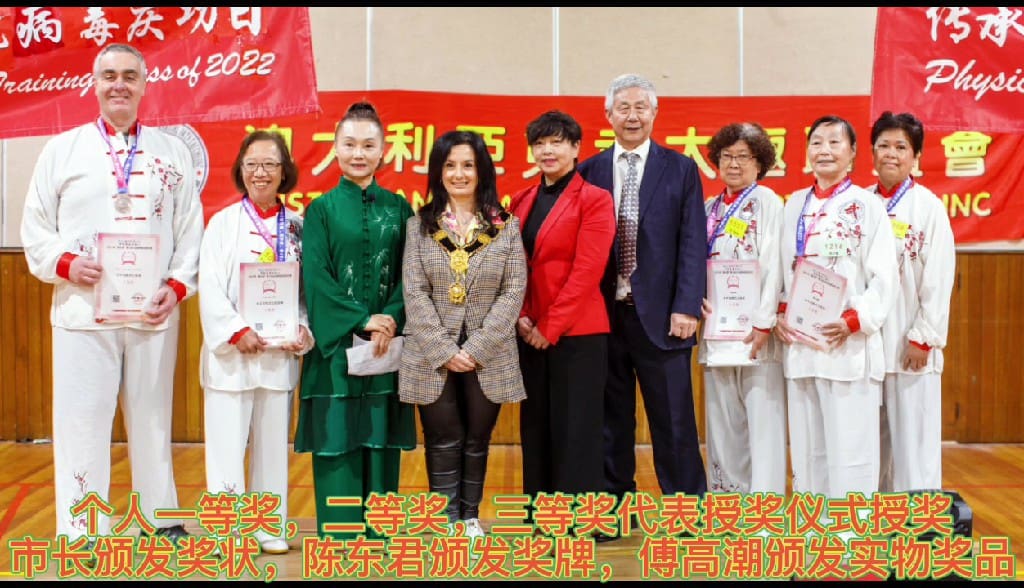 The certificate and medal for the third prize of the individual competition of the 2021 Fitness Tai Chi Anti-Virus Online Video Competition, and the prize for the third prize: a white Tai Chi training suit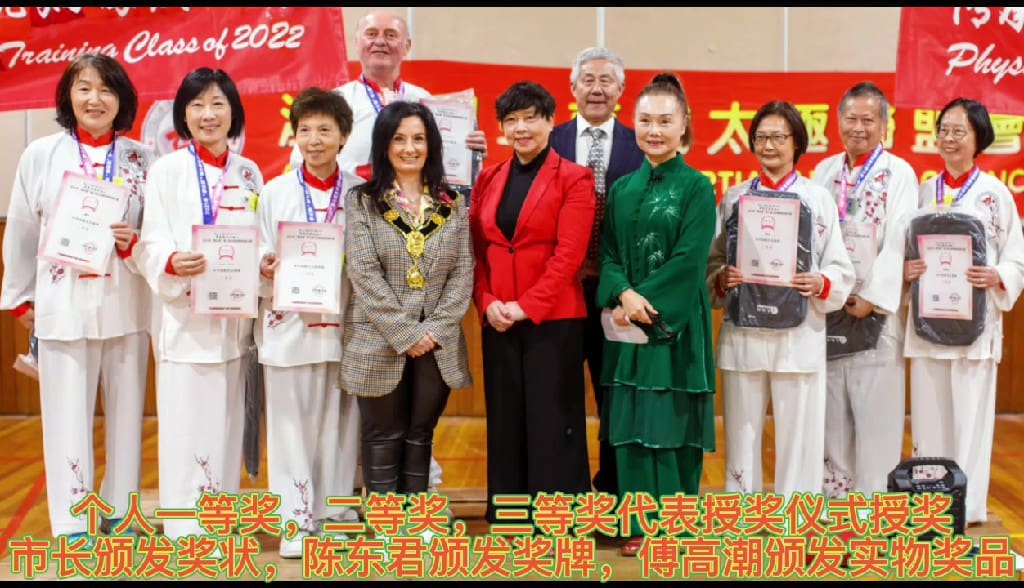 Mayor Michelle Kleinert presents a Second Prize Certificate and Silver Medal to the Second Prize Winner, and Second Prize Winner Prize: Mountaineering Fitness Backpack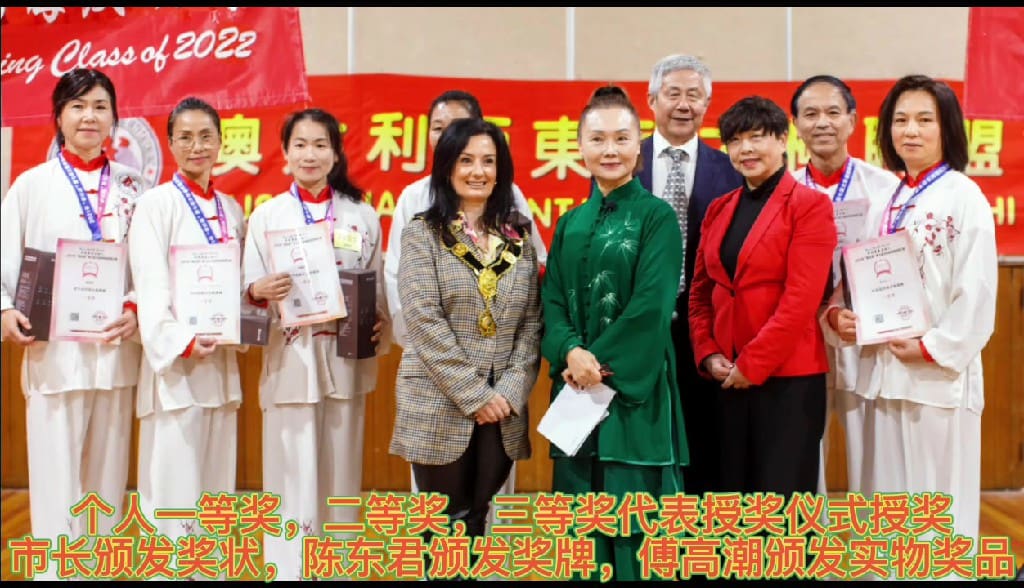 Mayor Michelle Kleinert presented the first prize certificate and gold medal to the first prize winner, as well as the first prize winner: a special special recovery tea cup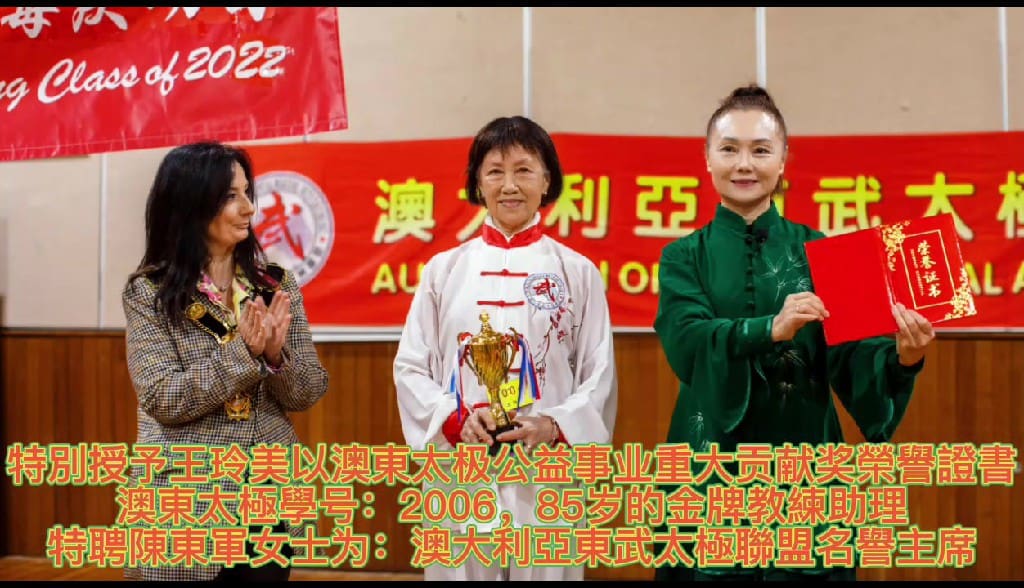 1. Specially awarded Wang Lingmei the certificate of honor for the major contribution to the public welfare of Aodong Taiji: Aodong Taiji student number: 2006, 85-year-old gold medal coach assistant. (One Grants Gift Card)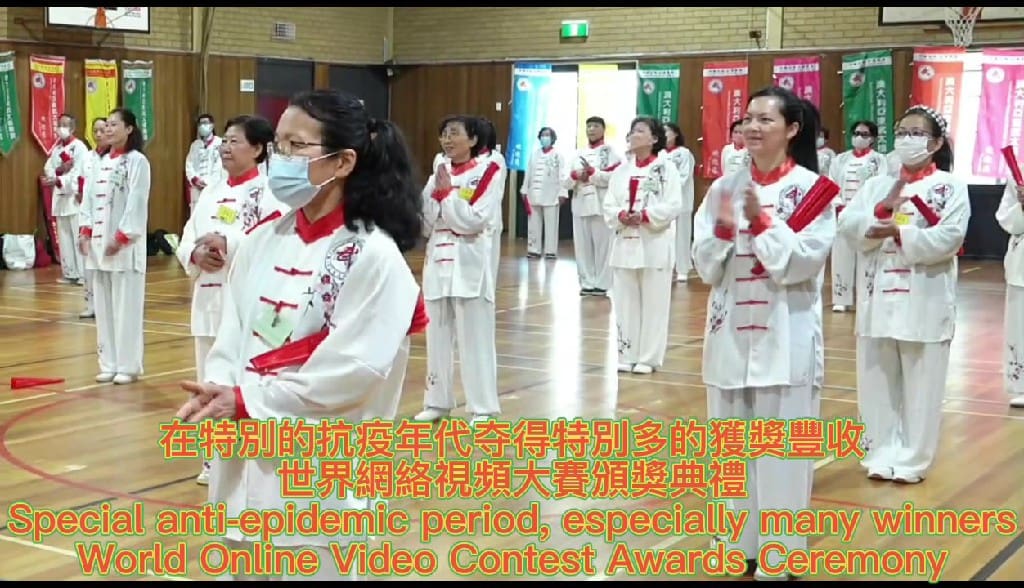 The 85-year-old teacher Wang Ling's splits amazed the mayor, guests and students, and she can be so handsome if she insists on practicing Tai Chi!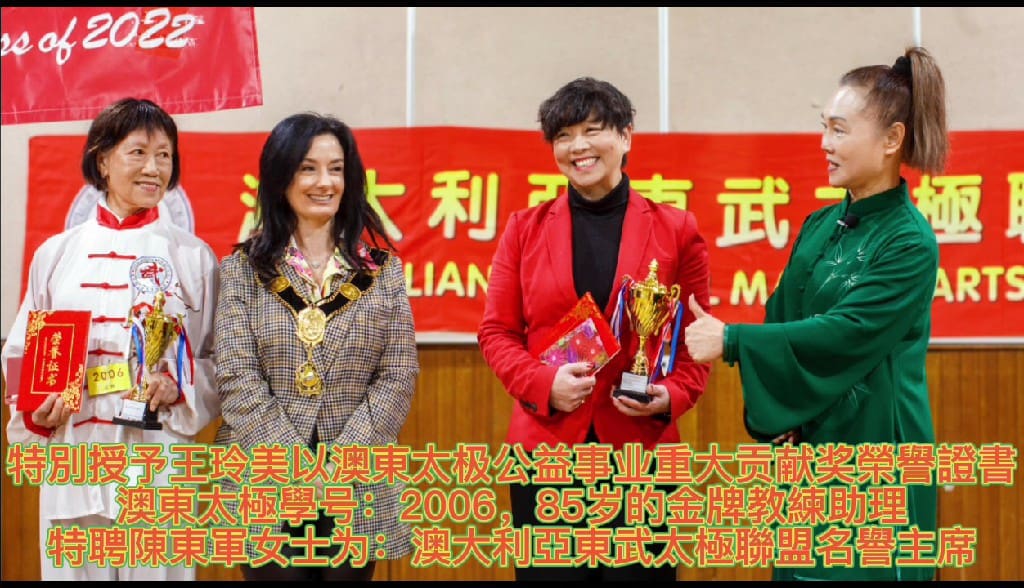 2. Distinguished Chen Dongjun: Member of the Victorian Multicultural Committee: Honorary Chairman of the Australian Oriental martial artsTai Chi Alliance
The Victorian government awards a set of beautiful coaching uniforms for each of the coaches in Australia and East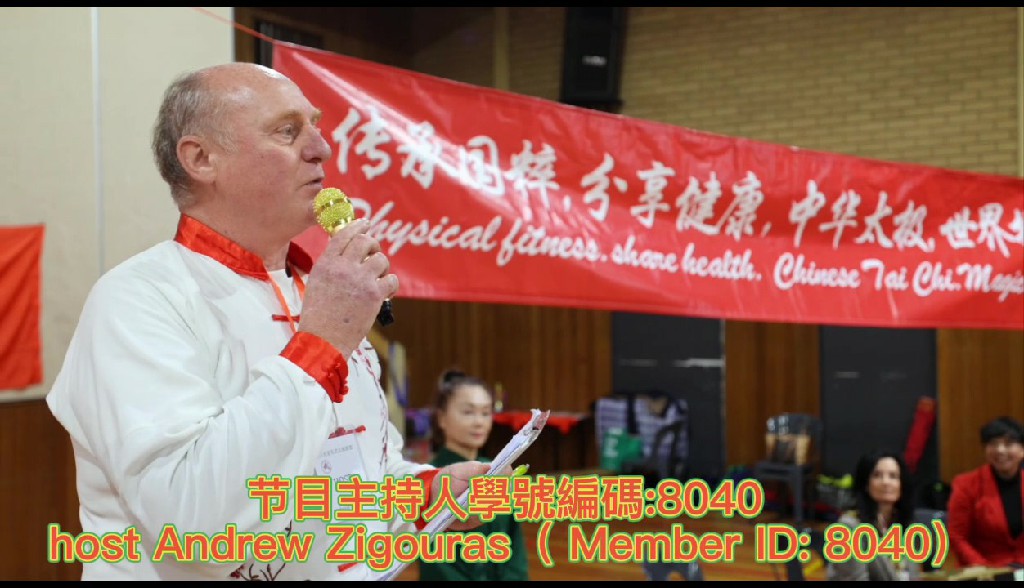 Celebration host: 8040 Andrew say:AWCC Tai Chi instructors have been repeatedly invited by the Victorian government to different residential areas to help residents use Tai Chi to keep fit and resist the virus. It is a good thing for awcc to work hard!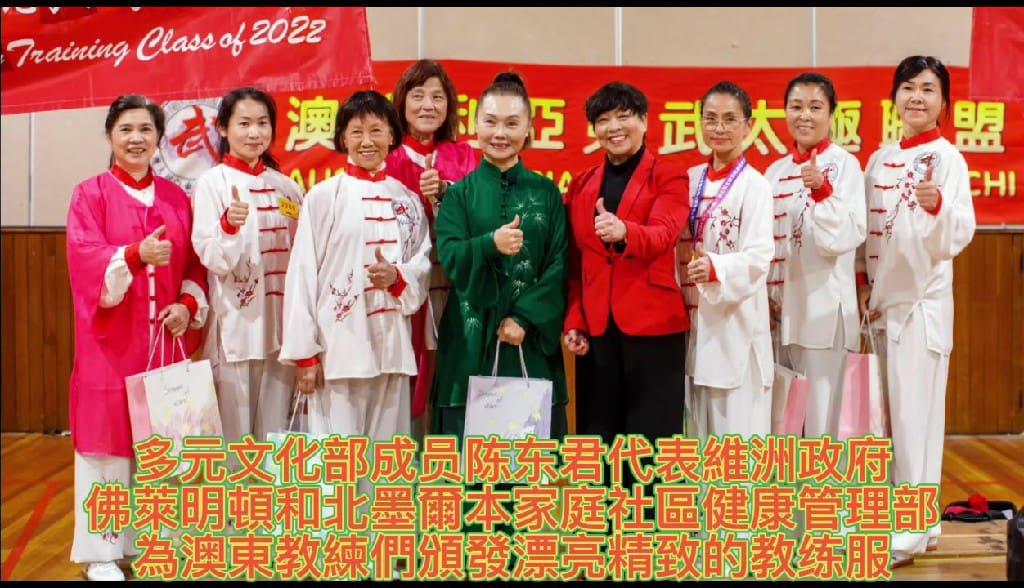 The Victorian government awards a set of beautiful coaching uniforms for each of the coaches in AWCC Tai Chi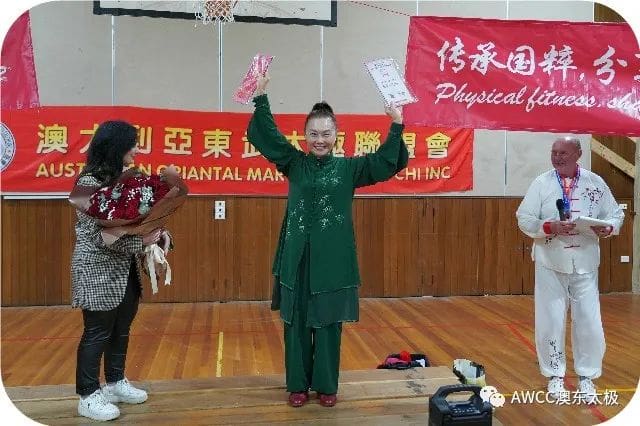 Finally, Mayor Michelle Kleinert presented two awards: Australia's AWCC Tai Chi Alliance won the honor of the seventh global network competition of Tai Chi Net:
The most beautiful Tai Chi team,Most Popular Team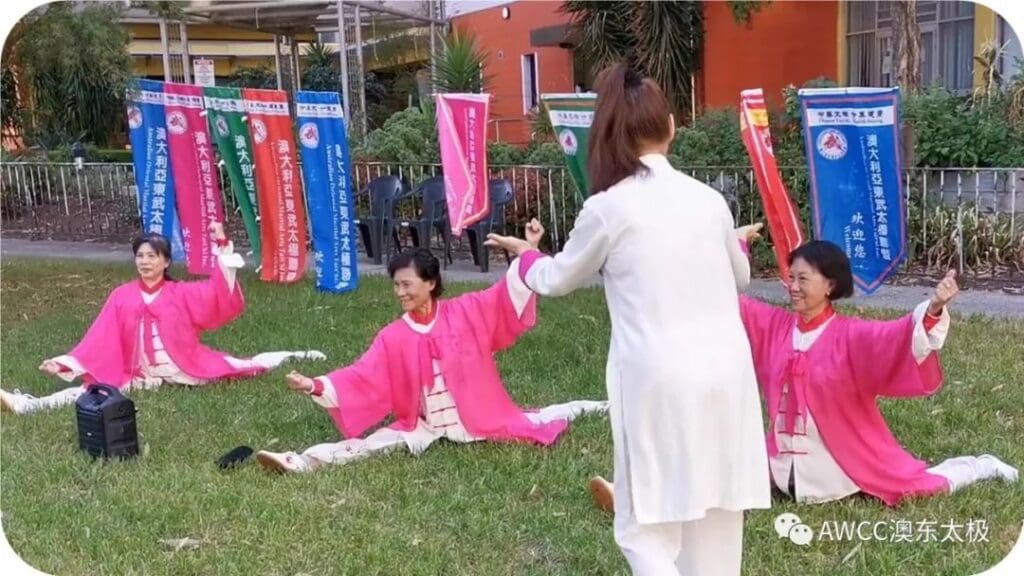 Teng Jun, on behalf of the students, gave a big surprise to the teacher who is dedicated to teaching Tai Chi. The singing, flowers and full of love made Teacher Wendy cry with excitement!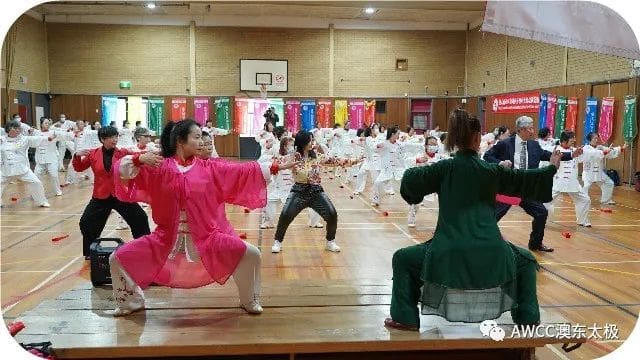 AOMA Tai Chi Anti-Virus and Immunity Enhancement Celebration Conference and Mayor's Guests and Teachers and Students Practice Baduanjin with a complete success!
Celebration host: 8040 Andrew
On-site translation of the celebration: 1415 Tracy